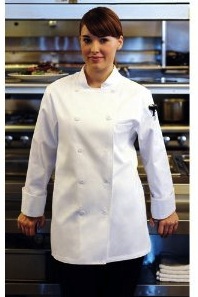 If you own or are thinking of opening a restaurant, you have a lot of questions, some of which are easy to answer. You probably know what type of food to serve, and what type of decor you want to put in your restaurant.
One question many new restaurant owners don't always think about is whether employees should wear uniforms. There's safety and sanitation concerns for your kitchen staff, so it may seem obvious that they need to at least protect themselves, but what about the rest of the staff? Do you make them wear uniforms? If so, do you want them in all white? It's classic, professional looking, and doesn't distract guests from what you want them to focus on: your food.
On the other hand, it can be stuffy and overly traditional, and like everything, white is more difficult to take care of.
Before you decide what you want your staff to wear, you need to ask yourself it will fit in with your restaurant. For a fine dining restaurant, a traditional white look fits, but with a casual eatery filled with college kids, it may be too much. You can still make your staff wear a uniform (even fast food joints have uniforms, even if it's just a t-shirt), but there are a variety of more casual styles than all white jackets.
Before you dress your staff in professional white chef wear, look into the following pros and cons. You may find that it doesn't fit in with your business, or that it's a must in your specific niche.