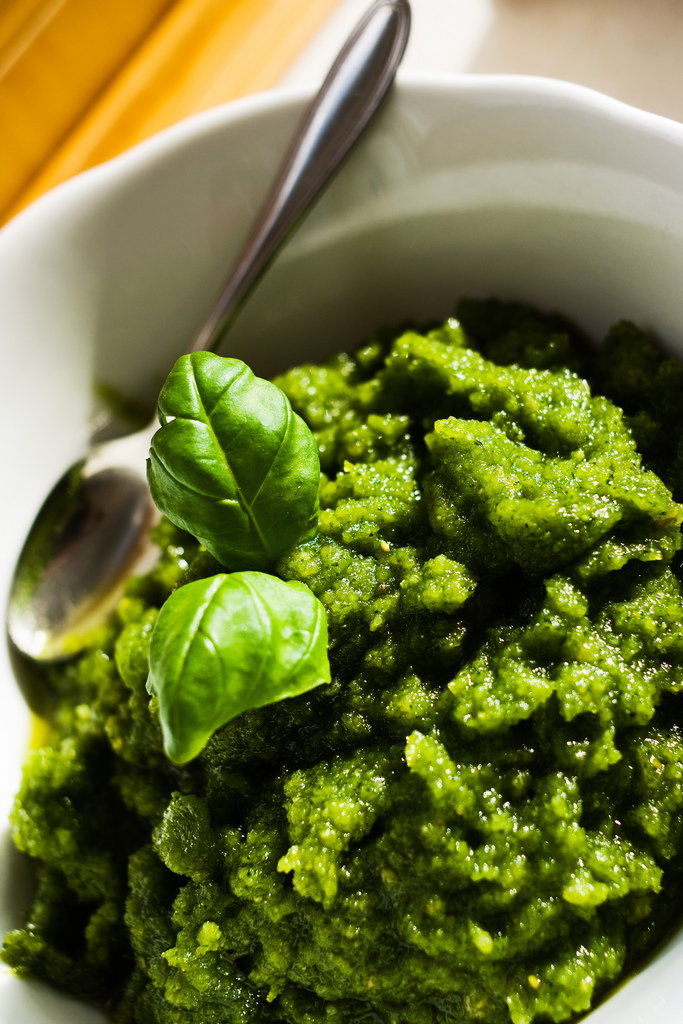 Photo via Flickr member Yannic
The first time I ever tasted pesto, atop a bowl of tortellini, it was not a life-changing experience, but it was pretty darn close. I forgot all about the tortellini as the flavors of the pesto seemingly exploded in my mouth: bright basil, tasting of the earth; zingy, pungent garlic; rich and flavorful cheese; a nuttiness from the olive oil, and from what I can in retrospect identify as pine nuts. What was this magical green paste? Pesto has this effect: it has an inimitable flavor.
What is pesto?
If you're not familiar with pesto (or even if you are), it may be helpful to state, for the record, what it is, exactly.
Pesto is a sauce of Italian lineage, made by crushing together a melange of simple ingredients: most famously basil, salt, olive oil, garlic, and cheese. It's not only the ingredients but the method that makes it unique: the word "pesto" is actually derived from "pestle", possibly referring to the fact that it in the early days it was likely made with a mortar and pestle.
While there are thousands of variations on pesto, the one called pesto alla Genovese is probably the version you know best. It is made with garlic, salt, a good quality extra virgin olive oil, cheese, and of course, basil from Genoa.
In Italy, there are other variations, such as pesto alla siciliana, which is similar, but with the key difference that it employs tomatoes and uses less basil.
How is it used?
Pesto is a very versatile sauce. It can be used on pasta, as sauce atop meat, as a bread topping, or even treated like a condiment. I personally find that it's one of those things that makes everything better, so I wouldn't be adverse to enjoying pesto on top of a burger, or perhaps atop a cheesy omelette in the morning.
Taste profile
So, what makes a good pesto? It should be several things all at once: rich, zingy, light, luxuriant, earthy. A good pesto is bright, It should reflect each of the ingredients in it, all in one spectacular and assertively flavored moment. It should be pungent from the cheese and garlic, and rich from the olive oil. It should have a mellow, earthy tone from the pine nuts. It should be vibrant and fresh tasting owing to the basil. It should be a memorable flavor. Pesto is not a sauce that stands by the sidelines.
Creative ways to use Pesto
These five ideas will fire up your culinary sense of creativity for how to use pesto in your cooking.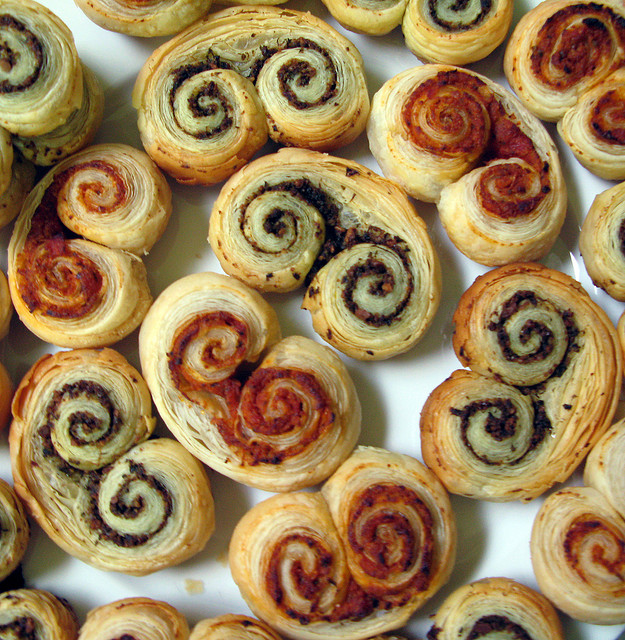 Pesto palmier, anyone? Photo via Flickr member nebulux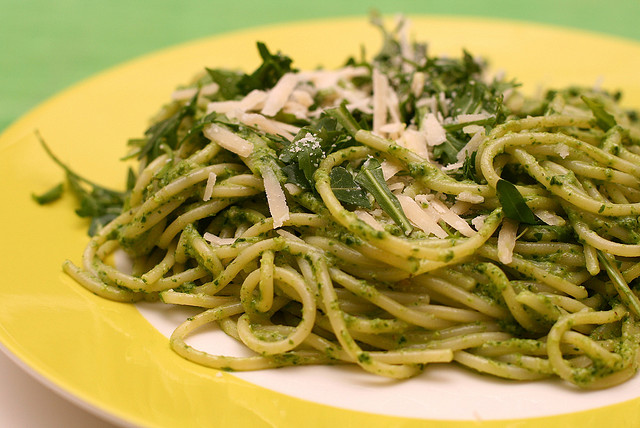 Atop pasta with a sprinkle of a hard cheese such as Pecorino Romano, pesto is a delight. Photo via Flickr member Diekaren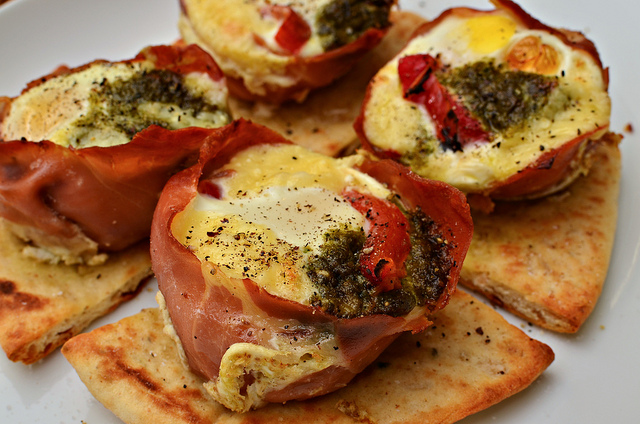 Baked eggs with pesto wrapped in proscuitto? Breakfast is served. Photo via Flickr member jeffreyww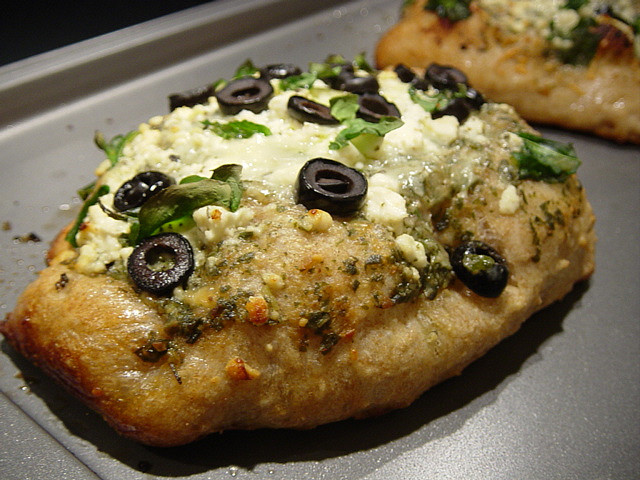 Pesto on a greek pizza with feta cheese is a festival of flavor. Photo via Flickr member crd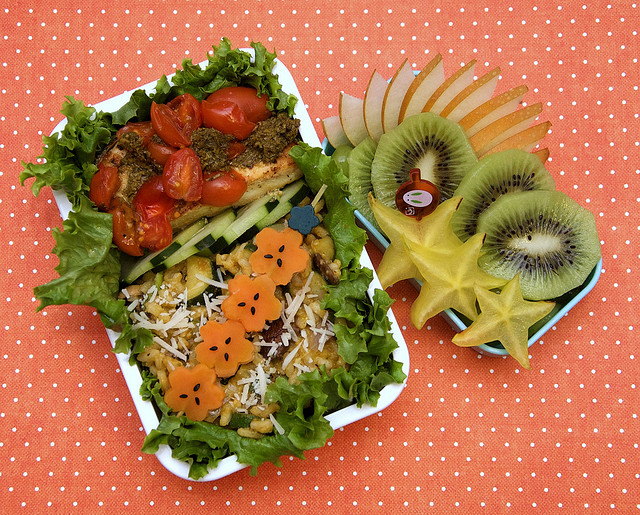 Asian fusion, anyone? This Bento box features pesto halibut and ought to win an award for adorable presentation. Photo via Flickr member gamene
Key ingredients:
Pesto only has a few ingredients, which means that every flavor will shine. Here's a guide to choosing the best ingredients for the job.
Garlic:
Use fresh garlic for the best results in your pesto. Choose garlic that is firm to the touch and without brown spots. Store it in a cool, dark place; garlic can last from a week to more than a month.
Basil:
Use fresh basil, not dried, to make pesto. While flavor is the primary advantage, there's also a much higher visual appeal to vibrant green basil than to its forest green dried counterpart. There are many different varieties of basil. Genovese basil, which is easy to grow and is often available at grocery stores, is one of the best for making pesto because it yields 7 to 8 cuttings worth of growth, and has a flavor that plays well with the other ingredients in pesto.
Olive oil:
Use a very good quality extra virgin olive oil with a flavor on the milder side. Ideally, its flavor is not so assertive as to overpower the other ingredients, but helps them all work in harmony. An extra virgin olive oil such as Taggiasco, which features olives grown at high altitudes, is a great choice.
Pine nuts:
Pine nuts can be expensive, so purchase in relatively small quantities. Pine nuts can go rancid quickly, so purchase your fresh pine nuts as close as possible to the time that you're making your pesto. Buy from a reputed retailer with high turnover to ensure that the pine nuts are freshest. Store in the freezer if not using within a few days of purchase.
Cheese:
Splurge on some good cheese for the best pesto. A mix of a hard cheese such as Parmigiano Reggiano paired with a milder goat cheese such as Pecorino Sardo is the best of both worlds: it has a sharpness from the hard cheese, but that is softened in a pleasing, creamy way with the more mild sheep's milk cheese. You can also use Pecorino Romano, but the flavor will be saltier and slightly more "biting". If these cheeses are not available or not within your budget, you can find a number of substitutions for Parmigiano Reggiano, and substitutes for Pecorino Sardo.
Salt:
I like to use a good quality coarse sea salt to bring out the most flavor in my pesto.
Materials:
What tools do you need to make pesto?
Food processor or blender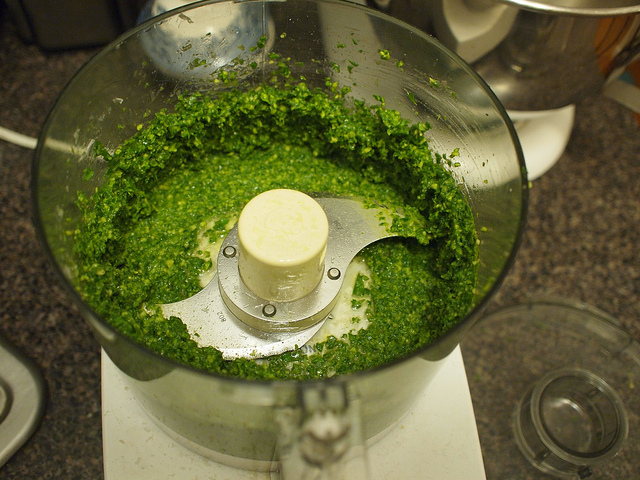 Photo via Flickr member bekathwia
If you don't have a mortar and pestle or just don't feel like grinding by hand, you can use a food processor to make pesto. It's easy, quick, and efficient. You can also perform the tasks of a food processor in this recipe with a better-quality high powered blender.
Mortar & pestle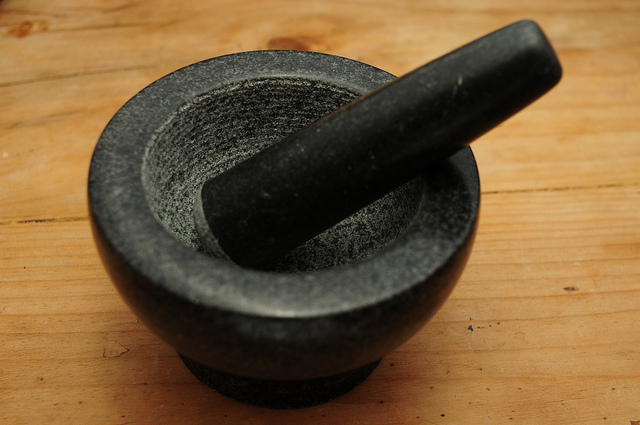 Photo via Flickr member sk8geek
Even though it's more physical work, let me make a case for using a mortar and pestle for your pesto-making. If you don't have a mortar and pestle, it's a good investment. Far from a one-trick pony, it can be used to make guacamole, as well as to grind ingredients into a paste for sauces or flavorings. For pesto, it really does bring out the flavor of all of the ingredients, and there's a certain sense of accomplishment that the tactile quality of working with a mortar and pestle lends to the finished product.
Can you replicate a mortar and pestle's function with a spoon and bowl? Sort of, but don't expect stellar results. You just won't have the mobility to grind the same way you would with a mortar and pestle.
How to make pesto
4-6 servings
3 cups fresh basil leaves
½ teaspoon coarse sea salt
2 cloves garlic
1/2 cup pine nuts
2/3 cup mild extra virgin olive oil
1/4 cup grated Parmigiano Reggiano
1/4 cup grated Pecorino Sardo
To make in a mortar and pestle
Add the basil with a dash of coarse sea salt. You won't so much grind as gently work the basil with the pestle against the sides and bottom of the mortar, shredding it.  You need to gently roll the pestle against the mortar walls, shredding the leaves as you go. When the basil begins to release liquid and it begins to accumulate at the bottom of the mortar, add the pine nuts. Once worked in and crushed, add the two types of cheese and stir until it comes together into a paste. Begin to add the olive oil a bit at a time, working it into the pesto. Once it is thoroughly mixed, taste and adjust the salt to your liking.
To make in a food processor
You don't want to add too much heat to the pesto ingredients with the whizzing of your food processor's blades. Avoid excess heat by freezing the removable blade in the freezer for an hour before making your pesto. Instead of the gradual process above, add all of the ingredients at once and pulse until it has come together for a perfect pesto. Scrape the sides of the bowl inside if needed to re-incorporate any flying basil leaves.
Tip: combine the pesto with a small amount of leftover water from cooking your pasta; this will help it adhere better and ensure even coverage.