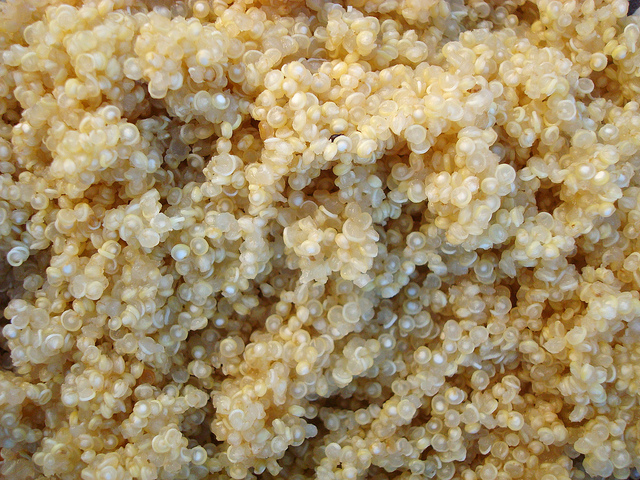 For a long time, I pronounced quinoa "quinn-oh-uh". I was very wrong, and either other people didn't know either, or they just never took the time to correct me. Even if I didn't know how to say the word, I knew I liked the stuff: lightly nutty, surprisingly satisfying, with echoes of various cereal grains, while retaining its own distinct personality. There's nothing quite like quinoa.
Well, in case you're wondering, the proper pronunciation is "keen-wa"–not very intuitive! But even if you do know that, there are probably a few things you don't know about quinoa.
What is quinoa, exactly? In spite of a popularly held opinion, it's actually not a grain. It comes from a grain–a species of goosefoot, which is a grain grown primarily for its seeds.
Even though it's not a grain, you can pretty much treat it like one in your cooking. While quinoa is usually considered to be a whole grain, it is actually a seed, but can be prepared like whole grains such as rice or barley.
There are over 120 different varieties of quinoa. While the seeds are the most popular version, flakes and flour made from quinoa are increasingly popular.
It's very, very old. It was grown in the Andes as long as 4,000 years ago. The Inca held the crop as sacred, and the sowing of the first seeds of the season was a red letter day on their calendar. Warriors are even said to have fueled up with quinoa balls before long marches to battle.
It almost went extinct. Conquistadors even forbade its cultivation for a time, scorning it as "farmer food". Luckily, the tradition did not die entirely. The conquistadors would probably be quite surprised to learn that today, quinoa is considered a gourmet food!
What makes it so healthy?
True story: the year 2013 was dubbed the "International Year of Quinoa" by the United Nations, owing to its high level of nutrition and potential to contribute to health and food security internationally.
This award was not arbitrary: cooked quinoa provides substantial sustenance. Among its many selling points:
It contains all eight essential amino acids, making it a complete protein.
It contains double the fiber of most other grains.
It is rich in iron, which is vital for keeping red blood cells healthy.
It is rich in manganese, bone production, blood sugar control, and protection against free radicals.
It is a low glycemic index food, meaning that it won't cause a spike in blood sugar and will give you an even, long-lasting energy.
Quinoa is a gluten-free grain. This means it's appropriate for gluten-free diets as well as vegan diets. Given the rise in popularity of these healthier ways of eating, it's no wonder that quinoa is having its moment as a superfood.
In language you can easily digest? This is a food that will fill you up, give you long-lasting energy, and benefit your body in many ways.
How is quinoa used?
Quinoa is an unbelievably versatile seed. It can be used as a side dish or as part of a main dish, as a breakfast cereal or even in sweets. Here are five creative ideas for how to use quinoa:
Top your quinoa with yogurt, fruit, and nuts for a morning cereal.
Pair cooked quinoa with sautéed mushrooms and kale for a hearty and healthy meal.
Stuff peppers with quinoa and vegetables for an appetizer or light dinner.
Combine quinoa with cheese and pan-fry for a savory vegetarian dish.
The secret ingredient in these cookies? Quinoa! Date-sweetened quinoa cookies are a sweet treat indeed.
Things you need to know about quinoa
Before you cook quinoa, you should know some important things about this grain.
You need to wash it before cooking.
It is absolutely vital that you thoroughly wash your quinoa before cooking. It might sound fussy, but please, don't skip this step. Why? Quinoa contains something called saponin. Saponins are occurring chemical compounds present in a number of specimens of plant and sea life. Among other things, they act as a natural repellent. While that is good for keeping away bugs and animals when the grain grows, the saponin can impart a bitter taste to cooked quinoa, so be sure to wash until the water runs clear. Don't soak the quinoa to clean it, as this may actually help the saponin deposit itself in the seed.
There will be natural variations in coloring.
There are actually 120 different types of quinoa. This will cover many variations in color and subtle size difference. The most commonly sold versions are white or ivory quinoa, red quinoa, and black quinoa. Black quinoa in particular is notably lower in carbohydrates and tends to cook crunchier.
The ratio of water to quinoa matters
There are different schools of thought about how much water should be used in ratio to the amount of quinoa. I find that the following is a good rule of thumb:If you are pretty much eating the quinoa as-is, perhaps mixing it with nuts and brown sugar for breakfast or sprinkling on top of a salad, use a 2:1 ratio of water to quinoa.If you are going to use the quinoa as a component of a recipe that will be cooked further, such as a stir-fry, used a ratio of 1:1 water to quinoa. This will keep the quinoa "al dente" and will allow for absorption of more moisture and flavor during further cooking.
How to store quinoa
Uncooked quinoa: Be warned, quinoa's lifespan is not infinite. If not properly stored, it can go rancid.  For your safety and for best flavor results, store uncooked quinoa in an airtight container for up to three months (up to six months in the fridge or freezer).
Cooked quinoa: First, let your cooked quinoa cool to room temperature. Place in an airtight container, and store in the refrigerator for up to 5 days, or in the freezer for up to a month.  
How to cook quinoa
This is an easy to master method of cooking quinoa that will reap you many delicious benefits.
1 cup quinoa
1-2 cups water (see notes above)
pinch salt
Step 1: Wash the quinoa. Place the quinoa in a mesh strainer. Run under cold water and stir once or twice. This will clean the quinoa of any possible impurities and the bitter taste of saponin.
Step 2: Place the cleaned quinoa, 2 cups water, and salt, in a medium saucepan (you want a healthy amount of clearance above the liquid so it has room to bubble without boiling over). Over medium heat, bring to a boil. Once it has reached the boiling point, reduce the heat to low-medium (the boiling will reduce to a simmer).
Step 3: Cover and let simmer until the water has been absorbed by the grains. If you are using a lower ratio of water to quinoa, this can take as little as 8 minutes. If you're using the full 2 cups, it can take 15 to 20 minutes. Remove the lid (you may want to lift it using an oven mitt, as steam will rise once you lift it), and let the quinoa chill out in the pan for 5 minutes (this should absorb any remaining liquid).
Step 4: Fluff with a fork. You'll be amazed at how really fluffy it becomes! Your quinoa is ready to serve.
Creative variations
Once you've mastered the simple art of cooking quinoa, you can start to have some fun with it. Here are some variations that can add flavor and intrigue to the recipe:
Change up the liquid – You don't have to stick with just water to cook your quinoa. For breakfast, I like to use part milk or coconut milk to give it a rich, creamy flavor. If I am making a savory dish, it can be quite pleasant to cook the quinoa in a vegetable or meat broth.
Add a little butter – Simply adding a tablespoon of butter at the same time you fluff the quinoa works wonders: it will melt almost instantly in the residual heat, and will lend a richness and luxuriant flavor to your quinoa.
Toast your cooked quinoa – Place the quinoa in a single layer on a parchment-lined baking sheet. Bake in a preheated 350 degree oven until lightly browned and toasted. It makes a fantastic garnish for salads or vegetable dishes.
What's your favorite way to eat quinoa?
Article by Jessie Oleson Moore