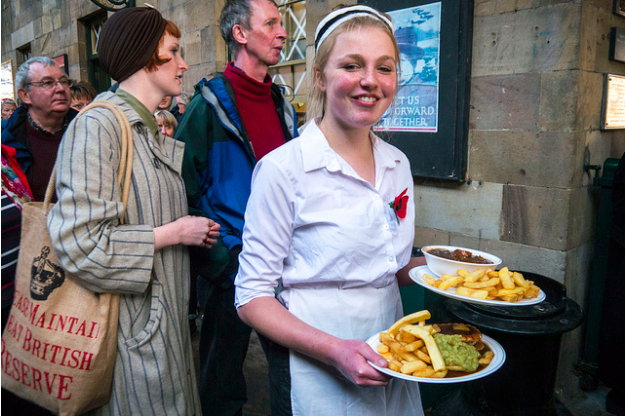 (Source: Flickr)
A restaurant's success depends very strongly on the overall morale of the staff. A happy staff makes for a more positive workplace, improved customer service, and an overall better customer experience. On the flip side, an unhappy staff can make your restaurant an extremely unpleasant place to be, with resentments arising between employees and management, and general staff apathy which can result in poor customer service.
Treating your staff well is one of the keys to your restaurant's long term success. Here, we'll detail 7 effective ways to improve staff morale. Some of them are long-term prospects, and others can be put in place immediately. By adopting these practices, you're bound to see an improvement in the overall mood of your establishment.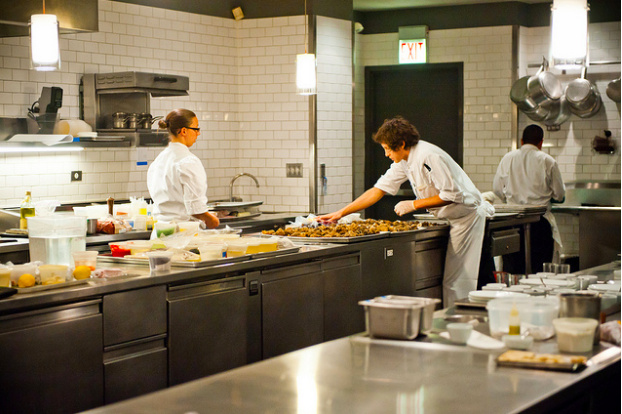 (Source: Flickr)
Offer a training program.

One of the best steps that you can take toward high morale among your staff is a proactive one:

train your restaurant employees

.
A good training program should go beyond new servers trailing a more seasoned employees for a shift and then being "thrown to the wolves".  Regardless of what role the employee will play in your restaurant, from dishwasher to server to line cook, they should be trained. A training program will help you prep your employees to offer the best possible service, and it shows them that you respect them and value them being part of your establishment, which can lead to less turnover and more long-term employees.
Have systems in place.

Have systems and chains of action in place for common situations among your staff. This would include an established course of action for customer service issues such as an established course of action for dealing with unhappy customers. But it isn't just limited to his isn't limited to just customer service: have systems in place for personnel issues, as well.
For example, one of the most common issues behind the scenes in a restaurant results from requests for time off. To avoid bad feelings and potential understaffing, establish a chain of action for requesting time off or requesting a shift change. Taking the proactive step to have systems in place for common issues can help reduce a lot of frustration and time spent, which results in a happier staff and happier management.
Promote a healthy workplace.

Show your employees that you value them–and help ensure that they will deliver their best possible service–by actively promoting a healthy workplace. This means offering good shifts, a fair wage, ample time off, and allowing employees the flexibility to manage their unique lifestyles. By "offering flexibility" that doesn't mean be a pushover whenever employees ask for time off, but rather, take into account each employee's needs. For instance, if you have a server who is a single mother, offering her time off in the afternoon to pick her kids up at school can be a great service to her.
Promoting a healthy lifestyle at work will result in higher morale, and it will also discourage burnout, which is particularly common among chefs. It can also increase staff retention, encouraging your employees stay on long term.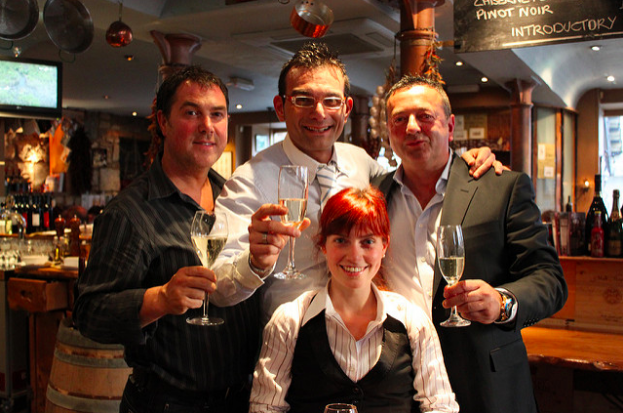 (Source: Flickr)
Listen to your employees.

This is a simple way to improve staff morale: listen to your employees. Listen to their suggestions, feedback, complaints, concerns, and praise.
Your employees are not only the heart and soul of your restaurant, but they're also the eyes and ears. The front of the house staff is like your front line to the world; the back of the house staff sees and manages all of the nuts and bolts that keep your restaurant going. If they have things to say, whether it's offering customer feedback or complaining about a food vendor delivery, listen to them. Chances are they will have something valuable to offer. Taking the time to listen to them will not only improve the overall quality of your restaurant, but will also make your staff feel important, which improves morale.
Hire a good manager.

One of the best ways to ensure that the previous four methods for increasing staff morale are put in place and kept active? Hire a good

restaurant manager

.
A restaurant manager is like a movie producer inside of your establishment, making sure that all systems are go, and acting as the liaison between the front and back of the staff and customers. But instead of lights, camera, action, for them it's people, logistics, and food! A good restaurant manager can revolutionize your business and improve staff morale.
Host tastings / staff meals.

A staff meal can be an excellent way to promote bonding among your staff and amplify the team spirit in your establishment. But in addition to making your staff feel appreciated and well fed, it is also a valuable opportunity to let the staff taste your cooking.
Letting the staff taste the chef's cooking, be it a variant of a menu dish or a special, is a great opportunity to train their palates so that they can "sell" the food to customers.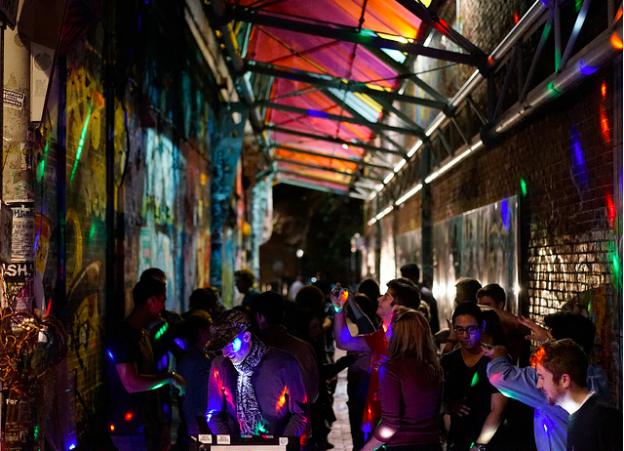 (Source: Flickr)
Reward good work.

So, your staff morale has been getting higher, and your employees are performing at their peak. Make sure that the bar stays high by rewarding your staff for their good work.
On a small level, a "reward" might just mean complimenting a staff member on a particularly good job, for instance if a server had a big night or handled a large party particularly well. On a larger level, a reward might be a staff party, a restaurant-funded outing, or a day trip for the staff. This can increase the bond and keep staff inspired to perform at their best.
Conclusion: A restaurant is truly only as good as its staff. To make sure that your staff is operating at peak performance, it's important to actively work to maintain a high morale in the workplace. By putting these 7 methods in effect, you'll vastly improve the morale in your workplace, which results in happier and healthier employees. Happy employees provide far superior service, and that's great news for your bottom line.
How do you maintain high morale among your restaurant staff?