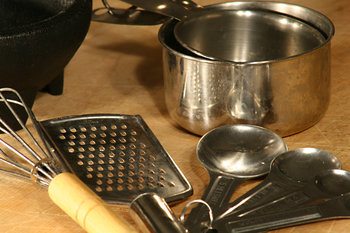 Whether you're moving into a new kitchen, sorting through your existing cooking tools to determine which you should keep and which you can afford to give away, or if you've owned your kitchen for awhile but have decided to become serious about using it to its full potential, there are several cooking tools you cannot ignore. Each cook has different needs depending on his or her expertise, so you may need more sophisticated equipment, or you might be able to get by with the basics, but either way, here are ten essential cooking tools that everyone needs in their kitchen.
Measuring Cups and Spoons
You may be able to throw together your favorite dish without the use of measuring equipment, but when trying new recipes (especially when it comes to baking), it's always a good idea to follow specific measurements so you end up with the desired taste and consistency. This is especially true of baking, which is considered to be more "scientific" with a specific ratio of ingredients required to achieve the perfect result. It's also nice to have a separate liquid measuring cup to achieve a more accurate measure of liquid than what a dry measuring cup can offer (plus, you don't have to worry about spilling the liquid when carrying it over to the mixing bowl).
Variety of Mixing Bowls
There's nothing you can substitute for a good mixing bowl, which makes them an absolute kitchen essential. Many recipes require the use of more than one bowl before the dish is finished, so getting a set of different sized mixing bowls is a great idea. Many mixing bowls come with lids for storage options, and you can also get them in materials that are oven and microwavable safe to create baked dishes as well.
Rubber or Silicone Spatula
A rubber spatula is you best friend when it comes to scraping, stirring, pouring, or mixing. Spatulas are often great for reaching into containers that are difficult for other utensils or for scraping out all the last drops from the crevices along the bottom of the pan. Be careful when using these around heat so that they don't melt.
Cutting Board
Cutting on countertops or plates is unacceptable and ineffective. A quality cutting board will give you the perfect surface to cut your ingredients on without worrying about them slipping, will keep your knives sharper for longer, and will help make cleanup easier. Make sure you clean your cutting boards well between uses, especially when cutting raw meat.
Hand Mixer or Stand Mixer
Many cooks swear by their stand mixer and its ability to combine any combination of ingredients at just the push of a button, but if you're a more minimalist cook, you should at least invest in a smaller hand mixer. Mixing by hand will only get you so far. Sometimes you need an electric mixer to truly whip up the creamiest and fluffiest concoction.
Baking Pan
Baking pans are an amazingly versatile and useful kitchen item. There's no limit to what you can bake in a baking pan, from main courses to desserts. You can also use them as storage for leftovers (be sure to buy one that comes with a lid) or as a stabilizer/drip pan for smaller baking items.
Wooden Spoon
A wooden stirring is perhaps one of the most versatile utensils you can own in your kitchen. These spoons are perfect for mixing all types of ingredients without worrying about scratching your bowls and pans (however be careful about setting them too close to heat so they don't burn). Not only are they great for mixing, but they are simple and attractive, so they are often excellent for serving purposes as well.
Pots and Pans
You need some quality, non-stick pots and pans of various sizes for a complete kitchen: one saucepan, one large stockpot (for soups and large batches), a sauté pan (with higher edges for your favorite stir fry), and a smaller frying pan/skillet. You may think you can make it by with one type of pan, but you'd be surprise at how less often you default to frozen meals or eating out with a quality variety of cookware. Plus, cooking over the stove gives you a more even heating and more control than simply heating your food in the microwave.
It's tempting to pinch pennies when it comes to buying kitchen supplies, but if there's one thing you should splurge on, it's a set of good knives and a sharpener. Almost anything you cook will involve some form of cutting, so your knives will definitely get a good workout. Quality knives make cutting faster and easier, and keeping them super sharp will actually help avoid cutting accidents and frequent trips to the pharmacy to stock up on your kitchen Band-Aids. The good news is, cutting accidents don't mean you're a bad cook, it means you have some crummy or dull knives. Dull knives are actually more dangerous than sharp ones because they require more force to actually cut anything, and it's easier for you to lose control because they slip more easily across the cutting surface. Save yourself a finger and get some new knives.
You may not think it's a kitchen "essential," but you'll be singing a different tune when you have company over and have to change because you splattered sauce all over your shirt. This simple tool is practical in avoiding messes and extra laundry emergencies, makes you look professional and festive when entertaining guests, and many aprons come with pockets, which are perfect for storing recipes and wine bottle openers so you don't waste time trying to figure out where you set them last.
What is the cooking tool you absolutely cannot live without? Is there any tool you've introduced into your kitchen that has completely changed your cooking life? Let us know in the comments section below.