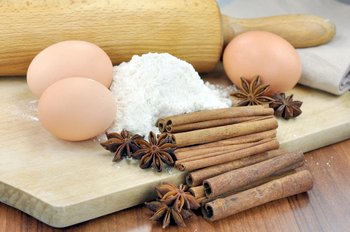 Winter is the perfect time to fill your home with the delicious smells and warmth of freshly baked bread. These recipes are perfect for entertaining company or for keeping regularly around the house to combat the chills of winter and warm you from the inside out.
Rosemary Lemon No-Knead Bread
This bread is perfect for soup-dipping.
What you will need:
3 cups all-purpose flour
¼ teaspoon active dry yeast
1 5/8 cup lukewarm water
1 ¾ teaspoon kosher salt
1 ½ teaspoon fresh, chopped rosemary
2 teaspoons fresh lemon zest
In a large bowl, combine flour, yeast, salt, rosemary, and lemon zest. Slowly add the water and stir until all ingredients are well mixed. At this point, the dough will be sticky. Cover the bowl will plastic wrap and let sit at room temperature for 12-18 hours. When the dough is ready, the size of the dough should be almost doubled and there should be bubbles along the surface.
Fold the dough over on itself a few times on a lightly floured surface, then cover loosely with plastic wrap and allow it to sit for another 15 minutes.
Shape the dough into a ball (don't forget to flour your hands) and place on floured cutting board. Dust the top of the dough with flour and cover with a kitchen towel. Allow the dough to sit until it has doubled in size (about two hours).
In an oven preheated to 450 degrees Fahrenheit, place an empty 2 ¾ cast iron pot to warm for 30 minutes. Then, remove from oven, brush the inside with olive oil, and place the dough inside the pot, covered in the oven for 30 minutes. After 30 minutes, remove the cover and allow the bread to cook for an additional 15-20 minutes until the top is browned. Remove from oven and allow it to cool in the pot for 10 minutes before removing and cooling completely.
Winter Squash Chai Bread
Combine the tastes of winter crops with fall and winter spices for this uniquely delicious bread.
What you will need:
½ cup sugar
½ cup butter at room temperature
1 cup mashed winter squash (such as butternut or acorn)
2 large eggs
½ cup liquid chai concentrate
1 teaspoon vanilla
2 cups all-purpose flour
2 teaspoons baking powder
½ teaspoon baking soda
1 ½ teaspoons salt
2 teaspoons ground cinnamon
½ teaspoon of each: ground cardamom, ginger, and black pepper
¼ teaspoon of each: ground cloves, nutmeg, and allspice
½ cup chopped walnuts or pecans
Preheat oven to 350 degrees Fahrenheit. In a large bowl, beat together butter and sugar until fluffy. Add squash, eggs, vanilla, and chai and stir until well mixed. In a small bowl mix flour, baking soda, baking powder, salt, and spices and slowly mix into the wet mixture. Add nuts and stir until well mixed.
Pour batter into a greased, 8-inch loaf pan. Bake for 45-55 minutes or until a toothpick comes out clean when inserted into the center of the loaf. Allow bread to cool for at least 10 minutes.
Homemade Cinnamon Bread
What better way to wake up on a winter morning than to the smell of homemade cinnamon bread: the perfect winter's morning treat.
1 cup milk
6 tablespoons butter
2 ½ teaspoons active dry yeast
2 eggs
1/3 cup sugar
3 ½ cups all-purpose flour
1 teaspoon salt
1/3 cup sugar
2 tablespoons cinnamon
Melt butter with milk. Heat to very warm, but not boiling. Allow to cool until still warm to the touch, but not hot. Sprinkle yeast over the top, stir gently, and allow to sit for 10 minutes.
In a small bowl, combine the flour and salt and set aside.
In a large bowl, beat sugar and eggs until light and fluffy. Add the milk/butter/yeast mixture and stir until well combined. Add half the flour mixture and beat until well combined. Add the other half of the flour mixture and beat until combined.
Using the dough hook attachment of an electric mixer, beat the dough on medium speed for ten minutes. Add flour if dough seems too sticky.
Heat a glass or metal bowl until it is warm and drizzle a little oil inside. Add the dough and toss the dough until it is coated in oil. Cover the bowl and dough in plastic wrap and set aside in a warm place for two hours.
Roll the dough into a neat rectangle about 18 to 24 inches long (or the size of the loaf pan you are going to use). Smear the dough with 2 tablespoon of melted butter. Mix sugar and cinnamon together and sprinkle evenly over the buttered surface. Start at the far end and roll the dough evenly toward you, keeping the roll tight and contained. Pinch the seam at the end to seal the roll.
Grease the loaf pan and place the roll seam side down in the pan. Cover with plastic wrap and allow to rise for 2 hours.
Preheat oven to 350 degrees Fahrenheit. Mix a little egg and milk and gently brush over the top of the roll. Bake for 40 minutes. Remove from oven and allow to cool.
Sourdough Bread (Bowls)
Winter is soup season and the only thing that makes soup better is if it's in a warm, fresh, and deliciously edible bowl.
3 cups all-purpose flour
1 tablespoon salt
1 cup sourdough starter
½ cup lukewarm water (over 100 degrees Fahrenheit)
Combine flour and salt in a large mixing bowl, then create a well in the center. Add the sourdough starter and water to the well and stir until it forms a rough dough. Then, use your hands to work the dough until it forms into a ball. On a floured surface, knead the dough until the dough is smooth and elastic.
Place the dough in a lightly oiled bowl and cover the bowl with a dishcloth. Leave in a warm place until the dough has risen to nearly double its size (about 2 hours).
Remove the dough from the bowl and punch it down. Then, knead briefly, enough to get the dough back to a ball shape. For bread bowls, cut the dough into four pieces and shape each piece into a ball. Then, place the dough on an ungreased backing sheet as far apart as possible. Place the baking sheet in a warm place and allow to rise again until the dough is double its size (about 1 ½ hours).
Bake at 425 degrees Fahrenheit for 15 minutes, then reduce oven temperature to 375 degrees Fahrenheit and bake for another 30 minutes.
To make the bowls, use a serrated knife to cut off the top of the loaf of bread (about 1/3 of the way down from the top). Then, with a paring knife, make a cut straight down just inside the edge of the loaf all the way around, but not nearly all the way down to the bottom. Reach into the cut with your fingers and pry the middle of the loaf out of the center. Fill the cavity with your favorite soup or chili (use the middle plug of the loaf for dipping).
Challah
This traditional Jewish holiday bread is the perfect accompaniment to holiday meals or for turning leftovers into sandwiches.
What you'll need:
1 ½ tablespoon active dry yeast
1 tablespoon plus ½ cup sugar
½ cup olive oil
5 large eggs
1 tablespoon salt
8 to 8 ½ cups all-purpose flour
½ cup raisins, plumped in hot water and drained
Poppy or sesame seeds for sprinkling
In a large bowl, dissolve yeast and 1 tablespoon of sugar in 1 ¾ cups lukewarm water.
Whisk oil into the yeast, then beat in 4 eggs, one at a time, adding remaining sugar and salt. Gradually mix in flour. When dough holds its shape, begin to knead on floured surface until smooth.
Place dough in lightly oiled bowl and cover with plastic wrap. Allow dough to rise in warm place until almost doubled in size (about 1 hour).  Remove dough from bowl, punch down, knead back into a ball, and return to covered bowl to rise for an additional 30 minutes.
Knead the raisins into the dough. To make a 6-braid challah, take half the dough and divide it into 6 balls. Roll each ball into a strand about 12 inches long and 1 ½ inches wide. Place the 6 strands parallel to each other and pinch together at one end. Move the outside right strand over 2 stands, then take the second from the left strand and move it to the far right. Take the outside left strand and move it over 2 strands, then move the second from the right strand to the far left. Continue until all strands are braided. Make the second half the same way. Pinch off the ends for a straight loaf or twist into a circle and pinch the ends together. Place braided loaves on a greased cookie sheet with at least 2 inches of room in between.
Beat remaining egg and brush over the top of loaves, then let rise another hour.
Preheat oven to 375 degrees Fahrenheit and brush the loaves again with egg. Sprinkle loaves with seeds and bake for 30 to 40 minutes until golden. Cool loaves on rack.
Orange-Spiced Fruit Bread
This sweet bread combines the citrus and spice associated with the winter holiday season.
What you'll need:
½ cup golden raisins
½ cup sweetened dried cranberries
½ cup chopped dried figs
2 cups unbleached bread flour
1 ½ cups whole-wheat flour
1 tablespoon aniseed
1 ½ teaspoon ground allspice
1 ¼ teaspoon instant, quick-rising yeast
1 ¼ teaspoon salt
1 ¼ cup ice water
6 tablespoons honey
¼ cup mild molasses
2 tablespoons vegetable oil
2 teaspoons finely grated orange zest
3 tablespoons orange juice
2 tablespoons honey
1/3 cup confectioners' sugar
2 teaspoons orange juice
Soak raisins, cranberries, and figs in hot water for 10 minutes, drain well, and cool until barely warm.
In a large bowl, mix bread flour, whole-wheat flour, aniseed, allspice, yeast, and salt. In a medium bowl, thoroughly whisk 1 ¼ cups ice water, honey, molasses, oil, and orange zest. Vigorously mix the honey mixture and fruit into the dry ingredients until the dough is thoroughly blended. Dough should be fairly stiff but somewhat stick. Lightly coat the top of the dough with oil, then cover the bowl with plastic wrap and let rise for 12 to 18 hours at room temperature. Stir dough once partway through the rise.
Grease a 10-cup Bundt pan. Knead the dough enough to deflate it, then transfer the dough to the pan. Lightly coat the top of the dough with oil, then smooth and press dough evenly into the pan. Cover with plastic wrap and allow to rise at room temperature until the dough is about 1 inch below the rim of the pan (about 1 ½-2 ½ hours).
Preheat oven to 350 degrees Fahrenheit. Bake the loaf about 60 to 70 minutes or until lightly browned and a toothpick inserted into the loaf comes out clean. Cool in pan on wire rack for 10 to 15 minutes.
Combine orange juice and honey in a small bowl and brush about half of the syrup over the top of the loaf. When it is fully absorbed, remove loaf from pan, place upside down on wax paper and brush the other side with the remaining syrup.
In a small bowl, combine confectioners' sugar with orange juice to make a thick glaze. Drizzle the glaze over the cooled loaf and leave uncovered until glaze sets (about 30 minutes).
What is your favorite bread recipe to make during the holidays? Comment below!