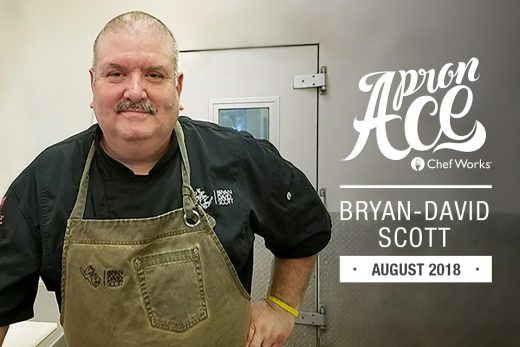 ---
Each month we feature an Apron Ace. If you love your Chef Works apron and wear it outside of the traditional kitchen setting – makeup artist, potter, florist – or in the case of this month's Apron Ace, a coffee chef, we want to know! To be featured, email marketing@chefworks.com. Pictured above is our August Apron Ace, Chef Bryan-David Scott, photographed in his Dorset Chef's Bib Apron and Gramercy Chef Coat.
---
Bryan-David Scott is not your typical Apron Ace. He's known as The Coffee Chef. And that has more than one meaning. He's a coffee roaster … a chef of coffee, one might say. And he's also a chef who cooks with coffee – creating rubs, sauces and assorted concoctions in his test kitchen.
The three-time Luxury Coffee Roaster of the Year took some time to spill the beans with the Chef Works blog about his origins in cooking and the "ah-ha" moment when he became The Coffee Chef.
Take us through when you first realized you wanted to cook.
Bryan-David Scott: It begins in a very small kitchen in Fremont, Calif., in the East Bay. I fell in love with cooking. I could always tell what my mom was making for dinner before I even walked through the door. I used to stand on a little wood bench and watch. One day I told her that I never see her use a recipe. She smiled and said she was a pinch cook. I was fascinated. One night I wanted to try cooking, so I asked if I could reheat some corn. I just grabbed plastic bowl, turned the burner on and put the bowl on. A few seconds later the bowl is melting and there's thick black smoke. Mom came running out and she was so patient. She put it out and smiled. That was my intro into cooking.
So plastic-coated cream corn wasn't your thing. Tell us about coffee and how you use it.
BDS: I actually do a lot with coffee that isn't necessarily chef-oriented. We do lots of coffee tastings.  Coffee is rated on a point scale, with 28 points being the lowest grade. Most brands in America are about 15 to 25 points. We represent the .1 percent of the grade-1 coffee. We're talking coffee that is $1,800 to $2,200 per pound. We'll do tableside French presses. I do multiple charity events. I've been fortunate enough to be the luxury coffee specialist for multiple pre-Oscar and pre-Emmy celebrity dinners.
What about coffee in actual cooking?
BDS: When I infuse coffee into whatever I'm making, it elevates the experience exponentially. I'll use it in everything from dry rubs to sauces to a whiskey molasses. I'm very versatile as a chef. I was trained well early on.
Tell us about your training.
BDS: My first boss was the most terrifying Turkish chef you can imagine. My first day on the job, he walks me down to this basement – I didn't know why he took a chef knife with him – and he said 'I am old school Turkey. If you steal from me, I will cut your fingers off.' That was my first day as a chef's apprentice. He was harsh. He made Gordon Ramsay look like a kindergarten teacher.
You took a break from cooking for a while. What got you out and what brought you back in?
BDS: Around 2005, I was a single dad of three boys. I was tired of the grind. If I didn't hear another receipt printing I'd be happy. I actually got into selling furniture. But when the housing market collapsed, I started asking myself, what do people buy everyday instead of every few years? Coffee was an obvious choice. I did my research and started connecting with roasters. One night at a catered event for some professional athletes in Seattle, the chef didn't show. They had all these steaks. I told them I was a chef. I had this $500 per pound coffee that I didn't want to waste. So I put it in the pan and started reducing it. I had dark chocolate and I started making a sauté.  These guys couldn't believe what they were seeing. I took the steaks off the grill in this rich and deep sauce and I sprinkled a tiny bit of the coffee grounds on it and one of them said 'You're the coffee chef.' And that's how it stuck.
You've been a fan of Chef Works for a while. What is it about the company that makes you a believer?
BDS: I hear from Chef Works people all over the world – from Chef Works in Europe and Chef Works in Asia and everyone is fantastic. I believe in the product. I believe in the people. And anytime I get to post something and help promote Chef Works, I love to do it.
---
To learn more about Chef Bryan-David Scott, visit his website or follow him on Instagram or Twitter.
---