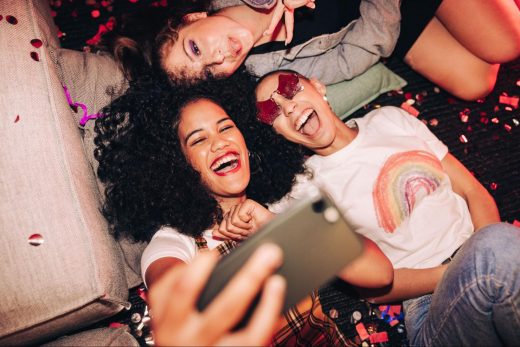 Millennials and their supposed obsession with avocado toast are no longer the spotlight of the hospitality industry. Instead, restaurants and bars are focusing their attention on appealing to a new generation — Gen Z.
Gen Z is the generation of teenage activists now grown up — young adults who have known nothing but tumultuous times and are now ready to step in as major spenders.
This edition of Weekly Bites reflects on three stories from the hospitality industry that consider how Gen Z is starting to change the industry. From new food-related words to eating out less and earlier in the day, a lot of these changes are welcome by all generations, while others are a bit more decisive.
The words that we use to describe food reflect our culture surrounding food. And when a new word enters the dictionary, it signals that it's here to stay. Language change usually starts with younger generations as slang, and then gradually becomes accepted as normal language use.
Merriam-Webster added nine food-related words to their official dictionary. These words reflect how our food culture is changing, and what changes are permanent. Here are some words that are particularly interesting to the hospitality industry:
Omakase: "A series of small servings or courses (as of sushi) offered at a fixed price and whose selection is left to the chef's discretion." The omakase style of eating Japanese food has exploded in popularity in America. This is in part because of the popularity of the movie Jiro Dreams of Sushi, which highlights an omakase chef, but it also reflects diners' desire for highly curated experiences.
Sessionable: "Having a light body and a lower-than-average percentage of alcohol." This should come as no surprise, as the low and no-alcohol movement has been gaining traction over the years. The new generation wants exciting and tasty low and no alcohol options available as staples on the drinks list.
Plant-based: "1. Made or derived from plants; 2. consisting primarily or entirely of food (such as vegetables, fruits, nuts, oils, and beans) derived from plants." Listen, veganism is here to stay and it's no longer a fringe restrictive diet. The addition of "plant-based" as a word shows a larger trend towards including eating less animal products as a whole. The new generation of diners want more plant-based meals, even if they don't follow a strict vegan diet.
Another interesting trend on the list of new words was the addition of new-to-Americans ingredients and dishes. Ras el-hanout (a North African spice mixture), mojo (a Caribbean sauce/marinade), birria (a Mexican stew made with goat meat), and banh mi (a Vietnamese sandwich) were all officially added to the English dictionary. Pinterest calls these "ancestral foods" or "someone's grandmother's recipes." Of course neither of those phrases are accurate, since someone's grandmother also has recipes for things like hot dogs and donuts. What these additions do show is that the food of immigrant communities are becoming staples in American dining.
We've got some dire news. According to a report released by the NPD Group (an American market research firm), Gen Z young adults (ages 18-24) are dining out less than previous generations.
This article by Saveur offers some potential explanations. It could be that because the pandemic marked the very first years of Gen Z adulthood, they haven't developed a habit of eating out. Another possibility is that the pandemic-related layoffs left Gen Z with less expendable income. As a side note, when will Gen Z — the post 9/11 generation — ever catch a break?
The survey, which asked in-depth questions about Gen Z dining attitudes and behaviors, made a few other observations. When they asked Gen Z adults what they prefer to spend their money on, they overwhelmingly replied apparel, beauty, footwear, and technology. The article speculates that this may be because many apparel and beauty brands successfully target Gen Z's values of diversity and empowerment. One thing is clear: Gen Z only spends their money on brands and companies that share the same values as them.
Other participants of the survey said that rising menu prices are keeping them out of restaurants. If that's the case, then the solution to attracting Gen Z diners seems simple: a budget-friendly progressive restaurant with strong values of diversity and environmentalism.
The Saveur article ultimately brings it back to the pandemic, musing that the Gen Z population have developed premature homebody habits, and don't experience a burning desire to go out. TikTok and Instagram have helped Gen Z hone their cooking skills. If so, what role does the restaurant serve for the average Gen Z adult?
The survey indicated that when Gen Z go out to restaurants they look for places that are good settings for first dates. In addition, they tend to go for specific dishes that are particularly difficult to replicate at home. In this, perhaps, Gen Z aren't so different from the generations before.
Dining late has always been fashionable in New York, similar to European cities where dining at 9 or 10 pm is perfectly reasonable. Part of this late-dining trend was borne out of necessity — people worked later hours and commuted home from work. Coupled with the fact that there's no need to get into a car to go anywhere in NYC, and dining late at night just made sense.
Note that we're using the past tense here, and it's because dining hours in New York are officially shifting. A New York Times article titled "For New Yorkers, 6 p.m. is the New 8 p.m." reflects that NYC dining times are now earlier, making the city more in line with other major American cities.
Why are more New Yorkers dining at 6 pm? As with most big changes lately, it probably has to do with the pandemic. More adults are working from home instead of commuting, which means they are done with their day earlier. Leaving the house to get dinner is a great way to signal that the work day is over. The change was also forced onto restaurants during the early days of the pandemic, when curfews were strictly enforced.
Many restaurateurs say that these earlier hours are here to stay. And maybe it's for the best — allowing restaurant staff to have more "normal" working hours.