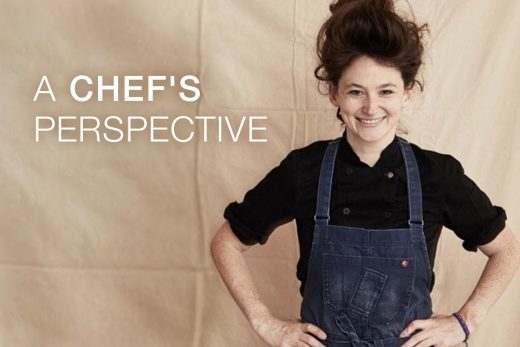 Caroline Schiff, executive pastry chef at Gage & Tollner in Brooklyn, is a native New Yorker and is seeing firsthand how her city is pulling together.
She took some time earlier this week to chat with the Chef Works Blog about the positive contributions she's seeing, how she's spending her time and her vision for the future.
Let's just dive right in. What do you see on the other side of all of this?
Caroline Schiff: Honestly, I think we're going to see a major creative boom in culinary. I'm glad that people are staying home and cooking and baking. That's exactly what we need right now – not just in New York, but everywhere. But when this is over, people are going to be so excited to go out to eat. I think you're going to see restaurants and hospitality explode when this is done.
The idea of going to a sit-down restaurant and ordering your favorite meal or seeing your favorite bartender or seeing your favorite server is so appealing. A lot of people can't wait for that day to come.
What are you seeing daily in New York from a business perspective?
CS: You're seeing restaurants finding ways that they can still help to support their hourly workers. There are a lot of places that have started crowdsourcing relief funds to help their workers. It's pretty amazing.
What's something you've seen that makes you believe we're going to get through this together?
CS: There is a restaurant near me that is just putting out bags of food every day for people take. No sales, no questions. If you need it, take it. Stuff like that affirms my faith in humanity.
What can the average consumer do to help?
CS: Buy gift certificates. Buy merchandise. Book a party for next year and put down a deposit. If you are able to order takeout and pick it up safely, that's great. If you have a favorite restaurant, ask them what you can do and if they have a crowdsourcing relief fund. Anything helps during this time.
What positive lessons do you think can be learned from all of this?
CS: Hopefully we'll be able to talk about better ways that we can care for our hourly workers and find ways that we can do better at providing benefits. I understand that all of that takes time and money. But after something catastrophic happens, you learn to prioritize what you need. I think we're going to come together as an industry and start tackling some of these important questions.
How have you been keeping your days occupied?
CS: Chefs are creative people by nature and for the last two weeks I've been doing nothing but R&D and recipe cataloging. I've got a new cheesecake, a new type of cookie and I've been playing with sourdough recipes.
We have so much to look forward to when this is over. We just have to keep supporting each other emotionally and, if you're able to, financially. Our cities are going to come back to life.
---
What does the latest legislation mean? How can you help the culinary and hospitality industries? Check out Monday's blog post for useful, reliable news and resources.
Photo credit Alan Cresto