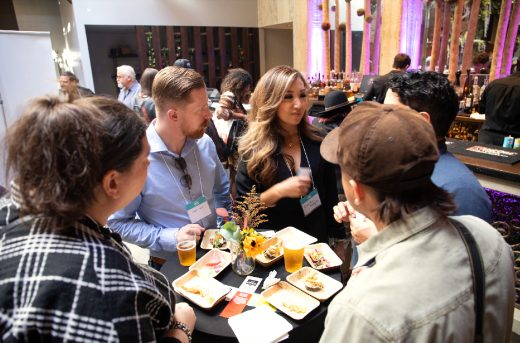 In 2021, Chef Works launched Table 1807, an online space for chefs to engage in meaningful dialogue, spark new connections, and put up their feet for once. In less than a year, we've grown to nearly 5,000 members who breathe life into our community with their daily posts. It only made sense that we finally connected with each other in-person!
In Chef Works' hometown of San Diego, we brought together chefs from all throughout Southern California, from Orange County down to San Diego. We also brought Chef Works team members including CEO Neil Gross and President Joshua Gross. Parq Nightclub provided the most perfect setting with its spacious, sun-soaked atrium and indoor greenery. DJ Gusto Funk provided the beats that kept the vibe just right. And, of course, the food was impeccable! (Take a look at our full list of chefs and sponsors below.)
It's no secret that chefs lead busy lives serving others. Our mixer allowed us to turn the tables and serve them — not just with delicious food but with networking opportunities as well. Table 1807 is happy to be that place where chefs can come together and find inspiration!
Guests also had a chance to get a custom-made apron while getting to know our Product Development team. They also had the chance to check out our new line of jackets and give our team lots of value feedback.
For 2023, we're looking to have these events all over so that we can meet our community in person and get to know each of you. 
To see exclusive videos and photos of our event, join Table 1807 in Facebook Groups or check out our Instagram highlight!
Thank you to the chefs and sponsors who made this event possible!
Chef Marcus Twileger, Aura Catering

Chef Kelston Moore, Bad Boyz of Culinary

Chef Tara Monsod, Animae

Chef Mary McVoy, Shamrock Foods

Chef John Bautista, Kingfisher

Chef Tony Bennet, Bad Boyz of Culinary

Chef Cash Waite

Chef Charlie Knowles, Cops and Robbers Eatclub

Chef William Eick, Matsu

Premier Meats

Mijenta Tequila

Specialty Produce

Box Water

Verterra Plateware

Bambucha

Ale Smith

Shamrock Foods

Hamilton Meats

Santa Barbara Smokehouse

Evolution Juice