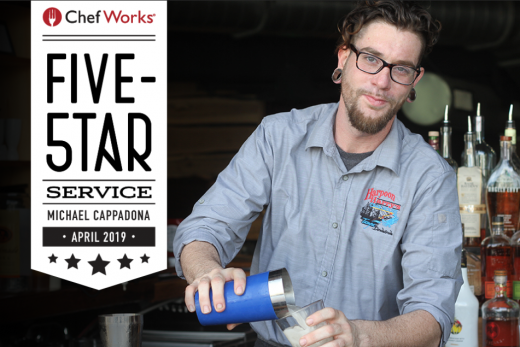 ---
Chef Works will be spotlighting someone in the front of the house each month through November as part of our "Five-Star Service" blog feature. In December, we'll ask our blog's readership to vote who has the "best story." We'll dress the winning restaurant with Chef Works gear! Pictured above is Michael Cappadona, photographed at Harpoon Harry's Crab House in Tampa, Fla., his Chambray Shirt and Manhattan Half-Bistro Apron. To nominate a server, bartender or brand ambassador, email kgemmell@chefworks.com.
---
Depending on the customer … depending on the cocktail … depending on the mood in the room, Michael Cappadona knows how to set the pace.
Sometimes when the bar is packed, a staccato – quick, controlled movements – is required. Other times, especially at the end of the night, he can tone down the pace to an andante – moderately slow and intentionally deliberate.
"Bartending is performance art as much as it is mixology with gastronomy," said Cappadona. "When I'm in the zone, no movement is wasted. It's just like I'm on the stage with my guitar. It's as much a show for my bar guests while I'm making their drink as when I'm done. I often get compliments about how fun it is for others to watch me work."
Cappadona is the lead bartender at Harpoon Harry's Crab House in Tampa, Fla., a new concept right in the heart of the city's bustling downtown, topping the triangle of the Tampa Convention Center and Amalie Arena. He's also a rock guitarist from the shores of New Jersey who sees melody and rhythm in everything that he does.
"I'd say I definitely look the part of a musician – the tattoos, the big earrings, the big beard," Cappadona said. "People take me for an artist, but not necessarily an intellectual. I pride myself on being sharp and able to carry on conversations."
His latest endeavor is to become a sommelier. In fact, Harpoon Harry's Executive Chef and Managing Director, Eric Lackey, is helping Cappadona with sommelier classes.
"The first week of training he was here early and, without any outside guidance, he started organizing the wine room by varietals and started unpacking boxes and making sense of them," said Eric Lackey, executive chef at Harpoon Harry's. "Then, during trainings, he was pulling people aside and schooling them and instructing them. This was when I knew we had a good guy and he would make his mark here with us. I made him bar lead and soon to be our in-house sommelier."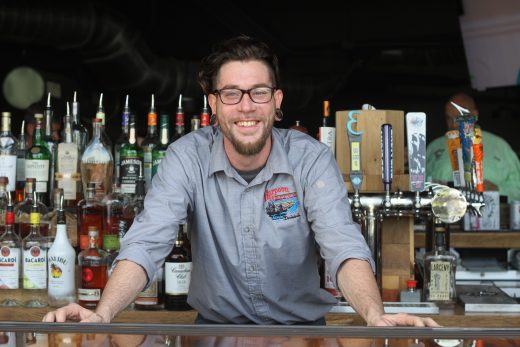 Cappadona also recognized the instant rapport.
"He's been a mentor a dear friend and incredible to work for," Cappadona said. "To work with someone who shares my personality is amazing. "He's really positive, we have the same work ethic and he understands the importance of working hard while also having fun."
Much like Cappadona can read an audience when he's on his axe, he's also good at reading the room when he steps to the bar. It's one of the things that makes him great at his job.
"Reading people is 120 percent of this job," Cappadona said. "Before they even sit down, you can pretty much tell what kind of person they are, whether they just want a quick lunch, whether they are a tourist who wants to talk about things to do. Who are the fans? Who are the lawyers? I can recognize them all and we cater to them all."
When he's not mixing up a Smoked Old Fashioned (his specialty), sipping Jamison after work or studying wines, he spends time with his girlfriend, who owns a four-acre sustainable food farm. Like a true musician, he's never been one for a five-year plan. But for the first time in a long time, he feels settled.
"When it comes to bartending, I've never stayed in the same spot for more than a couple of years because I was always looking for the next opportunity," he said. "But this place is amazing. I think I'm sticking around for a while.
"I still write and play and record. I play every day. It's more than just a cathartic release. It's more than therapy. I think art is the reason human beings are human beings."