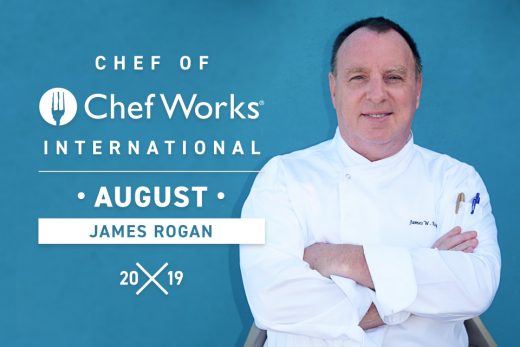 ---
Each month we feature an International Chef of Chef Works®. If you're a fan of Chef Works gear and are interested in being featured, email kgemmell@chefworks.com. Pictured above is our August International CoCW, James Rogan, photographed in his Executive Tours Chef Coat and Designer Baggy Pants (not pictured).
---
Sure, Executive Chef James Rogan sees a lot of tourists. That's to be expected when you work on a small vacation island like Aruba.
The tourists come and go. But it's the locals who know what's up. They are the ones who frequent The Buccaneer – one of the oldest, family-owned restaurants on the island. And it's Rogan's food that keeps them coming back.
"Food is one of the great luxuries of life," Rogan said. "Anyone can go out to get something to eat. But when you have a great dining experience that's a culinary education with fantastic service – and you experience that with family or friends or a loved one – that's a memory that is going to last a lifetime."
Rogan, an expatriate from the U.S., hails from Ridgefield, Conn., and was the youngest of six children. His mother would cook dinner each night for him and his three brothers and two sisters.
"It was a sit down dinner, every night at 6 p.m. sharp," Rogan recalled. "She was a great cook and had a passion for good, wholesome, country cooking."
Rogan started out prepping food a couple of days a week at a steakhouse.
"When I was a young cook and I was working for Marriott hotels, I had a high-powered chef see me cooking on the line one night and he said to me 'You remind me of myself when I was your age … you have what it takes,'" Rogan said.
Within six months he was a lead cook. Then another six months later he was managing the restaurant.
His culinary journey, which spans nearly four decades, has brought him from San Diego to Seattle, from Salt Lake City to Los Angeles. Eventually he was back in San Diego (Coronado Island) with Marriott before making his way to the U.S. Virgin Islands. Still with Marriott, he went from St. Thomas and then to Aruba.
He finally left Marriott to join The Buccaneer. There he has access to local favorites like grouper, red snapper, wahoo and giant lobster tails and jumbo shrimp.
"We're known for serving the freshest seafood along with local-flair dishes like ceviche, Pescado frito, fungi and plantains," Rogan said. "We serve more locals than tourists. This is where the locals have been dining for the past 40 years because it's the freshest, locally-caught seafood."
For now, Rogan isn't considering a return to the states anytime soon. He's always keeping his options open. But he knows he's got a pretty good gig.
"Things here are pretty good," he said. "I think I'm doing OK."