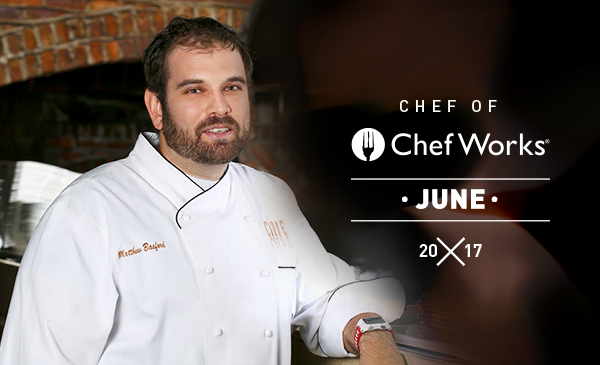 Aussie transplant Matthew Basford knows a thing or two about fine dining. This do-it-all chef has cut his chops in kitchens across the American South, and currently leading the culinary team at Atlanta's quintessential fine dining restaurant, Canoe. We caught up with this high-flying chef before service, and chatted about his upbringing in the wilds of Australia, his commitment to seasonal ingredients, and Atlanta's on-fire food scene. Without further adieu, meet Chef Matthew Basford, our Chef of Chef Works for June 2017!
1. Describe your restaurant, Canoe, in one word.
Good-hearted.
2. How has your Australian upbringing influenced your cooking?
Growing up in Australia, the location demands you work with the seasons, which helps you learn how great items in season really are, and gives you the chance to work with a vast variety of fruit and vegetables. Australia is also a melting pot for many cuisines; you can walk down the street and see sensational Greek, Chinese, Thai, and Indian restaurants. Chefs in turn take different ideas from different cuisines to add their touch and make it their own.
3. Describe a perfect day eating out in Atlanta?
There are so many pockets of good eating in Atlanta so it's hard to just plan out one perfect day. I have enjoyed exploring the new food stalls at Ponce City Market and Krog Street Market. I also love exploring Buford Highway's hidden gems. You can always find something unexpected.
4. Best/Worst thing about being a chef?
The best part about being a chef is the ability and freedom you get in creativity. You have the canvas to express yourself every day and you also get instant feedback from guests, be it either good or bad.
The least enjoyable side of being a chef is the endless pile of paperwork that is required. You have to check invoices, payroll, costing and know basic accounting.
5. Atlanta has been called the American South's newest foodie capital. How have you seen the city's culinary scene grow, and where do see it going in the next two-three years?
Atlanta has changed in the years that I have been here. I think it has always been a great food scene; it was definitely an under-appreciated food scene throughout the United States. It makes sense for Atlanta to be a hub for food in the South with so much trade and commerce moving through the city. It is crazy to think we would not take advantage of the gifts we are given. I feel that more and more chefs are staying in the city to apply their skills – Atlanta was for years a deep, untapped well of both history and creativity. I also feel that diners' palates have changed too, with people more willing to try and experiment with food.
 Follow along on Canoe's Social Media Channels!
Facebook | @CanoeRestaurant
Twitter | @canoeatlant