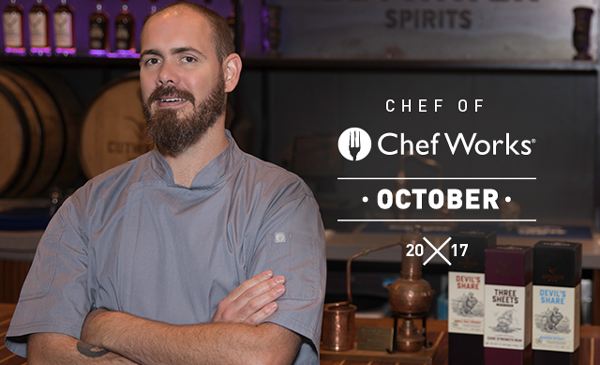 A fine dining extraordinaire, Chef Luke Johnson has made his mark in some of the most storied kitchens around the world, including mega-respected Alinea in Chicago and Los Angeles' Melisse. Returning to San Diego, Chef Luke has a devoted fan base of foodie friends, so it was all the more exciting when craft distillery Cutwater Spirits announced this no-nonsense chef was taking the reins to helm the new dining and drinking destination.
While on location for our lookbook photo shoot, we snuck into the kitchen to chat with Chef Luke about his restaurant, the town he calls home, and how he incorporates spirits into his everyday cooking style.
Meet Chef Luke Johnson, our October Chef of Chef Works!
---
1. Describe your restaurant (or in your case, hybrid distillery) in one word.
Unique.
2. How do you approach menu development while considering how the culinary program complements the distillery offerings?
The way I always try to approach a menu is to take what the season gives us to work with. Here at Cutwater, we are taking that same approach, while considering the flavor profiles of the spirits that are being produced in the distillery.
For example, we use the Black Skimmer bourbon in one of our desserts that is a chocolate panna cotta paired with cherries. The vanilla and caramel notes in the bourbon pair perfectly with chocolate and fresh cherries.
3. Favorite ingredient to cook with, and why?
Really tough question. I enjoy so many different ingredients, however, I would say at the moment I enjoy preparing fish. Fish is so delicate, and to prepare it correctly can take some finesse.
4. Describe a perfect day eating in San Diego. Breakfast, lunch, cocktails, and dinner spots please!
More tough questions!
Breakfast: It would have to be donuts for the kids from Golden Doughnut and a smoothie for myself and my wife made at home.
Lunch: Assuming that I have now dropped our kids off with the babysitter, a picnic in the park with my wife enjoying a BLT from Fatboys in North Park.
Cocktails: If I'm honest I don't get out much, especially when I have a great bar at the distillery. Our bar manager Christian Siglin makes deliciously balanced cocktails, and it may be cheating, but it really is my favorite spot!
Dinner: This one is EASY. Without a doubt, it would be TRUST Restaurant in Hillcrest. Best meal I've had in the 10 years I've lived in SD.
5. Favorite piece of advice to aspiring chefs?
Don't go to Culinary School. The best way to figure out if this business is for you is to jump into the deep end, so to speak.
Do some research — what restaurants are people talking about? Then knock on all those doors until one of them opens.
Then put your head down and work hard. You'll find out if restaurants are
for you or not.
---
Follow Chef Luke on social media!
FACEBOOK: Cutwater Spirits
TWITTER: Cutwater Spirits
INSTAGRAM: Cutwater Spirits
WEBSITE: Cutwater Spirits