Everything's coming up Nina this year. The NOLA-based chef extraordinaire and Top Chef fan favorite Nina Compton was recently named a James Beard Foundation Award finalist for Best Chef: South, and Best New Chef by Food & Wine. With a restaurant that generates headlines and plenty of foodie buzz, we managed to snag a few minutes in between service to chat with Chef Compton about her back-to-back nominations, the cuisine at restaurant Compère Lapin, and her favorite grub spots around NOLA.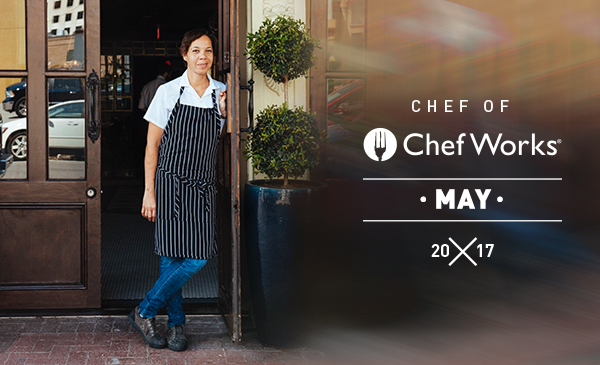 Without further adieu, meet Chef Nina Compton, our May 2017 Chef of Chef Works!
1. First off, congratulations: James Beard Awards, and then Food & Wine Best New Chefs – 2017 is shaping up to be quite the year for you! How does it all feel? Ready to take on the world?
Life is a little crazy but on so many levels! Firstly to be recognized by both the James Beard Foundation and Food & Wine in the same year is mind numbing – I still don't think it's set in. I am looking forward to seeing what will unfold in the next year!
2. Describe a perfect day eating in NOLA.
I really enjoy The [French] Quarter very early in the morning when everyone is still waking up to sit and enjoy a coffee. Lunch at Pêche Seafood Grill or Cochon is the way to go. Then I always like to stop by for a couple of bites at Shaya. After Shaya, it's off to Cure for cocktails. I always like to end with dinner back in my neighborhood at Palladar 511.
3. Describe your restaurant, Compère Lapin, in one word.
Fun.
4. How do you blend your Caribbean roots with New Orleans' Cajun/Creole culinary reputation?  
There are so many layers of history with cooking here, and when combined with the bounty of local ingredients we're able to utilize, it's hard not to incorporate them into my cooking! The menu at Compère Lapin, for example, is playful in that we use ingredients like conch and goat that aren't common, but then presenting them in ways that are different.
5. Kitchen tool you can't live without?
A spoon and my Sharpie.
6. Advice to aspiring chefs?
Put your head down and work! It will pay off in the long run.
7. Bacon or Bivalves? And why?
Bacon! I am a sucker for the smokiness and fat.
Follow along on Chef Nina Compton's adventures:
Facebook | Chef Nina Compton
Instagram | @ninacompton
Twitter | @nina_compton