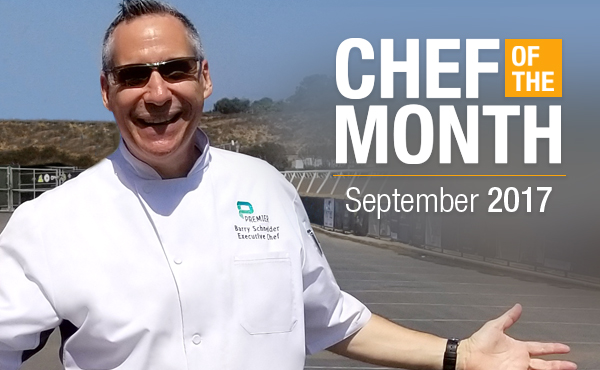 Each month we feature a Chef of Chef Works. If you're a fan of Chef Works gear and are interested in being featured, email marketing@chefworks.com. Pictured above is our September 2017 CoCW, Chef Berry Schneider, photographed in his Lyss V-Series Chef Coat.
Chef Barry Schneider is betting on a win. This San Diego-based chef helms the kitchen at the Del Mar Racetrack & Fairgrounds, where he develops the culinary program for multiple fields including the catering division, restaurant operations, dinner concerts, and concessions development, just to name a few.
With more than 16 years of experience at the racetrack, he's gearing up for one of the largest events of his career — the Breeders Cup. Held at the Del Mar Fairgrounds for the first time this year, we caught up with this storied chef ahead of the race to chat all things cheffin' in San Diego, how cooking for the races can be a challenge, and discussed new food trends headed to the winner's circle next year.
Without further ado, meet Chef Barry Schneider, our September Chef of the Month!
---
1. Tell us about cooking for the Breeders' Cup at the Del Mar Fairgrounds this year. What are you most excited about? What are you planning on serving? 
We are super excited to host the most prestigious horse racing event, the "Super Bowl" of racing this year at Del Mar for the very first time. We're gearing up to feed over 30,000 people a plated meal and buffet over the course of two days. We are serving everything from our signature U-8 Giant Wild Caught Mexican White Shrimp Cocktail, Chilled Maine Lobster Salads, All Natural Brandt Beef, Faroe Islands King Salmon and so many other items over the two-day event.
2. What are some of the challenges you face cooking at the Del Mar Racetrack versus, say, a more traditional restaurant?
Like all the chefs around San Diego, we're facing a shortage of qualified culinary staff. Our business is mainly seasonal, where we're busy five weeks for the San Diego County Fair and then again for seven weeks during the Del Mar racing season. I'm generally looking to staff and manage over 200 cooks and stewarding positions during racing season.
3. What ingredient are you most excited to cook with this year? What do you think are going to be some of the major food trends for 2018?
I have been in this business for over 40 years and still love food. I am very passionate about working closely with our local suppliers, farmers, ranchers, and fishmongers to provide the highest quality experience possible for all of our guests and Turf Club members. There is nothing like having our fish company call me up and say, "Chef, we just caught some beautiful local white seabass off of La Jolla…" or, "…an amazing swordfish off the coast of Catalina" and serving it here the next day!
The biggest food trend right now is chef-driven, quick-service restaurants like the Crack Shack and Carnitas Snack Shack that feature chef-driven menus with high-quality food served in a fast-casual environment. The increase in minimum wages has put a great strain on all our bottom lines and our industry is looking for ways to cut costs — so eliminating service is one way to pare down payroll costs.
4. Describe a perfect day eating in San Diego
I love the San Diego culinary scene and all of my life-long chef friends that are working in it. After working overseas in Hong Kong, Indonesia, Tokyo and Egypt, I have a pretty eclectic palette, so every day is a new day for food!
If I have to actually single out a few dishes or places: Point Loma Seafoods for the Sloppy Shrimp Sandwich! I've been eating there since I was 14.
Emerald Chinese for Dim Sum, 910 Restaurant for Chef Jason's Jerked Pork Belly, Hamachi Crudo, Half-baked Chocolate Cake, the Marine Room for lots of special occasions, The Lodge at Torrey Pines, Market Restaurant — I could go on and on…
It is hard to single every place out that I have loved over the years!
5. Best/Worst thing about being a chef?
The best thing about being a chef is the friends and relationships that my wife
and I have made all over the world and all the amazing people we get to meet
along the way.
The worst thing about being a chef is being asked what is the worst thing about being a chef. I am very lucky and have a fantastic team supporting me and have had a great career. Nothing good is ever easy, of course it has been a lot of hard work and long hours at times but the rewards amount to this: I am never bored!