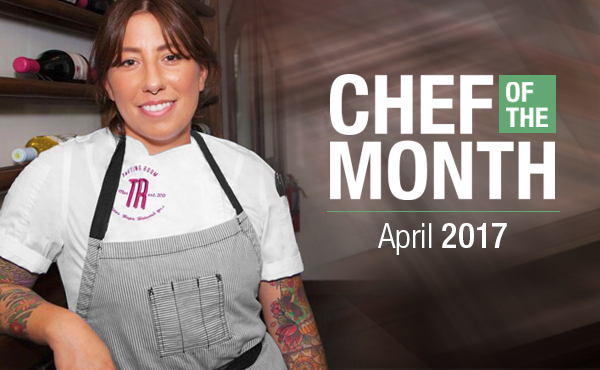 We first met rising star Jenny Goycochea at our 2017 catalog shoot back in February, and knew immediately that she embodied everything we love about chefs. Humble yet hilarious, immensely talented without any diva tendencies, Jenny is a homegrown force to be reckoned with. From her perch at newly opened Tasting Room Del Mar, Jenny enjoys experimenting with seasonal ingredients, consistently re-envisioning dishes to pair with their wine-heavy menu of local pours.
We sat down with this hotshot chef de cuisine for hot second between shifts and got to know this San Diego native. From her perfect day eating out to her favorite ingredient to cook with, read on to discover our April Chef of the Month, Jenny Goycochea!
1. Describe a perfect day eating in San Diego.
Coffee in the morning at Holsem Coffee, beers at Fall Brewing, fish tacos from Mariscos Nine Seas food truck, dinner at Bahn Thai or Luigis Pizza.
2. Favorite cooking/ingredient trend right now?
I've been using a lot of black garlic lately. I also love that chive blossoms are back in season, they provide a perfect pop of color and punch of flavor.
3. Describe the menu at Tasting Room Del Mar in one word?
Eclectic.
4. Best thing about being a chef is…
Meeting, working with and learning from my amazing peers.
5. Worst thing about a chef is…
I feel like I always have so many thoughts rolling around in my head, to do lists, etc., that it's hard to relax sometimes! And it's hard to interact with friends who work a regular work schedule.
6. If you could tell the aspiring chefs of the world one thing, what would it be?
Stay humble. No matter how good you think you get, you're not as good as you think you are. Don't be threatened by people who are better than you are, learn from them. There will always be someone better than you. No exceptions.
7. Favorite kitchen tool/gadget you can't live without (besides your favorite Chef Works coat, which is)?
Besides my Springfield Coat? A really good sharp knife (I love my global chefs knife). Or my pasta roller. I love fresh pasta.
8. Wine or beer?
Beer usually. Unless it's sparkling rosé!
Follow along on Jenny's culinary adventures by checking out on:
TWITTER| @jennygoycochea
FACEBOOK | jenny.goycochea.1
INSTAGRAM | @jennygoycochea
* Photo Credit: Rob Forsythe