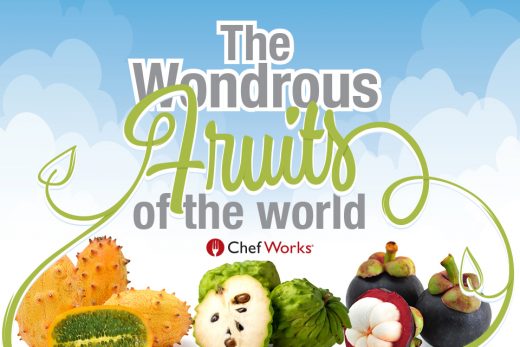 Is there anything better than the sweet, citrusy juice of fresh fruit running down your chin on a hot summer day? As much as burgers and hot dogs are a summertime staple, they also make room during the dog days for fresh fruit to flourish.

So why not step out of your comfort zone and go beyond watermelons and pineapples? Make no mistake, those are summer picnic institutions. But there is also an exciting world out there of fun, flavorful and exotic fruits.
In conjunction with Melissa's online produce shop, Chef Works looked at a trio of fruits that venture off of the beaten path. Here are three to consider.
Mangosteens: This sweet-and-sour fruit tops the charts in terms of versatility. It can be the star of a dessert, or the perfect complement to a savory entrée.
Kiwano Melons: Don't let the spikey appearance fool you. This year-round melon from Africa is plenty sweet. Imagine a fruity cucumber with a dusting of melon and lime.
Atemoyas: Is that a faint note of vanilla I taste? It must the atemoya, which cleverly balances itself between smooth, sweet and just a little tart.
This trifecta of wondrous fruits is available through Melissa's (along with other fruits, vegetables wines and more.
We reached out to Chef Caroline Schiff, a friend of the Chef Works® blog and our June Chef of Chef Works®, to find out why she loves using mangosteens.
"I first encountered mangosteens on a trip to South East Asia years ago and my mind was blown right away," said Schiff, owner of ParadigmSchiff. "The texture is so delicate and creamy. Prying one open is like opening a jewel box. The flavor is lightly floral, sweet and peachy — but really, it's its own thing and you just need to try it! Because of its texture, it makes an incredibly creamy sorbet that has one of those flavors you keep coming back to, but can't quite put your finger on. It is such a special fruit!"
How will you use them? Click on the infographic for some fun insights into these exotic flavors.
---
Infographic source material courtesy of Melissa's.