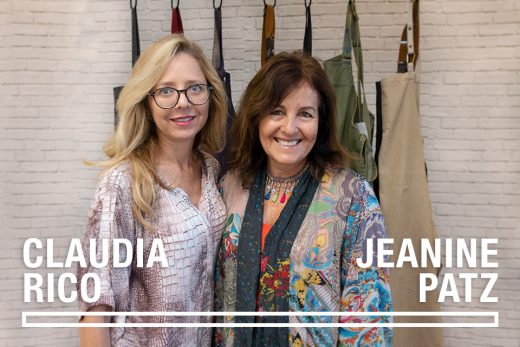 Product Development is where the magic happens. And Jeanine Patz and Claudia Rico are the magicians. Patz is the senior product manager for Chef Works and has been with the company for almost 15 years. Rico is the product manager and has been with the company for seven years. They are the starting point for the thousands of fashion-forward and functional chef coats, aprons, shirts, pants and accessories that Chef Works sells throughout the world.
The dynamic duo took some time to chat with the Chef Works blog about how they got started in the fashion industry, what they love about Chef Works and the close working relationship they share.
What brought you both to Chef Works?
Jeanine Patz: I've always been into fashion. I did design and pattern making for a company in South Africa. In those days we did it all by hand. We did not have machines to do all of the patterns. You had your cardboard and rulers and your specs and tape measure. I moved to America in 1999 and joined Chef Works a few years after. I've been here more than 14 years and remember when we were only 35 employees. It's amazing how we've grown and how all of the different departments work closely together.
Claudia Rico: I always had my sewing machine when I was little and my mother saw I had a talent for it. We set up a sewing room with all kinds of fabrics. I moved to the U.S. (from Mexico) around 1988. I started in San Diego at Flight Suits uniform company assisting in alterations and marker making. I moved to Los Angeles in 1993 and worked in the fashion industry for many years. It was a lot of fun and fast paced and I learned a lot. I returned to San Diego and joined Chef Works about seven years ago.
You two obviously work so closely together. What's that working relationship like?
JP: We're fortunate because we understand each other and we tend to go in the same direction. But sometimes we have different opinions so we discuss and work it out and we always find the best solution for the business. We travel a lot together. We've been through a lot together. We've been exposed to the trade shows and the international fairs so we're inspired together and excited together. I feel like we constantly feed creativity and positive energy off of each other.
CR: It's all about communication. We talk constantly to make sure we're making all of the right decisions. We might not always start off on the same page. But through communication and collaboration we end up exactly where we both want to be.
Jeanine, what's something fun about Claudia, and vice versa?
JP: Claudia has a tendency to multitask so she could be working on 30 projects at once and we could be traveling and she'll be completely forgetful about the little things. 'Where's my phone? Where's my jacket?' She's always losing little things because her mind is always on the big things. The good news is she normally finds it. Normally.
CR: I think Jeanine brings the spunk. Everyone knows that I'm forgetful. She's just always happy and always positive and it's so much fun to work with someone like that.
What are you most proud of during your careers with Chef Works?
CR: I'd say the brand. I know the brand is out there and there are customers all over the world who are really proud to wear Chef Works. We're a multicultural company and I think that's really important. I think we're doing things right and we're growing and moving in the right direction.
JP: For me, when I walk into a restaurant, whether it's in Hong Kong or South Africa or China or San Diego, I see someone wearing Chef Works and it's such a good feeling. I remember being in Hong Kong and was walking the streets so I went for breakfast to a random restaurant and they were wearing Chef Works. That's really when it hit me how global we really are. It's a great feeling and we feel accomplished because we're the ones who initiate the products. We're fortunate to have Clive Gross leading our department and design. He has amazing ideas and we execute them.