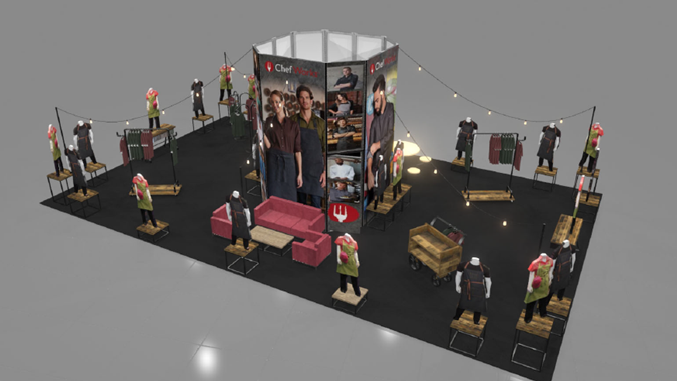 FOR IMMEDIATE RELEASE
MEDIA CONTACT:
Amanda Stuckey
858.386.2522
Chef Works Returns to NRA Show with Specialty Housewares Fixtures, Celebrity Chef Appearances and New Modern Fits
At NRA Show 2016, McCormick Place, Chicago, Booth 806
San Diego (May 2016) – Chef Works, a worldwide culinary apparel manufacturer and distributor, announced their plans to exhibit for its 17th straight year at the 2016 National Restaurant Association (NRA) Show. This year, Chef Works will feature special in-booth appearances including exclusive chef portraits by world-renowned photographer, Josue Castro on Saturday, May 21, a special visit from celebrity chef Graham Elliot on Sunday, May 22, among other surprise guests and activities throughout the NRA Show weekend.
On display will be the highly popular, trend forward Urban Collection chef coats, aprons, waitstaff uniforms and work shirts along with classic offerings from Chef Works' core line. Aimed at the culinary, hotel, restaurant and food service industries, the fashionable yet highly functional Urban Collection is the company's latest apparel line.
Chef Works has broken the mold with its new modern fit chef's jackets available in both men's and women's cuts. The modern fit is specifically designed to look sleek and have a more athletic structure to appeal to today's chefs who are seeking a tighter fit. Chef Works added 2-way vertical mesh panels for horizontal stretch ability allowing for easier full body movement. This attention to detail is present throughout the entire Urban Collection, all on display at Chef Works' booth.
"We look forward to this show every year; it's such a great platform to showcase who we are as a brand and to get some valuable face-to-face time with our current and prospective customers," says Amanda Stuckey, marketing director at Chef Works. "We have some big surprises in store this year at NRA. We've partnered with a fantastic, custom, industrial-grade furnishing manufacturer, Oilfield Slang of Louisiana, to display our fashion-forward collections on. We also want to show our appreciation to the people we design for; the chefs! Having photographer Josue Castro at our booth offering complimentary chef portraits is our way of saying 'thank you' to the culinary industry for being fans of ours – as we are big fans of yours."
Held May 21-24 at Chicago's McCormick Place, The annual National Restaurant Association Restaurant Show is the largest annual gathering of restaurant, foodservice, and lodging professionals in the world.
Individual appointments and media previews are available upon request.
About Chef Works
Chef Works, Inc. is a worldwide culinary apparel manufacturing and distribution solution for the culinary, hotel, restaurant and food service industries. Offering cost-effective and efficient alternatives for companies of all sizes, Chef Works is the leader in uniform supply management, brand continuity, online ordering, on-site embroidery, personalized reporting, budget coordination and uniform design and distribution. Chef Works successfully manufactures and distributes culinary apparel in over 60 countries. They remain resolute in their mission to provide the best-quality products at the most competitive prices, focusing all of their efforts to ensure complete satisfaction and meet, or exceed, expectations for high-quality, well-designed, comfortable uniforms alongside superior customer service. For more information, visit www.chefworks.com.