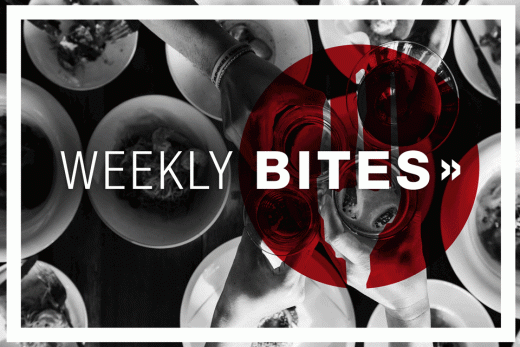 Welcome to Week 11 of 2019! Chef Works Weekly Bites is where we take a dive into the notable and fun food stories of the week.
First up is guess the quote:
"Cooking is like love. It should be entered into with abandon or not at all." (Who said it? Answer at the bottom)
---
APPETIZER
We start with a very important story from the folks at Civil Eats. Mental health in the culinary industry was thrust into the spotlight following the suicide of Anthony Bourdain in 2018. One man in Sacramento – which has seen a rash of hospitality suicides – is trying to create a support system for those in the industry dealing with stress, anxiety and depression.
According to the National Institute of Mental Health, about one in five Americans lives with a mental illness, yet only half receive treatment. Moreover, depression and anxiety disorders are the leading cause of ill health and disability across the globe, as reported by the World Health Organization. Service workers, particularly the nearly 10 million who work within the hospitality and restaurant industry, are more susceptible to developing and succumbing to mental illness than workers in non-tipped, salaried industries.
If you read one industry story this week, make it this one! Here's the full piece.
---
MAIN COURSE
Here are a few other links of note to get you caught up.
Philadelphia's mayor recently signed an amendment making it the largest city to prohibit businesses from refusing cash for goods and services. Restaurants have long claimed digital-only payment is cleaner and safer. But the argument is those who live only on cash are being discriminated against. Nation's Restaurant News has the story here.
Tipping within the food-delivery services has been in the news a lot of late with several companies coming under scrutiny for their practices. Now tech workers are refusing to work for some of the delivery apps until they change their policies. Here's the story from Recode.
Switching gears to something a little more lighthearted, you may (or may not) know that Ariana Grande recently lent her name to Starbucks for the "Cloud Macchiato." Rolling Stone has a review of the caramel and cinnamon concoctions.
---
DESSERT
This Sunday is St. Patrick's Day! And that means it's time for all things green. Want to avoid getting pinched? Krispy Kreme has you covered with special green doughnuts! And the best part is they'll be selling them for three days, so you can get them starting today! Read more from PopSugar.
---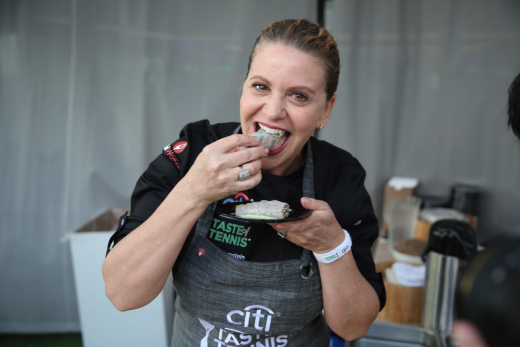 Chef Michelle Bernstein at last year's Citi Taste of Tennis in Miami. (Citi Taste of Tennis Photo)
FOUND THE FORK
Chef Works will be out in Miami next week for Citi Taste of Tennis as the official culinary apparel sponsor. We'll make sure all of the chefs are dressed to the nines in aprons and chef coats!
We spend a lot of time at some of the largest food and wine festivals around the world, dressing chefs in the most fashion-forward and functional gear available. But we also believe in giving back by helping future generations. That's why we sponsored the Recipe for Excellence high school event at University of Wisconsin-Stout. You can read all about it here.
Make sure you're following all of our social media channels – including Instagram, Twitter, Facebook and LinkedIn – for Chef Works news. And be sure to tag us with #FindTheFork
---
WEAR OF THE WEEK
Like what Chef Bernstein is wearing in the picture above? That's the Hartford Chef Coat and the Corvallis Apron. The Hartford is a bestseller with roll-up long sleeves, a zipper closure and with exclusive cuts for women and men, it's available in a wide range of colors. Like the Hartford, our Corvallis Bib Apron is from our Urban Collection™. The crosshatch fabric and side-saddle stitching makes it super stylish and on-trend. While the double pockets and grommet tie make it durable and functional!
---
QUOTE ANSWER: Harriet Van Horne