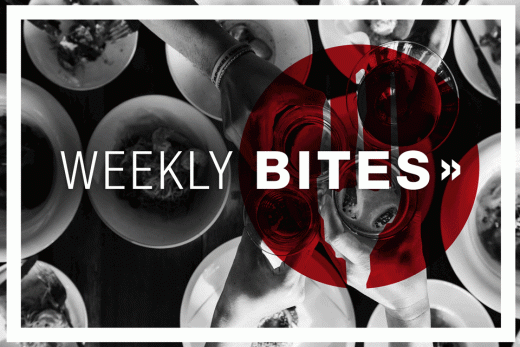 Welcome to Week 3 of 2020. Chef Works Weekly Bites is where we take a dive into the notable and fun food stories of the week. First up is guess the quote:
"I've made a lot of mistakes falling in love, and regretted most of them, but never the potatoes that went with them." (Do you know who said it? Answer at the bottom).
---
APPETIZER
If you caught Monday's feature on Chef Tawnya Bahr of Sydney, our International Chef of Chef Works for January, then you no doubt saw how's she's trying to raise money to help the Australian Red Cross fire relief efforts.
Here are some more ways Australian chefs are helping out, via Food & Wine:
With recent bushfires causing devastation across Australia, chefs and restaurateurs in the United States are fundraising to support farmers, residents, and wildlife that have been impacted. One of those chefs is Curtis Stone, whose Michelin-starred Los Angeles restaurant, Maude, is donating 100% of profits from its current menu to Drought Angels, an organization that supports farmers who have lost their homes and livelihoods.
You can read the full story here.
---
MAIN COURSE
It's not uncommon for athletes to go into the restaurant business when their playing careers are done. Here's a piece from QSR on former Patriot's tight end Garrett Mills and the franchise growth of RibCrib.
FOX News looks at where food safety went wrong in 2019.
A freelance food writer from North Carolina makes the case for educated restaurant critics, rather than just "influencers." Here's the column from Charlotte Magazine.
---
DESSERT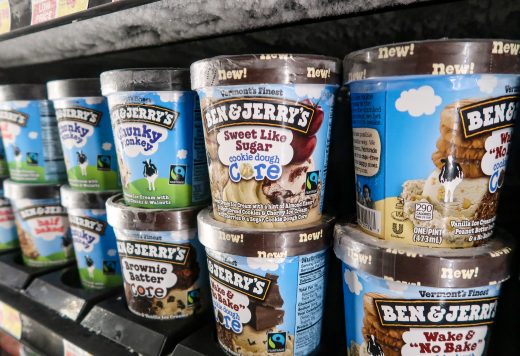 Do you have plans for Friday night? Looking to just Netflix and chill? Why not do it with that special someone – and some special ice cream!
Ben & Jerry's announced a brand new flavor called "Netflix and Chill'd" which, according to Newsweek, "is a peanut butter ice cream with salty pretzel swirls and fudge brownies chunks, and the tub's design features three cows sitting on a sofa, presumably binge-watching their favorite Netflix show."
You had us at ice cream.
---
FOUND THE FORK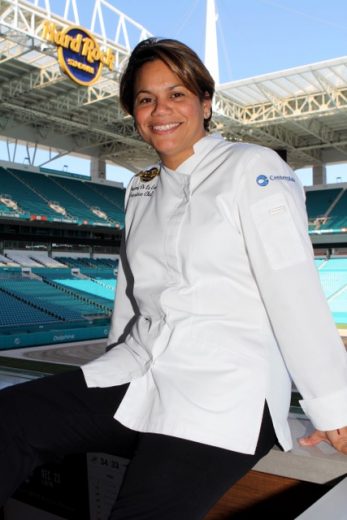 There's a great piece this week in Miami New Times, which puts the spotlight on Chef Dayanny De La Cruz. She's the executive chef for Centerplate – the catering company at Hard Rock Stadium in Miami. In case you hadn't heard, there's a pretty big football game that will be played in a week and a half in Miami.
Chef is also a friend of the Chef Works® blog, having appeared in our Talk of the Town: Miami feature last year. She also contributed a Super Bowl party recipe.
We're so thrilled for Chef Dayanny, who looks fantastic in her Women's Executive Marrakesh Chef Coat.
Good luck next week, Chef!
To keep up with all things Chef Works® — including industry news, product features and blog features follow us on all of our social media channels. Facebook, Instagram, Twitter and LinkedIn. Be sure to use the hashtags #FindTheFork and #ChefWorks.
---
WEAR OF THE WEEK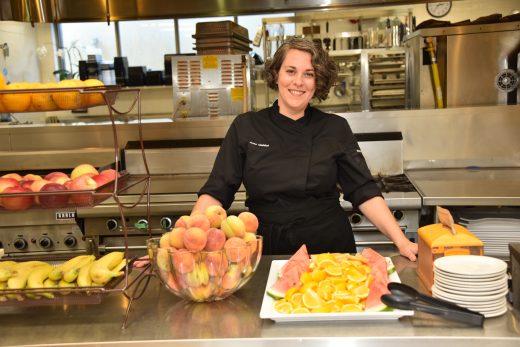 Let's talk Marrakesh!
Chef Dayanny is obviously a fan. And we're a fan of hers! But other chefs love the feminine fit and executive details of this bestseller.
It starts with a lite twill fabric and stretch panels for maximum comfort and freedom. There are utility pockets aplenty, so you're never more than a hand's reach away from your most valuable tools.
This single-breasted coat, with a concealed snap front, is available in white and black.
---
Quote answer: Nora Ephron
---
Did you miss last week's Weekly Bites?
Get caught up: Week 2
---