Chefs of Chef Works: February 2017 Chef Guillaume Ginther
Clucking all the way to the winner's circle, Executive Chef Guillaume Ginther of the upscale poultry-focused restaurant Le Coq Rico (New York City) took top honors this year at the Pâté Croûte American Finale – the first time the competition has been hosted on U.S. soil. Arguably the most complex pâté in the world of charcuterie, the pâté-croûte features layers of meat and offal encased in puff pastry. Chef Ginther's elaborate pâté pattern and elevated take on the delicacy (utilizing a Brune Landaise chicken and Hudson Valley foie gras) earned him top honors and a one-way ticket to Tain-l'Hermitage, France, where he'll present his chicken-centric iteration of the pâté-croûte on the global stage at the World Championships.
We sat down with this pâté extraordinaire ahead of the finals to learn what makes Chef Ginther tick, his favorite dishes, and just how he learned to create that pâté-croûte crust the judges deemed, 'perfection.'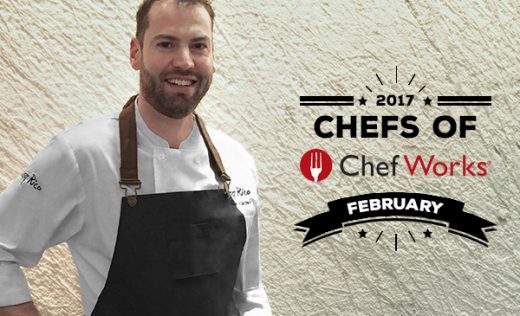 Where and when did you get your start?
At the restaurant called "Au Crocodile" in Strasbourg (3 Michelin Stars).
What is your favorite dish to make?
I love making Flammekueche, which is a sort of an Alsatian flat pizza with onions, cream and bacon.
What was your favorite childhood dish?
My favorite childhood dish was my mother's Osso Bucco.
Who inspired you to be a chef?
My mother and grandmother inspired me to cook. I grew up watching them cook and prepare delicious meals.
What would you be doing if you weren't a chef?
I really feel that my job is my vocation, but if I weren't a chef I would be a firefighter – I'm drawn to jobs that are thrilling and fulfilling.
What advice can you give an aspiring chef?
Make sure you are extremely passionate. Passion is key to handling and enjoying the hectic schedule.
Is there anything you would have done differently in your career?
I don't have regrets about my career path. I feel that I have learned from each of my professional experiences.
Follow Chef Ginther's Culinary Adventures at Le Coq Rico:
Facebook: 
@lecoqricoNY | https://www.facebook.com/lecoqricoNY/
Twitter:
@ChefWestermann | https://twitter.com/ChefWestermann
Instagram:
@lecoqriconyc | https://www.instagram.com/lecoqriconyc/