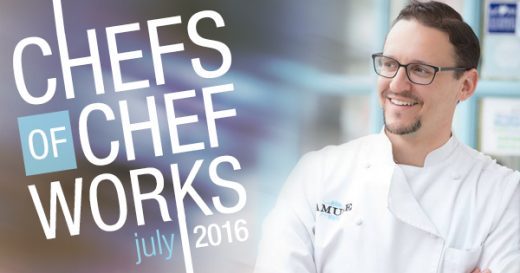 Question 1: Where did you get your start?
"I started working in restaurants in high school and continued doing so through college. After realizing my true calling was cooking, I quit college and enrolled in culinary school."
Question 2: What is your favorite dish?
"A perfectly cooked chicken breast!
Crispy skin, juicy meat, and the right amount of seasoning. A chicken dish is the litmus test of a great restaurant."
Question 3: What was your favorite dish as a child?
"Breakfast. Still love it to this day. Eggs, bacon, sausage, french toast, pancakes,
I love it all!"
Question 4: Who inspired you to be a chef?
"My friends in college that I was cooking for every weekend. They all pushed me to go after my passion."
Question 5: What would you be doing if you weren't a chef?
"I would definitely be a rock star and it could still happen."
Question 6: What advice can you give an aspiring chef?
"I hope you don't like free time. No such thing as a work/life balance in the restaurant business.
Keep your head down and cook!"
Question 7: Is there anything you would have done differently in your career?
"Everything I have done has brought me to where I am today. I wouldn't change a thing!"
Connect with Chef C.J. Reycraft, Jr.:
Facebook: facebook.com/Chef-CJ-Reycraft-Jr-112327535446405/
Twitter: @Chef_CJR
Website: http://www.amusenj.com/