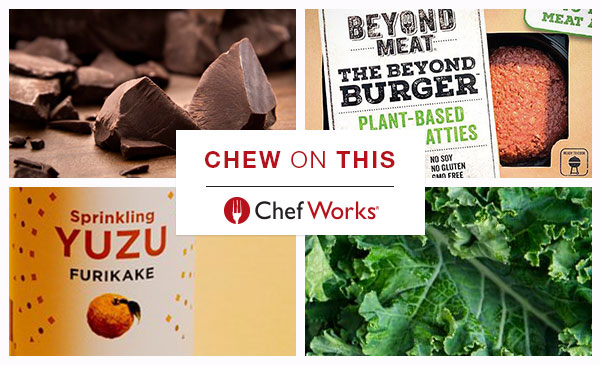 Welcome to Chew on This Week 2. Here's hoping your New Year's resolutions are still going strong. But if they aren't, don't worry about it. We don't judge. We'll keep combing the internet for the news, trends and stories in the culinary industry we think you'd like. Here's what we've got on deck for Week 2!
We open this week's Chew On This with some troubling, troubling news. Code mocha people … because by 2050, we're going to run out of chocolate!!!!! Food & Wine brings us this depressing revelation. But there's also a beacon of hope as Mars, Inc. is teaming with UC-Berkeley to try to save cacao crops. Please don't let mockolate become a thing.
Did you read all of the food trend predictions for 2018? Surely, you couldn't have read them all. There are far too many out there. But the folks at Eater did their best to bring you as many as possible. With more than 100 compiled food projections for 2018 – everything from tacos to functional mushrooms (because the non-functional kind are so annoying) – they've got you covered from soup to nuts.
Want your 2018 to be a little more seedy? Bon Appétit breaks down how you can up your seed game this year with a dash (or aggressive sprinkle) of Yuzu Furikake, a citrus seed that pairs with pretty much everything! Check out some of the included recipes!
And finally, the New York Times Food Section says to stop wasting your time looking for "the next kale." Instead, remember why you like Kale to begin with and discover some new and fun ways to use it. The recipe at the bottom of the story for Kale-Sauce Pasta looks amazing!