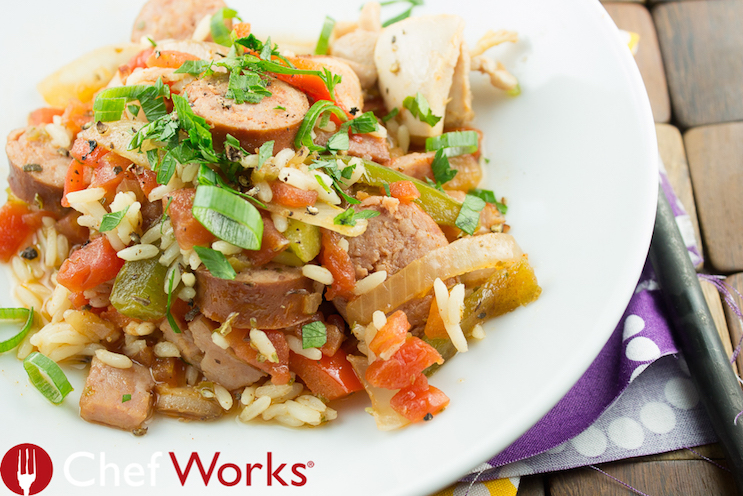 I've travelled all over the United States, and while I am fond of a lot of places, one of my favorite regions is  the Southern part of the US. Besides the charming hospitality, beautiful landscapes, and warm weather, the best part for me is the food.
There's a lot of Creole influence the further South you go, particularly in Louisiana. Jambalaya, a dish made with a variety of meats, vegetables and rice, gets its flavor from a variety of herbs and spices, and changes flavors depending on where you eat it. Near the water, you'll find it contains a lot of seafood like shrimp and crawfish, but go a bit more to the North and you'll find smoky flavors from sausage.
Whatever meat and seafood combination you like, it's brought together with broth, and has rice added in for bulk and texture. The end result is a stew like concoction that is rich, flavorful, and filling. If you don't live near the South, you can make your own version at home, and this easy chicken and sausage recipe is a great start.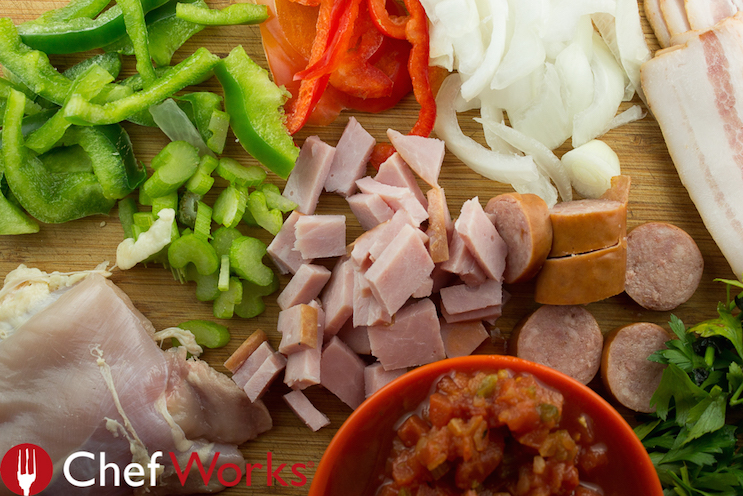 Start With the Best Ingredients. The best way to make the tastiest dish possible, no matter what you're making is to use high quality ingredients. For this dish, you want good quality meats, fresh vegetables, and good flavorings.
When shopping for meats, especially sausage, you may be tempted to buy the cheapest you can find, but please don't. Cheap sausage is full of fillers, sodium, and nitrates that may taste alright, but they're not good for you, and they still don't taste as good as the high quality meats you'll get from a good butcher. Thick cut bacon, high quality ham, and the best smoked sausage you can find will definitely add flavor to your jambalaya, so don't skimp.
Homemade stock is also key here, so don't rely on the over salted canned variety if you can help it. Making your own is not that difficult, and once you've made a big batch, it's easy to freeze so you'll always have it on hand.
Finally, while the veggies aren't the star of the show here, they do add flavor, aroma, and texture. Make sure you get the freshest veggies you can find. For tomatoes, if you can't get ahold of some seasonal, local tomatoes, canned is the way to go.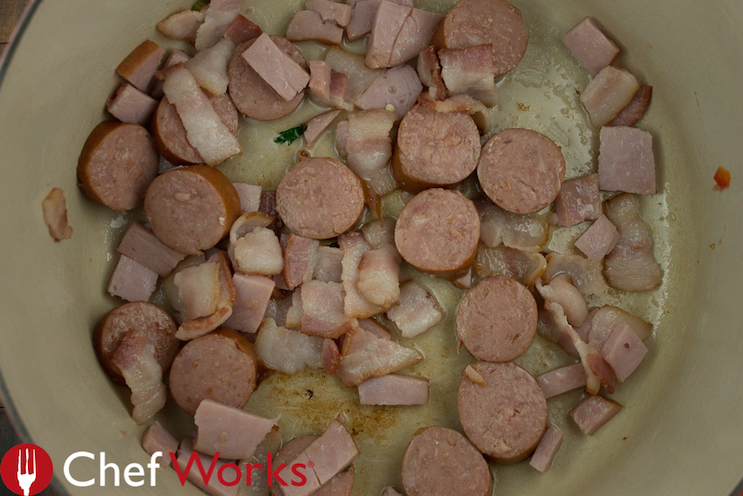 Cooking Tips. There's no doubt the flavor in this dish comes from the variety of meats all cooked together in their own fat. Make sure when you cook your bacon, ham, and sausage that it gets good and browned to get all that flavor. Then when you add the veggies, they'll soak up all that flavor. Scraping the bottom of the pan when you add liquid is also key to getting all that flavor.
After you've got everything all in your pot, cover, and don't peek! Opening the lid allows steam to escape, which reduces cooking time, as well as flavor. When choosing a pot for this dish, a high quality, heavy one such as a Dutch oven is perfect. Make sure it has a tight fitting lid so that you don't allow any steam to escape.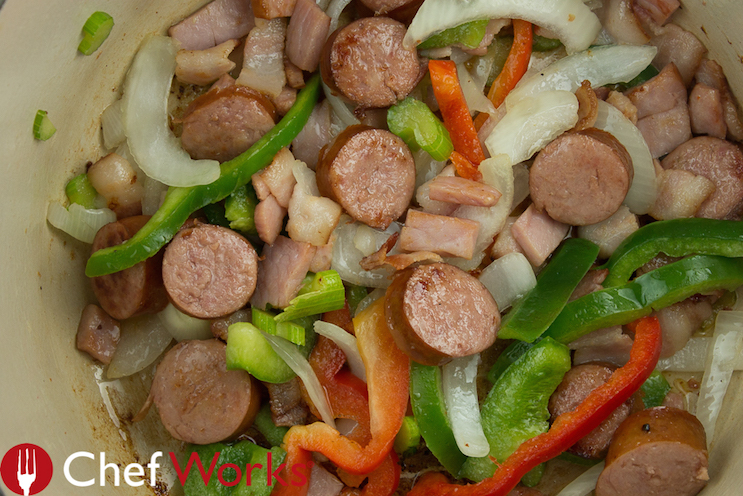 Variations. Jambalaya is a pretty generic term when talking about this dish. Yes, it's all essentially several types of meat cooked with vegetables and rice, but other than that, a lot can change. The easiest change, obviously, is the type of meat you use. Chicken, sausage, shrimp, oysters, crawfish, or scallops are all used as main ingredients, while bacon and ham, or a combination are often used. Most recipes call for smoked sausage of some type, as it really lends a lot of flavor, but you can leave it out if you like.
For veggies, peppers, onions, and celery are the main ingredient in the most authentic versions, but you may find carrots, mushrooms, or peas. Traditionally, seasonal vegetable are best, so use your best judgment if you're experimenting with your own recipe.
Cajun spices are key for authentic flavor. This includes cayenne, oregano, paprika and chili powder.  Saffron is often used, but being the most expensive spice in the world, it's easy to see why it's not in every recipe. If you've got some, however, it does add amazing depth of flavor.
Most recipes call for white rice, but you can use brown if you like. It takes longer to cook though, so make sure to adjust your cooking time if you're going that route.
As you might have guessed, there's no right or wrong way to make a jambalaya. So change it up to your liking, and keep experimenting until you find the one you like best.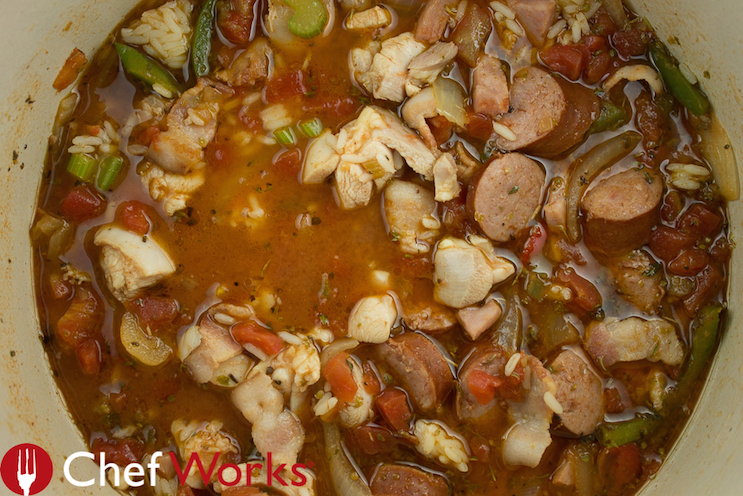 Serving. Other than a sprinkling of fresh herbs like parsley or scallions, jambalaya is served straight from the pot into your bowl. Add some fresh ground black pepper, and you're good to go.
Chicken and Sausage Jambalaya
Serves 4-6
Prep time: 20 minutes
Cook time: 90 minutes
Ingredients:
6 strips thick cut bacon, cut into strips
1 pound smoked sausage, sliced
2 thick slices smoked ham, diced
1 onion, sliced
1 stalk celery, sliced
1 red bell pepper, sliced
1 green bell pepper, sliced
2 skinless chicken thighs, cut into bite sized pieces
1 teaspoon smoked paprika
1 teaspoon dried thyme
1 teaspoon chili powder
Pinch cayenne pepper
2 cans Rotel tomatoes
1 cup homemade chicken broth
1 cup long grain white rice
Chopped green onions, for garnish
Chopped parsley, for garnish
Sea salt and fresh ground pepper, to taste
Directions:
Put the bacon, sausage, and ham in a Dutch oven or large stock pot. Turn the heat to medium high and cook until sausage is browned and bacon is crisp.
Add the onions, celery, and peppers and cook until softened. Stir, add the chicken and spices and cook for 2 minutes.
Add the tomatoes and broth and bring to a boil. Stir in the rice. Turn the heat down to low and cover. Simmer over low heat for 45-50 minutes. Remove lid. Rice should be tender and liquid should be mostly absorbed.
Serve the jambalaya sprinkled with chopped green onions and parsley.
What's your favorite Southern dish?