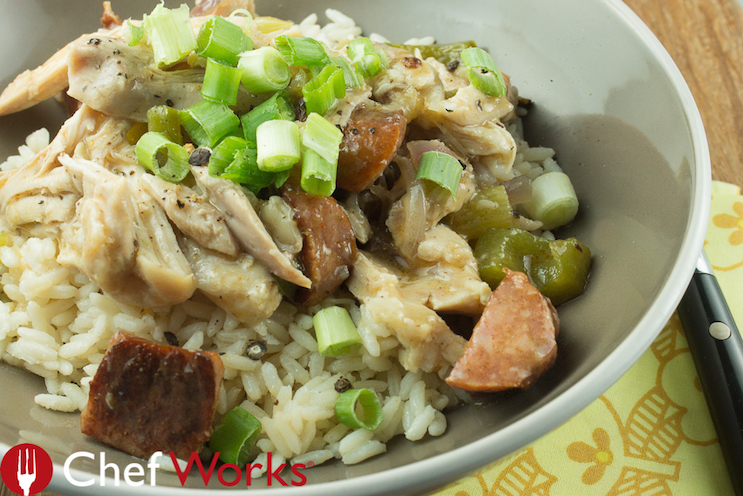 New Orleans is one of the most unique cities in the United States. I still remember my first time there, and while there are lots of fun sites to see, what stands out the most for me was the food. Spicy, slow cooked dishes made with flavorful meats and seafood; how can you go wrong?
Of course, if you don't live in the south or can't just hop on a plane for a bowl of gumbo, there's a solution: Make it yourself. It doesn't take any specialty ingredients or special skills, and once you've got it down, you'll enjoy a taste of Cajun cooking whenever the mood strikes. Because it's so easy to customize, you can make a different version every time, and still enjoy an authentic Cajun meal and never get bored.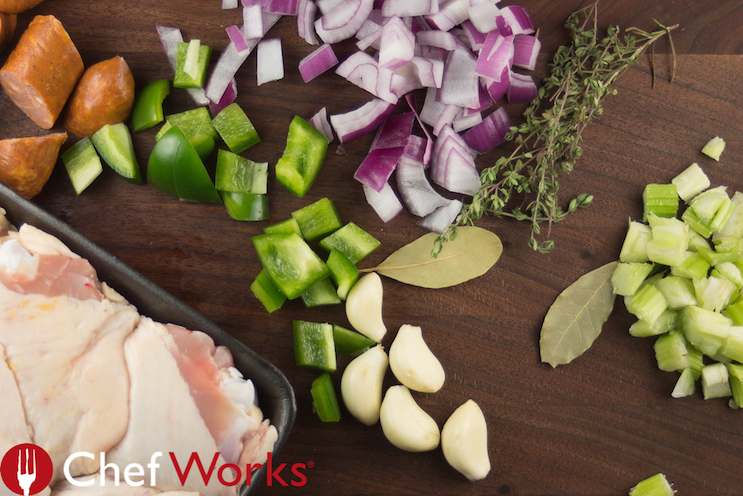 Sourcing Ingredients. Like any dish that tastes amazing, high quality ingredients are key here. Buy your veggies locally and organic if you can, and buy them right before you're ready to use them.
For meat, a specialty butcher is best, especially for sausage, as cheap sausage contains a lot of fillers. This recipe uses bone-in skin on chicken thighs because they have more flavor, and organic, free-range chicken is your best bet.
Also key here is a homemade chicken stock. If you don't regularly have it on hand in your kitchen, you should. Those store bought boxes, jars of chicken base, and foil wrapped cubes of salty bouillon are better than nothing, but not much.
If you buy good quality ingredients, then a few fresh herbs and some hot sauce brings it all together nicely. Served with plenty of rice, you've got a comforting, nutritious meal.
Also keep in mind that not all hot sauce is the same. An all-purpose Louisiana style hot sauce (such as Tabasco or Frank's Red Hot) will work here, but if you have a good artisan sauce that you like, feel free to try it.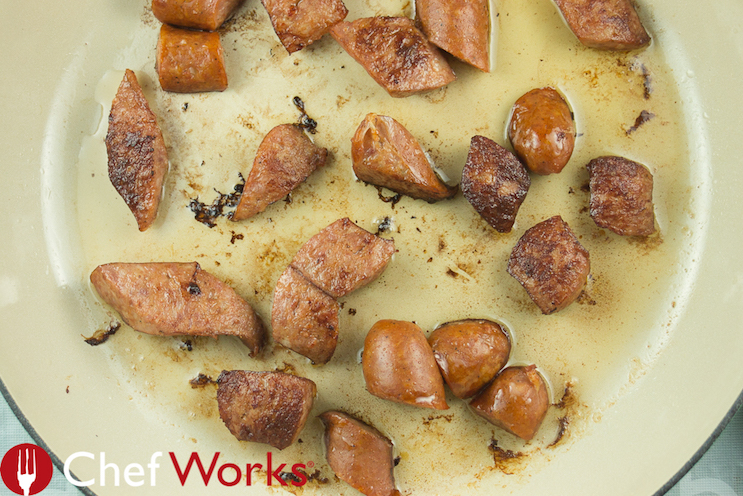 Cooking Tips. This recipe is pretty straightforward. The flavor comes from the time in the pan: cook your veggies until soft, and when you make your roux, let it cook for a few minutes until well browned for more depth of flavor. Browning the chicken also adds flavor, and when you scrape up those browned bits of goodness from your pan, you're adding another layer of nutty, flavor to the pan.
Don't try to rush it. Cook the sausage until browned and crispy on the outside, let your roux cook, let your chicken brown and cook until very tender. While you're doing this, the sauce will thicken up nicely, creating the perfect sauce to drown your rice in.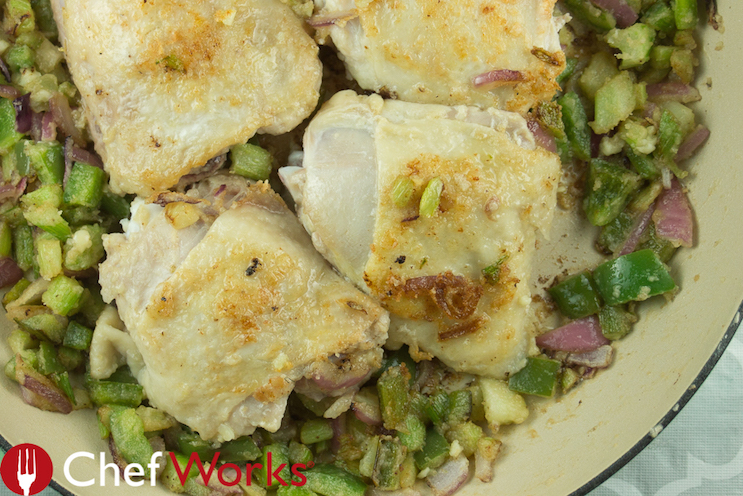 Serving. Traditionally, gumbo is served over white rice, but you could easily adapt and use brown rice, another grain such as quinoa, or even pasta if that's more your style. The key is something that will soak up the delicious sauce while also adding a healthy starch.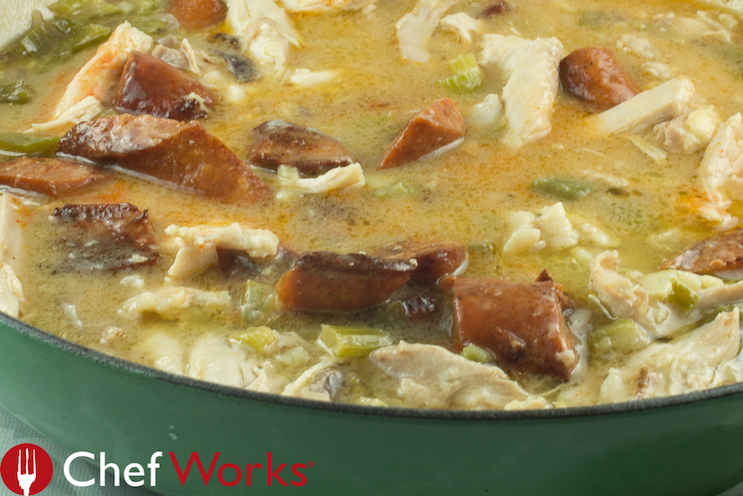 Variations. Down south, you'll find gumbo with all kinds of different protein options, and plenty of different veggies as well. Shrimp, crawfish, and scallops work; oysters are popular too. For veggies, try okra, tomatoes, bell peppers of any color or whatever is in season when you make it.
For a quicker version, instead of chicken thighs, you can use breasts, or you can use a mix of both if you have a whole chicken to use up.  Use a different style of sausage if you have a type you like best. Andouille is the most popular, but any smoked variety will work nicely here.
Down south, you'll find gumbo with more than a few types of protein or even just one, so pick your favorites and experiment until you find your favorite. Just remember that seafood doesn't take long to cook, so always add it  to your pan last.
Chicken Andouille Gumbo
Serves 4
Prep time: 20 minutes
Cook time: 90 minutes
Ingredients:
4 tablespoons olive or vegetable oil
1 pound andouille sausage, cut into bite sized pieces
1 pound bone-in, skin on chicken thighs
1 onion, diced
1 green bell pepper, diced
2 stalks celery, diced
4 cloves garlic, minced
1/4 cup flour
2 sprigs thyme
2 bay leaves
3 cups homemade chicken stock
2 tablespoons hot sauce, more or less to taste
Rice, for serving
Chopped green onions, for serving
Sea salt and fresh ground pepper, to taste
Directions:
In a large, deep skillet or stockpot, heat the oil over medium high heat. Add the sausage and cook until well browned. Remove from the pan with a slotted spoon and set aside.
Add the chicken to the pan and cook until browned. Remove and set aside.
Add the onions, peppers, and celery to the pan with a pinch of salt and pepper. Cook until soft, and add the garlic. Turn the heat down to medium low and add the flour. Stir and cook for several minutes, until browned.
Add the chicken thighs back to the pan and add the thyme, bay leaves, and stock. Bring to a boil, reduce heat to low, and cover. Let cook for about an hour, until chicken is tender and sauce is thickened.
Remove the lid and add the sausage back to the pan. Add hot sauce, taste, and adjust to your preference.
Serve with the rice, green onions, and additional hot sauce.
What is your favorite Cajun dish?