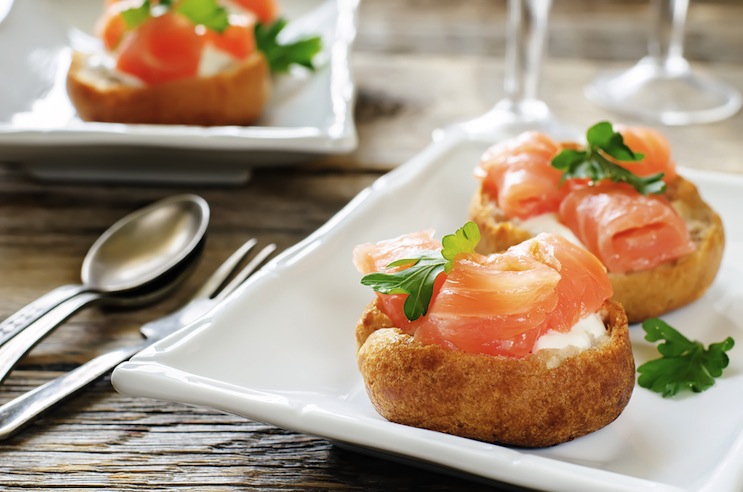 Tasting menus, also known as a "prix fixe" menu, were once only found in fine restaurants, and while less pricy than eating from the regular menu, still pricy.
With many types of restaurants opening up all over the country, both upscale and casual, chef's everywhere want to give customers a chance to try a sampling of their best dishes. These days you'll find tasting menus even in restaurants without a white chef coat in sight. In fact, in many larger cities, there are organizations that will host what is known as "restaurant week," in which diners can visit a variety of restaurants within the city and try some of what they have to offer at a reduced price.
So, exactly what is a tasting menu? Is it something you should consider adding to your restaurant? It just might be the way to get more customers in the door, but you have to know how to do it well. Read on to learn more about this new restaurant trend and whether or not it may be for you.
What is a Tasting Menu?
A tasting menu is a preset menu that offers a variety of smaller portioned dishes that make up one meal. It is generally set, and is usually found in fine dining establishments. Many of the world's best restaurants offer only a tasting menu for a set price, while others offer a la carte items as well.
In fine restaurants, when you order a tasting menu, you are served a variety of courses by professional waiters in their bistro apron and chef pants, and you'll find a variety of exotic seafood, meats, and vegetable that you may have never eaten or even heard of. Some restaurants offer tasting menus with dozens of courses, and at the cost of several hundred dollars per person, can take several hours to get through. In fine establishments, the tasting menu is about more than just the food; it's an experience that you will likely remember for a lifetime.
While a tasting menu is generally not found in casual restaurants, in recent years, many other types of restaurants have created tasting menus to give diners a peek at what they can expect from their regular menu. These sometimes happen during what many cities call "restaurant week," a week during the year when many restaurants cooperate in an effort to gain new customers. Restaurants in major cities such as New York and Chicago participate in these promotions. This is much different than the classic prix fixe menu offered in fine dining restaurants, but it is a type of tasting menu nonetheless.
What Kind of Restaurant Needs One?
Generally speaking, tasting menus are only found in the best classical French restaurants, and are sometimes all that the chef offers. In these cases, the menu is all made from scratch, using as much fresh and local food as possible.
If your restaurant isn't a fine dining establishment, you may want to consider creating a tasting menu for your restaurant, but the average diner visiting casual restaurants prefers to order from a standard menu. In this case, you may create a sampling of your best dishes for a particular "restaurant week" type promotion, but it won't require the effort that a classical, 12-course tasting menu entails.
Tips on Creating Your Tasting Menu
Whether you are creating a prix fixe menu or just a sampling of your best dishes, the rules for creating the best tasting menu are generally the same. Read on for some tips to making your tasting menu stand out.
Offer Up Your Best
This should go without saying, but your tasting menu should be made up of dishes that you know are spectacular. Those dishes that everyone orders, that you frequently run out of, or that restaurant reviewers consistently mention as your best are the ones you want on your tasting menu. These are the dishes that bring diners to your restaurant, and if you're trying to make a new customer a regular one, you don't want to offer them something that is less than your best.
Think Small Portions
The best tasting menus offer a few bites of delicious food before moving on to the next course. This leaves the diner wanting more, while also giving them the opportunity to try as many dishes as your tasting menu offers. Remember, one can only eat so much in one sitting, and while they may want more of one item, you don't want your guests to fill up on any one thing.
If your restaurant is more casual, you probably won't offer a three-hour tasting, but you should offer a sampling of each course on your menu. A soup or salad, an appetizer, entrée, and dessert would be a bare minimum. You may even offer a selection of one or two of each, making sure the offerings are only your best items of course.
Price it Right
Pricing your tasting menu can be difficult. If you run a Michelin starred restaurant, you can easily charge diners several hundred dollars per person and have a full dining room every night of the week.
If you're simply trying to give diners a sampling of your more casual fare, however, you need to price it so that they think they are getting a good deal. It doesn't have to be cheap per se, but you want your guests to walk out feeling like they got a good value for their money.
Don't Limit Your Menu to Just Savory Food
In fine restaurants, a tasting menu will usually not include alcohol, and in some cases, even drinks like coffee or tea. In these cases, offering a wine pairing option with your tasting menu is a way to add to your guest's bill. Offering signature, hand crafted cocktails, and specialty desserts are also a nice touch for your tasting menu. You want your diners to be able to taste a little bit of everything that you have to offer, and be surprised by something they didn't think they would like at that.
No Substitutions Please
You will rarely find a fine chef that will allow substations on a tasting menu, and for good reason. The perfect tasting menu is created so that every ingredient, texture, and flavor compliments every component of the dish. If you allow a guest to substitute even something as simple as a vegetable, you are letting them change the overall effect of your hard work. Instead, encourage your guests to try everything as is or pass on a particular dish if they choose.
Conclusion
A tasting menu is exactly what it sounds like: a small sampling of many items that offer diners a taste of what you have to offer. While traditionally found in high class, five star restaurants, tasting menus usually consist of exotic foods and cooking techniques not found in casual restaurants.
A new trend in dining is a more casual tasting menu, found in lower scale restaurants, usually created as a promotion to get new customers, and increase business. No matter what type of restaurant you own, a tasting menu can be created to generate excitement, drum up business, or just show off your impressive skills.