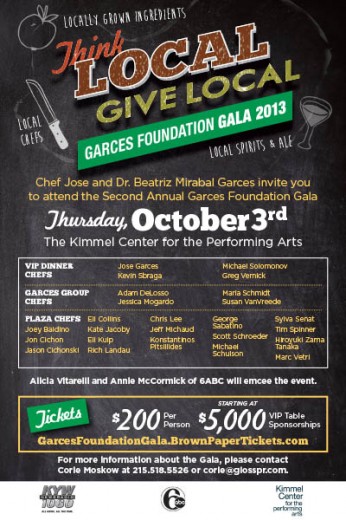 PHILADELPHIA—Jose and Dr. Beatriz Mirabal Garces announce that tickets are on sale now for the Second Annual Garces Foundation Gala, to be held on Thursday, October 3rd at The Kimmel Center for the Performing Arts. The Garces Foundation's goal is to see that Philadelphia's vibrant and growing immigrant community has access to the care and education they need so that they may actively contribute their talents to making this city truly world-class. The Foundation focuses on impactful and creative responses to specific issues that plague this community.
"We created the Garces Foundation last year as a way to share our passion for helping others and to create programming that will allow us to serve as guardians of Philadelphia's immigrant community," says Chef Jose Garces, one of the nation's most successful and prolific restaurateurs.  "We are proud to contribute to the health and well-being of Philadelphia's immigrants. After Beatriz mourned the loss of one of her young dental patients, who suffered from years of undiagnosed thyroid cancer, we knew something needed to be done.  We feel fortunate to be able to stand up now and do what we can to protect the health of generations of Philadelphia's immigrants."
The theme of the Gala is Think Local/Give Local. Chef Garces has handpicked a group of local chefs to deliver an unforgettable epicurean experience, which will highlight Philadelphia's culinary expertise in the Kimmel Center's rooftop garden and plaza.  Each dish will highlight locally sourced ingredients. Throughout the evening guests will enjoy cocktails made with local spirits, local beer, locally created décor elements and more.
The evening will be divided into two parts:  VIP and General Admission.  The VIP Reception will be held in the Kimmel Center's Dorrance H. Hamilton Rooftop Garden. From 5:00 p.m.-6:00 p.m. VIPs will enjoy a private meet-and-greet and cocktail reception with all of the event chefs in the Plaza at the Kimmel Center, before heading upstairs to the rooftop Hamilton Garden to enjoy a four-course seated meal by Jose Garces, Kevin Sbraga, Michael Solomonov and Greg Vernick. The VIP dinner will also include a live auction.  VIP Dinner seating is limited to 200 people and is only available to sponsors and their guests.
General Admission to the Gala opens at 7:00 p.m.; tickets are $200 each. Guests will enjoy local dishes by: Garces Group Chefs Dave Conn, Adam DeLosso, Yun Fuentes, Natalie Maronski, Jessica Mogardo, Maria Schmidt, and Susan VanVreede, as well as chefs, Joey Baldino, Jon Cichon, Jason Cichonski, Eli Collins, Kate Jacoby, Eli Kulp, Rich Landau, Chris Lee, Jeff Michaud, Konstantinos Pitsillides, Chip Roman, George Sabatino, Michael Santoro, Scott Schroeder, Michael Schulson, Sylva Senat, Tim Spinner, Hiroyuki Zama Tanaka, and Marc Vetri. The VIPs will join the rest of the guests downstairs at 10:00PM for dessert, cocktails, dancing to the Hip Philly band, and a silent auction. Alicia Vitarelli and Annie McCormick of 6ABC will emcee the event.
Tickets and sponsorships can be purchased via credit card online at garcesfoundationgala.brownpapertickets.com or via check c/o Trinity Busch: Garces Foundation, 212 Race Street, Suite #1A, Philadelphia, PA 19106.  For more information about the Gala, please contact Corie Moskow at 215.518.5526 or corie@glosspr.com.
About the Garces Foundation
The Garces Foundation is an IRS registered 501(c)3 nonprofit organization that raises funds to support its own programs as well as to fund grants to other local nonprofit organizations that are also committed to its mission.  The goal is to see that Philadelphia's vibrant and growing immigrant community has access to the care and education they need so that they may actively contribute their talents to making this city truly world-class.
The foundation currently runs three of its own programs that improve the health, language, cultural skills, and nutrition of Philadelphia immigrants.  The first is a quarterly Community Health Day hosted at Garces Dental Group where uninsured patients can receive free dental care, physicals, and medical screenings.  The second is an applied learning English as a second language class for restaurant workers, English for the Kitchen, which aims to narrow the language and cultural gap in the workplace and beyond.  Last, the foundation hosts summer Luna Farm Field Trips to the Garces family farm, where children can grow and harvest fruits and vegetables, practice fun ways to exercise, learn the importance of a healthy diet, and cook fresh, nutritious meals.
In addition to its own programs, the Garces Foundation has also awarded grants to Puentes de Salud and The Philadelphia School.  Puentes de Salud, whose mission is closely aligned with that of the foundation's, has secured full funding for and is currently building a community center to house the many services they provide to the immigrant community.  One service is Puentes Hacia el Futuro, an afterschool and summer tutoring and mentoring program, which the foundation has chosen tofund.  The Philadelphia School teaches students pre-K through 8th grade and is committed to building a diverse student body, curriculum, and institutional culture.  The foundation has awarded them a grant to continue their diversity outreach and to provide scholarships to those students.