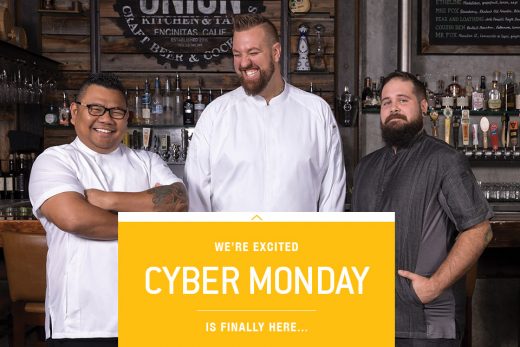 Make the most of your Chef Works® Cyber Monday discount experience by building an on-trend, fashion-forward look that is going to carry you through the winter and beyond.
We're offering 40 percent off of your entire order (with a $300 minimum) until 11:59 a.m. (PST) today. After that, it's 35 percent off (with a $300 minimum) until midnight (PST). Use promo code MONDAYRULZ1 for the early sale and MONDAYRULZ2 for the late sale.
Don't think in terms of one chef coat or one shirt. Think about pairings, styles and complete looks that will work for the front or back of the house. Here some suggestions to help get you started!
---
The traditional executive chef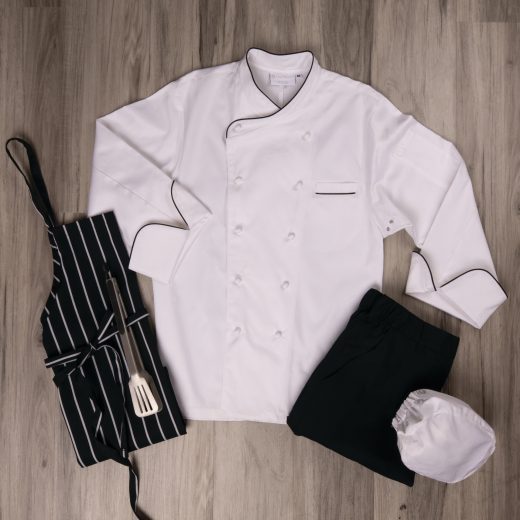 This is a look that's never going to go out of style. Executive chefs have worked hard to earn the title. Shouldn't they also look the part?
The Monte Carlo Executive Chef Coat offers exquisite details like super-combed 120 cotton, french cuffs and hand-rolled buttons. The black piping gives a distinguished, visual texture and the discreet underarm vents mean you'll stay cool.
Pair it with Cool Vent™ Baggy Pants, and an English Chef Apron for a classic look that's on-point for style, comfort and function.
Top off the look with a Total Vent Beanie.
Total cost of two coats (size 46) two pants (XL), one apron and one beanie: $344.96 (MSRP, less tax and shipping).
Total cost with 40 percent discount: $204.97 (less tax and shipping). 
---
The non-traditional executive chef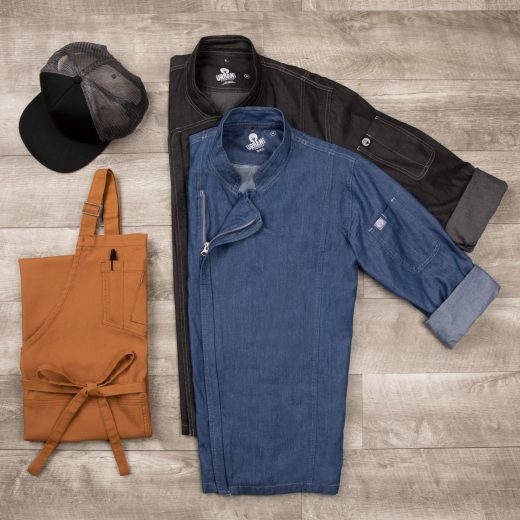 When our Urban Collection™ launched a couple of years back, we were confident it was going to take the culinary and hospitality world by storm. We were right.
While the entire collection boasts rule-breaking styles and fashion-forward designs, we also upped the ante on comfort, protection and efficiency.
The Gramercy Executive Chef Coat (also available in a women's cut) is one of the centerpiece garments of that collection. Made from 100 percent cotton denim, this single-breasted coat with zipper closure has proven to be a game-changer. It's got all of the executive details, without an executive price point. The contrast double stitching throughout ups the fashion and durability.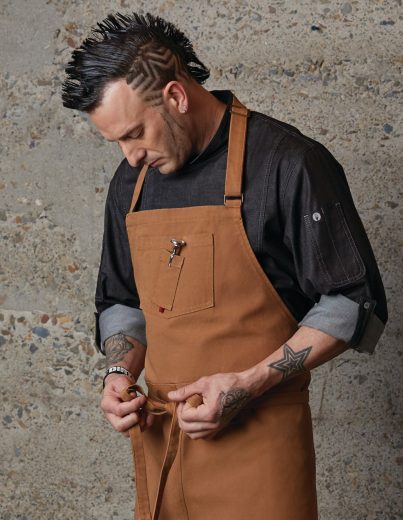 The Gramercy Executive Chef Coat pairs best with an apron that is also a workhorse. We like the Rockford Chef's Bib for this job. It's got a 100 percent cotton canvas so you're ready to take on any and all tasks in your kitchen. And the made-to-fade finish will give it a look as unique as you.
Both garments — the Gramercy and the Rockford — are available in two colors, so you'll want to get a couple of each to round out your look. Gramercy comes in black and indigo blue and the Rockford is available in nutmeg and steel gray. Make sure to check out the other members of the Rockford family — including the bib apron, bistro and half bistro.
Be sure to top it off with a Skater Hat. 
Total cost for four XL Gramercy Executive Chef coats (two black, two indigo blue), one Rockford Chef's Bib (nutmeg) and one Skater Hat: $329.94 (MSRP, less tax and shipping).
Total cost with 40 percent discount: $197.96 (less tax and shipping).
---
The "change-it-up" chef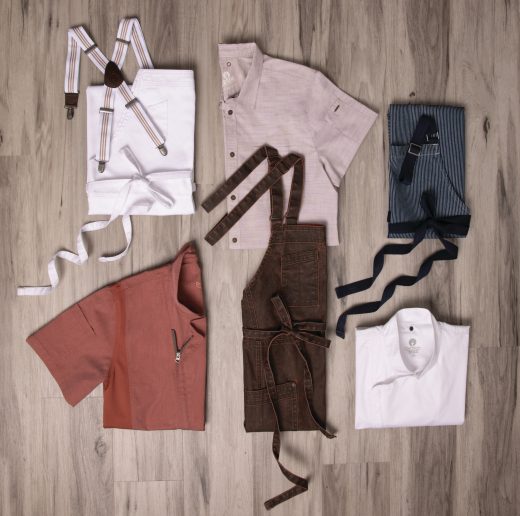 Of all the spices out there, it's said that variety is the spice of life. So if you're the kind of chef (or if you're buying for a chef) who likes to change things up, consider these various looks.
Start your week with fashion and function when you match the Springfield Chef Coat with a Berkeley Chef's Bib Apron. This paring gives you options galore when it comes to colors and styles. For starters, the Men's Springfield comes in seven different colors and the women's is available in four. Then you have five different Berkeley colors, combined with dozens of interchangeable suspender straps. You could conceivably have months' worth of looks based on this combination alone.
You can also change it up with a Havana Shirt and Denver Cross-Back Bib Apron. This pair works for either chefs who like to keep things more casual, or for front-of-house staff and bartenders. The Havana is available in exclusive cuts for women and men, while the Denver takes the strain off of the neck with its cross-back design. The artisan finish on the cotton-canvas makes it on-trend!
Round out your week with a Hartford Chef Coat (also available in a women's cut) and a Portland Chef's Bib Apron.
Total cost for Springfield Chef Coat, Hartford Chef Coat, Havana Shirt (all sizes XL), Berkeley Chef's Bib, Denver Cross-Back, Portland Chef's Bib and two interchangeable Berkeley suspender straps: $309.91 (MSRP, less tax and shipping).
Total cost with 40 percent discount: $185.94 (less tax and shipping). 
---
Just for her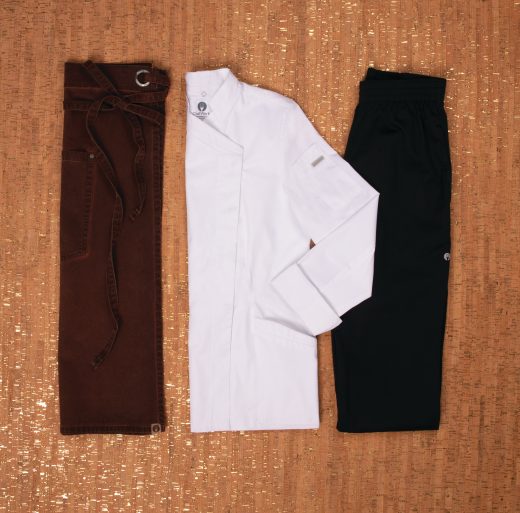 Our product development team spends weeks each year consulting with chefs about what they do and don't want from their gear. Our women's apparel — designed by women, for women — ticks all of the boxes because we design our gear using direct feedback from women who are moving the industry forward.
From the shape of a chef coat to the fit of the pants, we've taken all of that feedback into account and produced a line of women's apparel that the industry is raving about.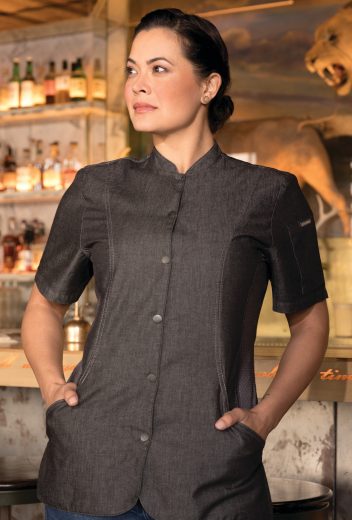 For those who like to keep things on the more traditional side, this trio of products is sure to get the job done. Start with our elegant Marrakesh Executive Chef Coat. This flattering design is available in white or black and is a bestseller because it accentuates ease of movement, without sacrificing style or shape. It's made of lite twill fabric with stretch panels up the sides and down the sleeves. It's got all of the executive details you'll love!
Add our Women's Lightweight Slim Pants and you've got a complete, comfortable look that was designed just for you. The modern-fit pants sit naturally on the waist and close with an elastic waistband and internal drawstring. It's that added level of comfort that gives you the confidence to own your kitchen. Add a Dorset Bistro Apron — with an antique-washed finish and grommets — for an urban finish.
If you want a coat that's a little more fashion-forward or cutting edge, we recommend the Executive Chelsea Chef Coat. It's a favorite of Chef Stacey Poon-Kinney, our October Chef of Chef Works. It's a short-sleeve, single-breasted coat with a snap closure. Visually, it breaks the rules of culinary apparel. But the feminine cut, curved front hip pockets and stretch paneling make it the perfect fit for you.
Total cost for two Marrakesh coats (one white, one black) one Chelsea coat (both coats medium size), pants, and three Dorset aprons (rust, golden brown and earth brown): $317.93 (MSRP).
Total cost with 40 percent discount: 190.75 (less tax and shipping).