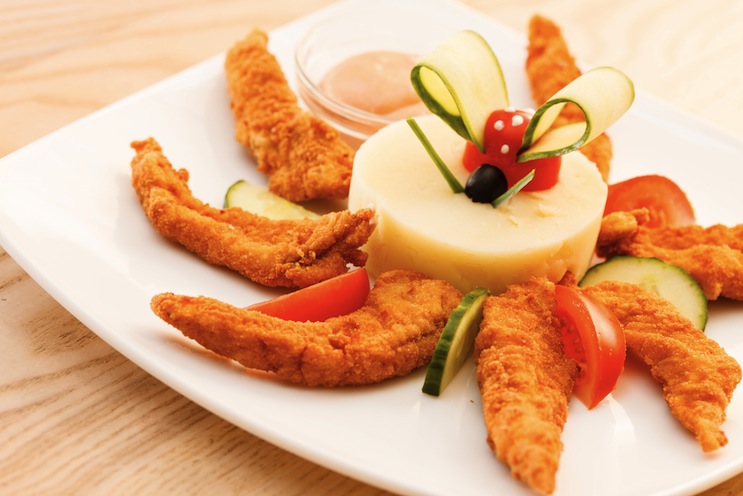 With people dining out in droves, you've undoubtedly seen children in restaurants everywhere. As a restaurant owner, it pays to cater to today's children, as they are the restaurant diners of the future. The easiest way to make kids (and their parents) feel at home is to have a kid's menu. 
If you own an independent restaurant, you may be wondering if you need a kid's menu if you don't already have one. A traditional kid's menu is full of foods like chicken nuggets, mac n cheese, or hot dogs, but if this type of food doesn't fit with your menu, it my be difficult to add these types of foods on, especially if you don't get a lot of families in your place. You may want to consider it, however.
Why The Kid's Menu Exists
Whether you have kids, or like being around kids, people that have them like to take them out to dinner with them. Some parents seek out family friendly restaurants, but not everyone does.
A kid's menu does more than just please picky palates. It can keep kids from getting unruly, and annoying other diners, as well as employees. As anyone that has kids will tell you, there is nothing worse than a cranky kid sitting in a place he doesn't want to be, while being hungry at that. It also makes it cost effective for parents to eat out with their kids. Children are notoriously picky eaters, but can also be small eaters, and it makes it easier to throw out a $2.99 meal than one that costs three or four times that.
Does your restaurant need a menu created specifically for kids? Probably, but there are some things to consider first.
What Kind of Restaurant Do You Have?
If you own a casual restaurant in a suburb where lots of families live, or a fast casual place, then chances are not having a kid's menu will hurt you in the long run. If you own a fine dining establishment with your top employee wearing an executive chef coat and chef hat, you'll see fewer kids, but still probably a few, so you should at the very least have some options for picky eaters when they do show up. Plain pasta or chicken breast may work, but it might also be worth the trouble to have a few kid friendly items available, even if you don't create a specific kid friendly menu.
What is the Age of Your Average Customer?
If you're a burger joint that caters to teenagers and college kids or own a cafeteria where your customers are mostly senior citizens, a kid's menu may go overlooked most of the time. In those cases simply offering smaller sizes may be the easiest compromise.
If you find that you do get families in your restaurant, especially if you've been asked about a kid's menu in the past, it may be time to just bite the bullet and create one.
Do You Have Plain Options Available?
There are plenty of reasons that having a kid's menu can be more of a hassle than it's worth. For instance, if you serve pricy, upscale food, or you don't have the kitchen space to store food you don't serve on a regular basis, having to keep chicken nuggets, and macaroni and cheese on hand may be a headache.
In these cases, simply having the ability to make something kid friendly very quickly may be the easiest option. Pasta, plain chicken breasts, or even just being able to quickly melt some cheese on bread for a quick "pizza" might do.
What is the Image You're Going For?
You don't have to offer a "Kids Eat Free on Tuesday" type of special to attract families to your restaurant. Sometimes just being moderately priced with a straightforward menu is enough. If, however, you want to attract a more sophisticated crowd, or you don't want to encourage families, then having a kid's menu says the opposite.
How to Create the Perfect Kid's Menu For Your Restaurant
Keep it Simple
Kids are known for being picky, and only eating a few types of foods, and they don't have to be fresh to be appealing. Chicken nuggets, French fries, and cheese pizzas are all things you can keep in your freezer until needed. While you can offer smaller portions of your dishes, unless they are pretty bland, you may be wasting menu space.
Make Sure the Menu Appeals to Parents as Well
This can be a tricky concept. While small children only care about eating foods they like, their parents may be concerned about them eating something fairly nutritious. While it's almost guaranteed that no kid is going to order a salad, maybe baked fries, sweet potato fries, or plain old steamed broccoli are good options. If you're so inclined, making some foods from scratch, such as mac n cheese, may be an option, since many parents feel better about homemade food as opposed to frozen or boxed versions.
It's definitely not an easy balance to be had, but ideally you want to create a kid's menu that is similar to the rest of the menu. If your restaurant is known for super healthy, made from scratch food, then having a kid's menu full of frozen, fried "kid foods" isn't going to appeal to parents, who after all, are the ones that chose your restaurant.
Create an Entertaining Menu
Taking the little ones out can be a guessing game, even with well-behaved kids. You never know when a tantrum is going to strike, and a bored toddler is likely to be a disruptive toddler.
While you take total control of kid behavior, you can make it easier on parents (and other diners) by making a kid's menu that has some easy puzzles, jokes, and maybe comes with a set of crayons. This is not mandatory, of course, and isn't necessary in every type of restaurant, but if you're going to welcome families with children to eat in your establishment, you might as well go the extra mile. It truly doesn't take much, but the sentiment can mean more than you'll ever know.
Set Pricing Accordingly
If you have kids, then you know that even one that hasn't eaten for hours may still not be hungry after you've paid for a meal. Again, kids are unpredictable, and generally don't eat a lot. This means that you can serve really small portions of food for small prices. If the prices aren't low, many parents won't see the point in the kid's menu in the first place. Remember, you're not making money on the kids menu; your profit comes from the adult meals.
Conclusion
As many people are eating the majority of their meals in restaurants these days, this means that there are plenty of kids eating out as well. Since children are notoriously picky eaters, and don't have long attention spans, creating a kid's menu as an addition to your regular menu can definitely have some benefits.
Unless you are in the small percentage of restaurants that don't cater to families, you'll probably find that you benefit more from having options for children as opposed to not.