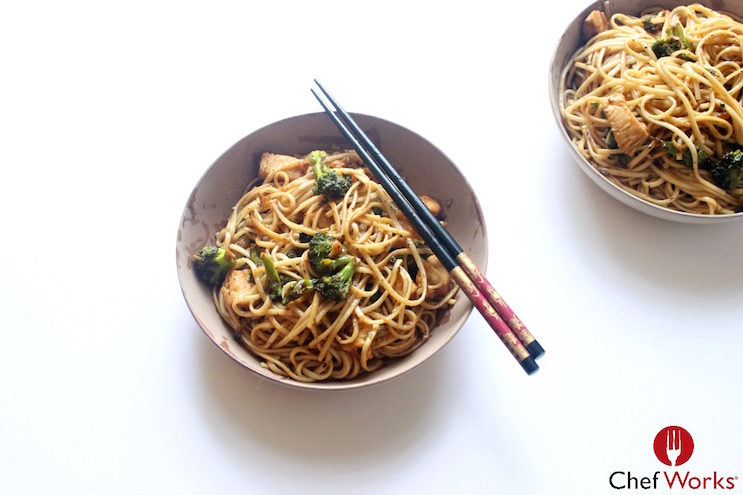 We've all been there. Your boss asked you to stay late, you finally get out out and traffic is horrible. You now have to drive across town to run an errand before you can even think about going home, and you know once you do get home, you'll have a list of things to do.
So, where do you squeeze in making dinner?
We are all guilty of ordering Chinese take out every once in a while. But let's be honest…after a while it can get expensive, and it's not the healthiest thing in the world. Luckily, you can make a much tastier, and healthier version at home.
Homemade chicken lo mein is a simple, tasty, low stress meal. It can be made in 15 minutes, making it a perfect weeknight meal. The flavor is sweet, spicy, and smoky like any good lo mein should be. The noodles are par-boiled to finish their cooking in the wok and achieve optimal texture.
While the ingredients are already out, I like to make a second batch. Working in smaller batches is essential for maximizing wok hei, the smoky effect of a hot wok. It's also great as a leftover. You can take it to work for lunch the next day, which eliminates even more unnecessary spending.
The broccoli in this recipe contributes a lot more than great flavor and texture. It adds a good amount of calcium, vitamin K, and is a powerful antioxidant. So shaving the stem, chopping it up, and tossing it in with the broccoli florets would be a great idea if you want to add more nutrients.
The bok choy adds protein, dietary fiber, and is a rich source of essential vitamins and minerals. It also contributes antioxidants, as well as supporting healthy bone and heart health.
When choosing your vegetables there are a few things to keep in mind.  Make sure the broccoli you buy is fresh, green with no brown spots in crown, and firm to the touch. The bok choy should be firm and crisp, not wilted. If you are buying the bok choy a while ahead of time store it in plastic bag in the fridge to maintain crispness.
Dark vs. Light Soy Sauce
This recipe calls for both light and dark soy sauce. Whats the difference? Light soy sauce is thinner, and saltier with an overall bolder flavor. Whereas, dark soy sauce has less saltiness, a little more body, and less flavor unless it is heated to bring it out. For lo mein we use both to get the best of both worlds.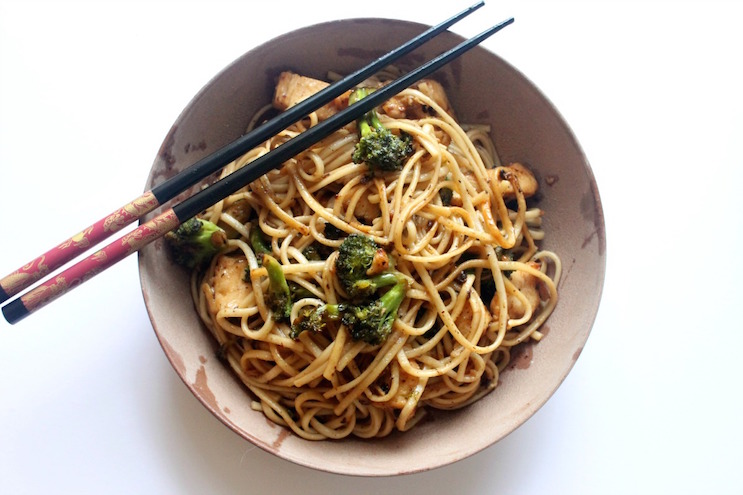 Easy Weeknight Chicken Lo Mein
For the Chicken:
1/2 pound boneless skinless chicken thighs, cut into ¾"-1" cubes
1/4 teaspoon salt
1/4 teaspoon sugar
1/8 teaspoon ground black pepper
1/2 teaspoon Shaoxing wine
1/2 teaspoon light soy sauce
1 teaspoon oil
1/2 teaspoon cornstarch
For the Sauce:
1 tablespoon sesame oil
2 teaspoon light soy sauce
2 teaspoon dark soy sauce
1 tablespoon of oyster sauce
1/4 teaspoon salt
1/4 teaspoon sugar
1 teaspoon Shaoxing wine
1 tablespoon water
For the Noodles:
Kosher salt
1 pound fresh lo mein noodles
4 tablespoons vegetable oil
1/2 pound broccoli, cut into bite-sized florets
2 stalks bok choy, sliced thin
3 medium cloves garlic, finely minced (about 1 tablespoon)
For the Chicken: Combine chicken, salt, sugar, pepper, wine, soy sauce, oil, and cornstarch in a small bowl and toss with fingers to coat. Set in refrigerator to marinate.
For the Sauce: While the chicken marinates, combine sesame oil, light and dark soy aqsauces, oyster sauce, salt, sugar, wine, and water in a small bowl. Stir with a fork and set aside.
For the Noodles: Bring a large pot of salted water to a boil. Add noodles and cook, stirring with chopsticks, until al dente, about 3-4 minutes. Drain in a colander and run under cold water until chilled. Drain well and set aside.
When ready to cook, heat 2 tablespoons oil in a wok over high heat until smoking. Add chicken, spread it out with a spatula, and cook without moving until lightly browned, about 1 minute. Toss and cook, stirring frequently, until almost cooked through, about 2 minutes total. Transfer to a large bowl and set aside.
Add another tablespoon oil to the wok and heat over high heat until smoking. Add the broccoli and season with a couple pinches of salt. Cook, stirring, until very lightly browned, about 30 seconds, then add 1/4 cup water. Cook, stirring, until broccoli is steamed and water has evaporated, about 2 minutes. Transfer to bowl with chicken.
Heat remaining tablespoon oil over high heat until smoking. Add the noodles. Using tongs or chopsticks, cook the noodles, stirring and mixing constantly until the noodles are coated in oil, about 1 minute. Add the sauce and continue cooking, stirring constantly, until the sauce coats the noodles, about 1 minutes longer. Add the garlic, broccoli, and chicken and continue cooking until combined and fragrant, about 1 minute longer. Let rest 1 minute before serving.

Variations and Substitutions To Try:
The options for the add ins that you use are endless. If you want to switch up the meat, try using shrimp, beef, ham strips, or crumbled sausage. Or if you want to use some different vegetables you could try mushrooms, sprouts, nappa cabbage, spinach, snap peas, carrot, or bell peppers.
If you were in the mood for some fried rice you could use the same method. Just sub in rice for the noodles and crack in a few eggs. This is a great option if you use shrimp. It's a great route to take for extra protein.
If you can't find some of the chinese ingredients it will still taste great if you leave them out. And if you don't have a wok, any frying pan with sides that can hold all of the ingredients will work perfectly.
What variations will you try?