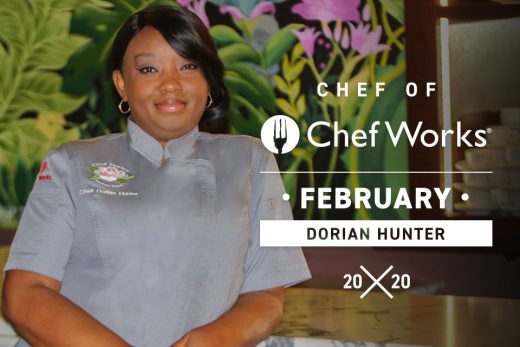 ---
Each month we feature a Chef of Chef Works®. If you're a fan of Chef Works gear and are interested in being featured, email kgemmell@chefworks.com. Pictured above is our February Chef of Chef Works®, Dorian Hunter, photographed in her Women's Springfield Chef Coat. 
---
Dorian Hunter was very close to not being crowned MasterChef. And it had nothing to do with Gordon Ramsey, the competition or the pressure of it being the show's 10th season. Hunter had to overcome her own fears and questions of self-worth after nearly walking out of the audition.
It's a good thing she stuck around. Hunter won Season 10 and, in the process, validated the beliefs she had been clinging to for years. Our February Chef of Chef Works® took some time to chat with the Chef Works® blog about her rise to stardom, how it's changed her (or didn't) and what's in store for her over the next couple of years.
Let's start with MasterChef and why it almost didn't happen for you.
Dorian Hunter: I almost walked out of the audition. For years I couldn't make it cooking. I was a single mom until I was 40 and I was working odd jobs. I worked in a prison kitchen. I had been at it for so long and nothing had happened and I asked myself why this time would be different. People were coming to the audition with these big coolers and professional equipment. I had a backpack with Tupperware and plastic utensils.
The more people came in, the smaller and smaller I felt. I called my husband and he said you can't leave. Just get through the first audition. Then it was just get through the second audition. Then it was just get an apron. Then it was just get into the top 10. Next thing you know, I'm in the final and rest is history.
Where do you think that resilience comes from?
DH: I'd say it's a combination of prayer, my faith in God and what I inherited from my mother. I was No. 5 of 10 kids, so I had middle child syndrome for sure. But she and I were always close and she taught me to never give up on myself. I still can't believe everything that's happened. Had I given up, I wouldn't be living this life and my dream wouldn't have come to fruition. Sometimes, when you're struggling, you have tunnel vision. You can't see what's ahead of you. All you can see is yourself struggling. That's when it's most important to have faith in yourself and faith in God.
With February being Black History Month, and as your star continues to rise, do you feel a greater sense of responsibility as a role model?
DH: I do feel like a role model, but only to a point. I'm not perfect. I still go through struggles like everybody else and you don't want people to see you as a failure. But I think at the same time you have to give yourself the freedom to try new things and that means allowing yourself to fail from time to time. I hope that the men or women who look up to me will see how I pick myself back up more than what's happening when I'm on top.
And I can't wait to get to the place where I'm not the 'first' of anything. I don't want there to be a big hoopla that a black woman did x, y or z. I hope we get to the point where the attention is on the fact that the best chef wins, regardless of race or gender.
---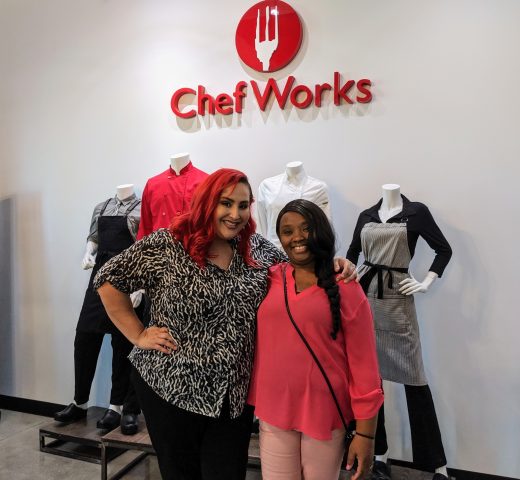 ---
How has your life changed since winning MasterChef Season 10?
DH: I'd like to think it really hasn't all that much. I came back from the show and took my kids to school the next day. They were late because I was out of the routine. You go out and people notice you. I like the fact that I can make somebody's day by just saying hi or taking a picture. If I've made their day, they've made mine too.
What's the best and worse advice you got along the way?
DH: The best advice came from my mom, who always said 'just do it. Stop talking and just do it.' I still hear her telling me that. If you're pondering, you're not doing. Just be you. I'm not Hollywood. What you see is what you get.
The worst advice is to give as much away as you can for free and it will pay off later. That's not always the case. I went through a phase where a lot of people were taking advantage of me and I was spending money without making any. That's not how it's supposed to work. I believe God gave me these gifts so I could take care of myself and my family.
What do the next couple of years look like for you?
DH: I'm hoping to get my cookbook done and published by the end of the summer. I have ideas and I'll walk wherever God wants me to walk. I would love to find the right fit in terms of opening a restaurant. It could be a bakery or a restaurant. But I'm not going to force anything. It has to be the right fit.
---
Meet the 2020 Chefs of Chef Works®: 
Meet the 2019 Chefs of Chef Works®: