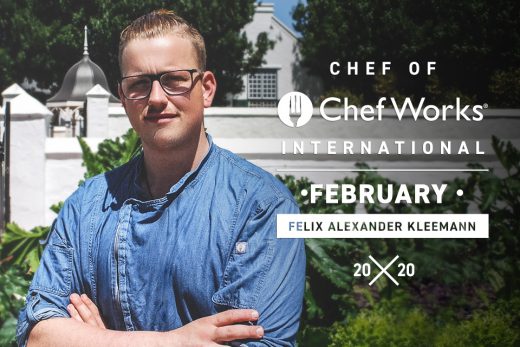 ---
Each month we feature an International Chef of Chef Works®. If you're a fan of Chef Works gear and are interested in being featured, email kgemmell@chefworks.com. Pictured above is our February 2020 International CoCW, Felix Alexander Kleemann, in his Executive Gramercy Chef Coat.  
---
The next generation of chefs is going about their business in a very different manner than their predecessors. But it's got nothing to do with food preparation, plating or their approach to cooking.
Take, for example, Chef Felix Alexander Kleemann. The junior sous chef from Voyager Estate in Margaret River, Western Australia, bucks a lot of the old chef stereotypes.
"I don't really like to drink after a shift and outside of work I like to go to the beach and do CrossFit," said Kleemann, 25. "I like to eat food that fuels my body, like lots of vegetables and clean flavors."
In an era when the mental and physical health of chefs is under the microscope, Kleemann, like many in his generation, is looking for creative ways to beat the rigors of the job.
"Working in a kitchen is stressful," he said. "I think it's important to have something which relaxes you where you can de-stress."
Raised in Hamburg, Germany, Kleemann was the youngest of a large family and becoming a chef was never an early ambition. After high school, he wanted to be a nutritionist. But he opted to become a chef apprenticeship which he described as "fun, hard and full of emotions."
By 18, he was competing and placing in regional cooking competitions. It was a second-place finish during one of these competitions that convinced Kleemann that he might actually be able to make a career in the kitchen.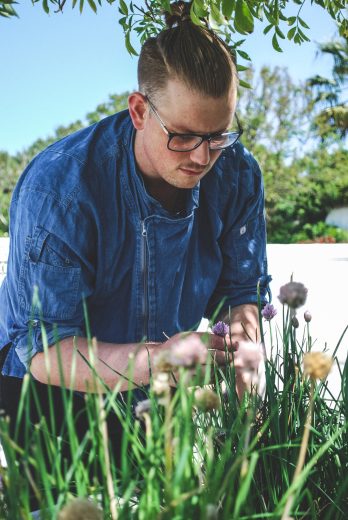 "I think that changed everything for me because it's when I realized I could actually be really good at what I was doing," Kleemann said. "After I finished my apprenticeship, I wanted to leave Germany and fly to the furthest possible place. That's how I ended up in New Zealand."
He spent the next two years working for German chefs in South Island, New Zealand. From there he moved Melbourne, Australia, and worked at the world-renowned Attica. But ultimately, he moved 3,500 miles west to Margaret River in Western Australia to find a company that would give him a Visa to stay in country.
It turned out to be the best opportunity for him because he connected with Voyager Estate and Chef Santiago Fernandez.
"Coming from Spain, he focuses on flavor, simplicity and locality," Kleemann explained. "We work by the phrase 'from the land, for the land' and you can see that all around us at the estate. We have our own gardens where we pick herbs and vegetables each morning."
At this point in his life, Kleemann isn't focused on the future. He's enjoying the present and learning as much as he can about wine.
"We are one of the most established wineries in Western Australia and Chef 'Santi' is very ambitious when creating food to pair with the wine," Kleemann said. "It's important for us to respect the wine and try to create an experience from that.
"I love the opportunity to use different ingredients from where I live and knowing there are no limits to what I can try."
---
Meet the International Chefs of Chef Works® from 2020:
From 2019: