While you're busy running service, we're scouring the Internet in search of the latest and greatest stories to hit the airwaves. This week, Tasting Table diagnoses the American flavor profile, Saveur explores the history of absinthe and top chefs head to the Sports Illustrated Swimsuit Edition party to strut their (culinary) stuff.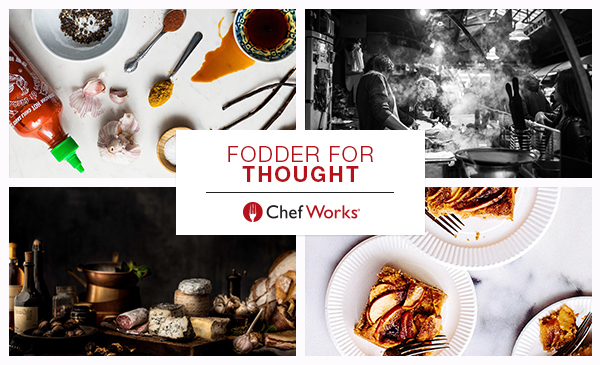 Flavor Profile: These are the Ingredients that Define American Food | Tasting Table
You may think American cuisine is all hamburgers and hot wings, but according to food historian Sarah Lohman, our cultural melting pot has transcended to the plate, with eight distinct flavors rising to the top to define American cuisine. Essential flavors include trendy favorites like Sriracha and classic ingredients like vanilla and black pepper, each of which come with a story of not only the ingredients but the people behind them as well.
The New Essentials of French Cooking | New York Times
Now is your chance to master that crème brûlée once and for all: the venerable New York Times has launched a new online guide dedicated to French cooking. For those looking to tackle a new recipe or brush up on your soufflé skills, you may have found your new homepage. 
Chefs — yes, chefs — headline SI Swimsuit fest | Restaurant Hospitality
What happens when you mix chef-driven bites and beach babes? The Sports Illustrated Swimsuit Vibes party, of course! As chefs become rock stars in their own right, event planners are looking to attract their foodie followings, and judging from the SI Swimsuit event, is taking a creative route to boost ticket sales and raise awareness.
12 Ridiculously Cool Food And Drink Fests Around The World | Food Republic
Grab your passport and a plate, it's time to hit the road, with one thing on the itinerary: food. From the wastED London event to the Charleston Wine & Food Festival and Taste of Dubai, foodie globetrotters can get their fill on some truly scrumptious grub, from sea to shining sea.
The Earliest Happy Hours were all about Absinthe | Saveur
Absinthe, perhaps the strongest drinkable alcohol known to mankind, has a torrid history as the happy hour drink of choice for Parisian bohemians, as it's murky green characteristics were thought to increase creativity and promote free thought. Referred to as the "green hour," these 5:00 p.m. soirees eventually morphed into modern day happy hour, as explored by Saveur's team of enthusiastic imbibing journalists.