While you're busy running service, we're scouring the Internet in search of the latest and greatest stories to hit the airwaves. This week, The World's 50 Best Restaurants announce their top 100 spots, the history of the artisan grilled cheese is revealed, and top designers weigh in on the future of restaurant interior design trends.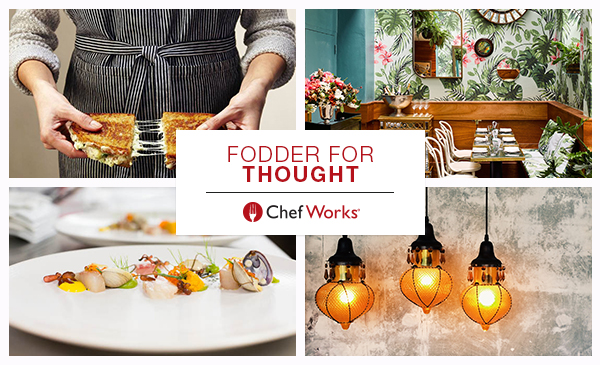 Eater | Every Spring 2017 Cookbook That Matters
Master a few new cooking techniques with a little help from culinary masters including Elisabeth Prueitt and Chad Robertson, Samin Nosrat, and Danny Meyer. With everything from modern veggies to regional Mexican cuisines, these top-notch chefs are spilling their recipes and techniques for achieving their signature dishes in your own kitchen.
Food Republic | World's 50 Best Restaurants List Announces the 51-100 Runners-Up List
The World's 50 Best Restaurants list just announced the top 50 spots that didn't make the cut, but that still get bragging rights for making in the top 100. The United Sates claimed eight spots on the list, including Chef Works BBF Dominique Crenn and her Atelier Crenn in San Francisco. The top 50 list will be announced April 5, so stay tuned!
The Wall Street Journal | The Greatest Grilled Cheese Sandwich—and the History Behind It
A childhood staple, did we ever really think about how exactly the grilled cheese came to be? And how the mother of grilled cheese sandwiches came to define the industry? Turns out, the American artisan cheese revolution that began in the late 1970's started with a few women making goat cheese in their kitchens. Read the fascinating story in full, and then try to not eat one of these cheesy goodies after reading.
Tasting Table | Trends with Benefits
The newest trend in restaurant design: Haute greenhouse. While food and fashion cycle consistently year-after-year, interior design has been steadily progressing, turning to Fashion Week and culinary trends alike to develop new concepts and bring new spaces to life. From the demise of the Edison bulb to the rise of tropical modernism, read up on the nine design predictions from the top restaurant designers in the industry.