While you're busy running service, we're scouring the Internet in search of the latest and greatest stories to hit the airwaves. This week, Bon Appetit paints the town pink, New Romanticism takes over plating trends around the nation, Food & Wine Magazine announce their new crop of top chefs, and John Legend croons Gordon Ramsay insults on live TV.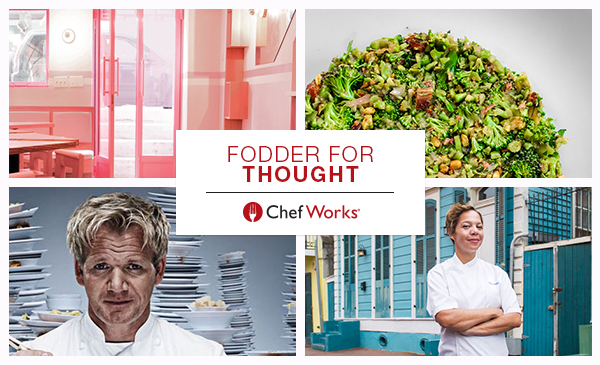 Bon Appetit | 9 Restaurants That Are Taking This Millennial Pink Thing Very Seriously
If you haven't noticed pinks total world domination, Bon Appetit implores you to look around – Millennial Pink is everywhere, including, it seems, in your food. Love it or hate it, this Instagramable hue is enjoying its 15 minutes of fame, and along with it, the restaurants that have hopped on the pink bandwagon have found viral recognition for their efforts. 
Eater | 'New Romanticism' Is the Culinary Ethos We've Been Waiting For
Trends in plating are nothing new. We had the "deconstructed look", then the "gluttonous look", now it seems we're on to "New Romanticism" – a culinary direction the recalls the artistic and cultural tenets of nineteenth-century Romanticism. With an emphasis on greenery and textures, diversity and edible décor, New Romanticism is alive and well and hot spots including Staplehouse in Atlanta, Estela in NYC, and Parachute in Chicago. Dining Editor Bill Addison's take on this trend is an inspiring read that had us running to plate pretty things in the kitchen.
Eater | Watch John Legend Croon Gordon Ramsay's Most Vicious Insults
What happens when you have John Legend sing star chef Gordon Ramsay's famous insults? Pure awesomeness, that's what.
Food & Wine | Food & Wine's Best New Chefs 2017

Food & Wine Magazine's hotly anticipated list of the country's best new chefs was announced last week – with a varied and vast portfolio of regions and cuisines represented. From modern Creole at Nina Compton's Compère Lapin, to Jay Blackinton's microenvironment-inspired dishes at Hogstone Wood Oven, these are the newest crop of masters and elites, redefining dining and reimagining new flavors and techniques for the modern age.