While you're busy running service, we're scouring the Internet in search of the latest and greatest stories to hit the airwaves. This week, discover Food & Wine Magazine's annual Restaurants of the Year listings, explore the newest craze in food tours (hint: you'll probably need your passport), check out some truly terrible burger ideas, and experience a new (and dare we say, healthy?) beer style revolutionizing your local bottle shop.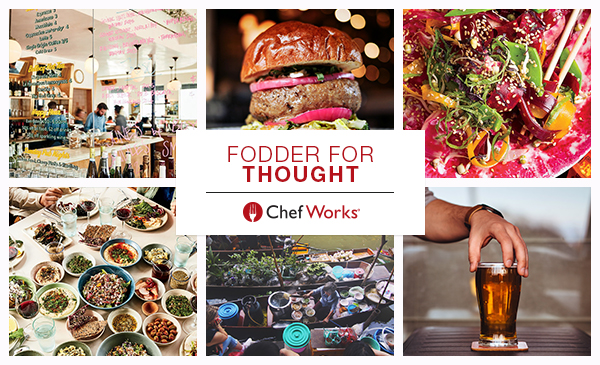 Food & Wine | Food & Wine Restaurants of the Year 2017
From the boroughs of New York to the streets of La La Land, venerable Food & Wine Magazine has unveiled their most magnetic restaurants, showing off some of the coolest restaurants and their colorful menus. Travel around the lower 48 and discover gems such as Roister in Chicago for some lively kitchen action and a bustling vibe. Head west to Portland where Tusk awaits, with their simplistic modern Israeli menu offering an abundance of sharable dishes for all to enjoy.
Tasting Table | Street Smarts
Gone are the days of hop-on-hop-off mega bus tours. When trying to immerse yourself into local culture, there is no better way than through food, and Tasting Table has the scoop on where to go. From the back streets of Vietnam to the Shuck in Tel Aviv, the next time you find your-self in a bustling city, sign up and take a food tour you won't soon forget.
Food Republic | 20 Bad Burger Ideas Around The World
Burgers have evolved from a single patty to complex delicacies. Sometimes these ideas fail miserably. Take the Garbage burger from McGuire's Tavern in Pensacola, Florida, which features ¾lbs of Angus beef topped with over 20 ingredients including marinara sauce and ice cream. Shameless PR stunt? Maybe, but in the meantime, check out this roundup of simply bad burger ideas from around the globe.
Bon Appetit | This Gluten-Free, Low-Carb Beer Actually Tastes Good
Attention all beer lovers and those affected with the inability to tolerate gluten: we have a surprise and you're going to love it. Omission Brewing Co. has created a gluten free beer that tastes good without the side affects of gluten, changing the way the beer industry is working. With strong flavors, a great texture, and the light consistency, your new summer beer has finally arrived.