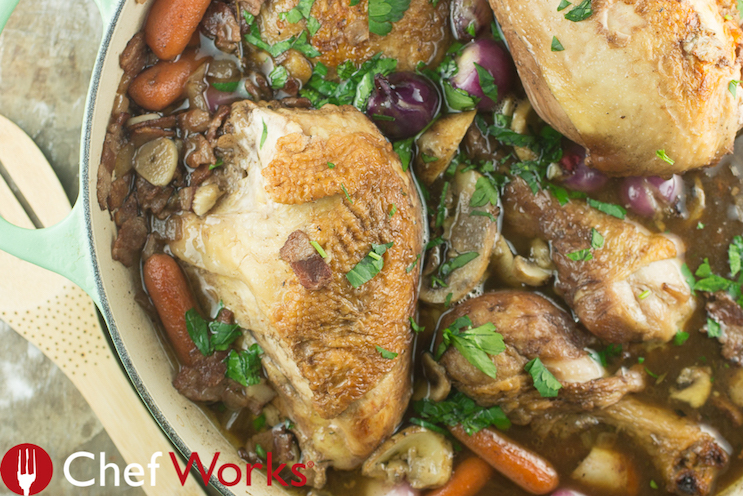 The French are known for several things, food and wine being two of their best. Many of the best restaurants are based on French cuisine, and even more casual restaurants feature French foods like the Croque Monsieur.
While some French dishes are complicated, many rely on simple techniques and good ingredients. Coq au Vin is a classic French dish that is basically a chicken (or if you were to translate literally, a "cock") marinated and braised in red wine until tender. The wine, with help from a few other ingredients, flavors the bird beautifully, leaving you with a rich, mouthwatering dish that is worthy of most fine restaurants.
While the method is pretty straightforward, there are some things you need to know before diving right into this classic French recipe.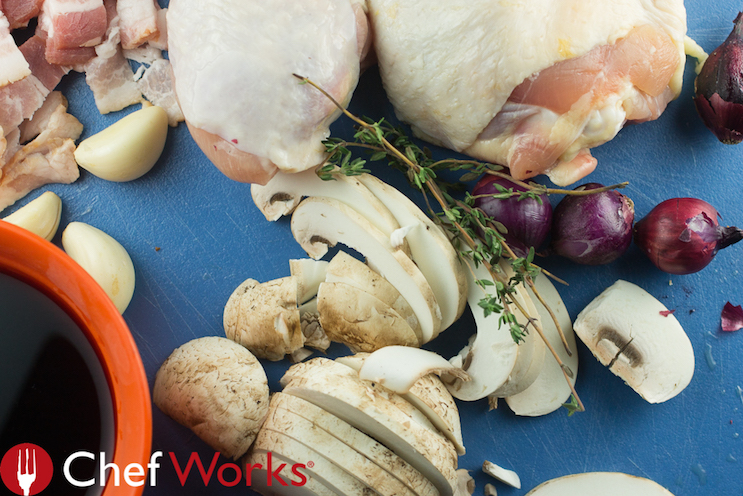 Use High Quality Ingredients. One reason French cuisine is the best in the world is because the French have a different way of looking at food than a lot of other cultures, American being one of them. They rely on fresh vegetables, humanely raised meats, and very little, if any, processed ingredients.
Let's start with the chicken in this dish. Traditionally, it was a rooster that was cooked here, which would explain the long cooking times you see in a lot of recipes for this dish. The rooster meat was tough, and required slow braising to become tender. If you use a regular chicken picked up your local American supermarket for this dish, you'll likely end up with meat (especially white meat) that is dry and tough, as it does not require long cooking to become tender. Thighs and legs can take a slow braise though, so if dark meat is your thing, go that route. For the best flavor, choose an organic bird that was raised without hormones and antibiotics. While you can use boneless chicken pieces, bone-in cuts will give you a richer, more satisfying flavor.
Now, besides the chicken, the main ingredient in this dish is the wine. There are many ways you can go with the wine here and still end up with a lovely dish. Traditionally, Coq au Vin is made with Burgundy wine, which can be expensive if you're not in France. While you are free to spend the money on a good Burgundy wine for this dish, the truth is, you can use any decent red wine for this dish and end up with excellent results. As a rule, if you like the taste enough to drink the wine, it will taste delicious when cooked here.
The only thing to remember when choosing wine is to never, and I mean never use the "cooking wine" you find in your grocery store. These are inferior products made with low quality wine, salt, and other additives. You might be able to get away with these if your recipe only calls for a tablespoon or two of wine, but for a dish like this, absolutely not!
For vegetables, use the freshest, highest quality veggies you can find. If you can shop at a local farmer's market, now is the time to do so. For chicken broth, homemade stock is always best.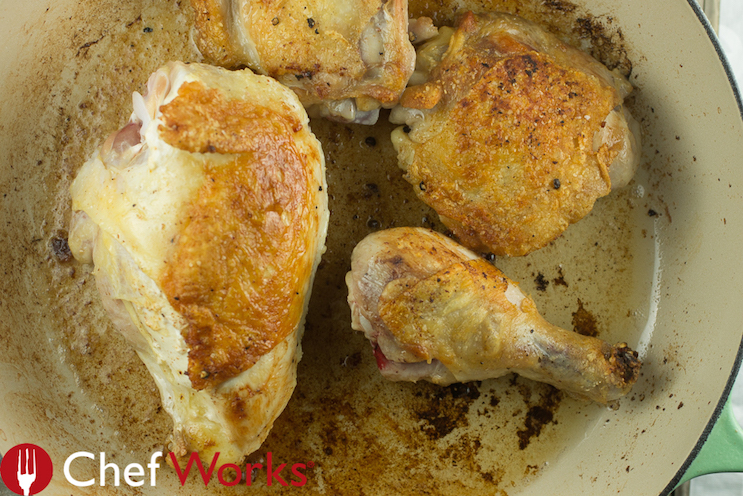 Cooking Tips. Even though it seems fancy, this is actually a pretty straightforward dish. The key to this dish, and what will give it the most flavor is to take your time, from every step. When browning the chicken, give each piece enough room to breathe; crowding will result in a soggy skin instead of nicely browned and crisp. When it's time to braise in the red wine, do it over low heat. It can be tempting to increase your temperature to increase your cooking time, but that will only leave you with dry, tough chicken. This dish is like a pot roast or any other braised dish — it simply takes time to do it right; slow cooking is the way to go. The only exception is if you are using boneless chicken breasts; these don't require long cooking times. Simply cook until the chicken is done.
Variations. While this is traditionally cooked with bone in chicken pieces and red wine, you don't have to cook it that way. You can use chicken breasts instead of bone in pieces, and you can even use white wine if for a lighter version, which is especially nice in warmer weather.
For the ham, you can use bacon or pancetta; both do an excellent job of adding rich saltiness to the dish.
You can also change up the vegetables. Not a fan of carrots? Use turnips, sweet potatoes, or parsnips. Don't like mushrooms? Leave them out. Just because something is classically prepared a certain way doesn't mean you have to do it that way. Make it how you like it. Experiment with different wines,  vegetables, or whatever your heart desires. That's part of the fun of cooking.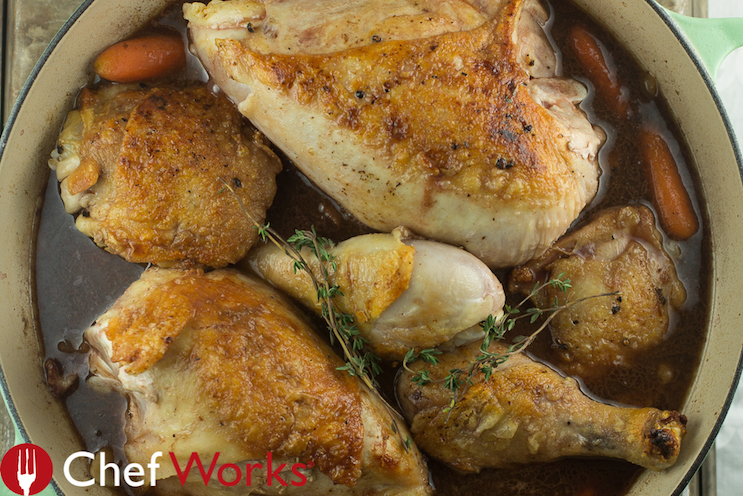 Serving. If you've got enough vegetables, you can serve the chicken and vegetables as a full meal and that may be enough for you. You can also serve this with pasta, rice, or mashed potatoes. Even something less obvious like quinoa would work nicely here. A green salad may be good to lighten up the dish, but it is a fairly rich dish, so a rich, starchy side only seems appropriate. Some crusty bread is almost a necessity for sopping up the red wine sauce.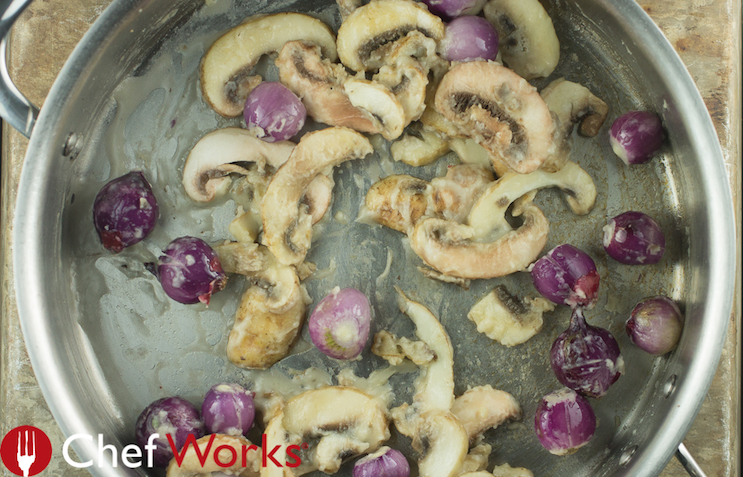 Coq au Vin
Serves 4-6
Prep time: 90 minutes
Ingredients:
1/4 pound good quality bacon
2-3 pounds chicken pieces, preferably bone-in
1 onion, diced
3 cloves garlic, sliced
2 cups baby carrots
1 cup chicken broth
3 cups red wine
5-6 thyme sprigs
2 tablespoons butter
2 cups sliced mushrooms
1 cup pearl onions
2 tablespoons flour
Sea salt and fresh ground pepper, to taste
Directions:
In a large Dutch oven or braiser, cook the bacon until slightly crisp. Remove from the pan, leaving the fat.
Season the chicken liberally with salt and pepper and add it to the pan, being careful not to overcrowd the pan. Cook until well browned, in batches if necessary. Remove the chicken from the pan.
Add the onion, garlic, and carrots and cook until onions are soft, scraping the brown bits from the pan as you do so.
Add the broth, wine and thyme, followed by the chicken and bacon. Bring to a boil.
Reduce heat, and cover. Simmer over low heat for 50 minutes, until chicken is cooked through.
In a separate skillet, melt the butter and add the mushrooms and pearl onions. Cook until mushrooms are lightly browned and add the flour. Continue cooking until soft. Transfer this mixture to the chicken and bring to a boil.
Reduce heat and simmer for 10-15 minutes, until wine sauce is slightly thickened.
Serve immediately.
What is your favorite French dish?