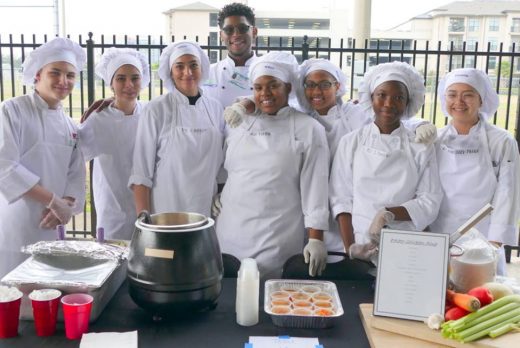 Chef Curtis Bell, back center, with his culinary students (wearing Le Mans Chef Coats for men and women) from West Side High School in Houston. Courtesy Photo / Curtis Bell
---
Culinary educators know that it's not just about having the right tools in the kitchen. They need their students to be in the right mindset to work and learn.
That's achieved by having the right apparel – especially at the high school level.
"We're already dealing with kids and teenagers who can be very emotional or hit-and-miss," said Chef Curtis Bell, who has run the culinary education program at West Side High School in Houston for five years. "But when they put that chef coat on, it changes their whole demeanor. The jacket is almost like a crown. They feel like they have responsibility. They feel more connected to the program and the art. It's crazy when they put that [coat] on how much it motivates them to actually participate in lab and show up to school."
Bell isn't alone. Like hundreds of culinary educators across the country, he's trying to find new and exciting ways to motivate the next generation of hospitality workers. Chef Sandra Macias, the culinary arts instructor at John Burroughs High School in Burbank, Calif., understands that she's preparing her students for a career.
"More than 90 percent of my students will go into the hospitality industry after graduation," Macias said. "That's a big responsibility. It's on us to make sure they have the necessary skills and tools they need to head out into the world."
---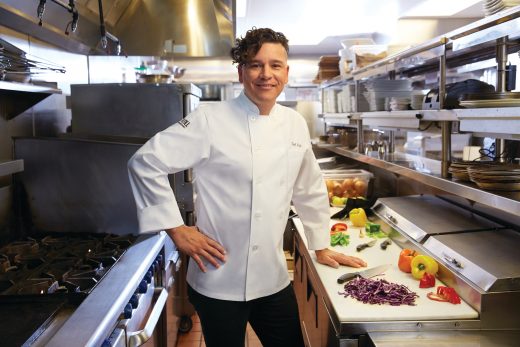 ---
Public high schools aren't allowed to charge students to take classes. So many elective courses, such as the culinary arts, rely on fundraising programs to help pay for supplies and equipment. This is where Chef Works® has been making a difference for many years. Chef Works® has a department solely dedicated to culinary schools that offers:
Customizable student kits for easy distribution (which can include a coat, hat, apron and beanie)
Quick turnaround – usually within 24-48 hours (non-embroidered)
High-quality garments at an affordable price
In-house embroidery for one-stop shopping
A huge inventory
"I have been familiar with Chef Works® for many years, but it wasn't until I became a teacher that I found out the extent of their involvement with education in the culinary field," Macias said.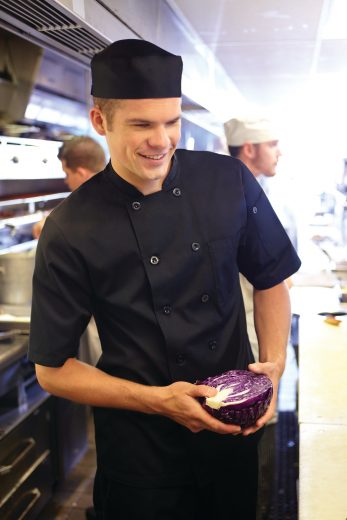 "By offering their quality coats at an affordable rate, Chef Works® makes it possible for programs like mine with limited funding to participate in programs, such as ProStart®" [a two-year high school program through the National Restaurant Association].
Bell also runs a ProStart® program. So getting any sort of financial assistance is a blessing.
"A colleague introduced me to Chef Works® a few years ago and they have the best customer service – it's not even fair to compare them to anyone else," Bell said. "We're a magnet school and we have a lot of kids who have trouble affording the program so we're looking for as much assistance as we can get. Chef Works® helps make what we do a possibility."
For more information about Chef Works® education programs, visit our culinary education website or email us at schools@chefworks.com
"This is the next generation of chefs who are going to project the industry forward," said Amanda Stuckey, vice president of marketing for Chef Works®. "We want to do everything we can to encourage their participation, foster their growth and help provide these amazing educators with everything they need to help this next group of chefs flourish."