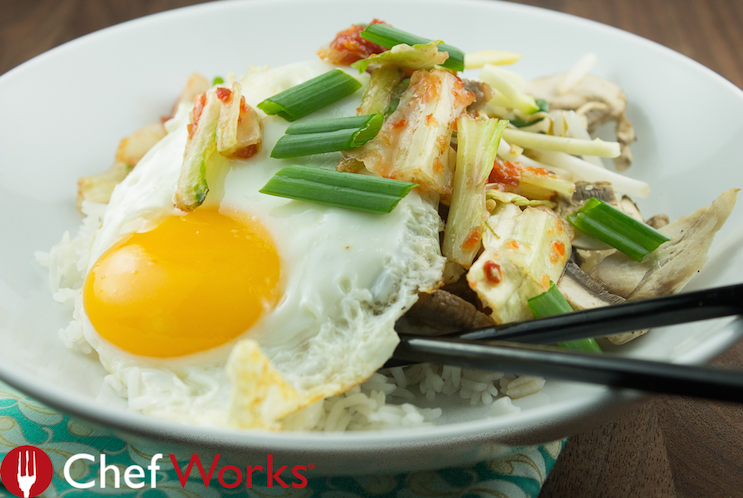 I love Asian takeout, but like most restaurant foods, it can be hit or miss. A favorite is bibimbap, a Korean dish, which sounds exotic and complicated, but is actually just rice mixed with meat and veggies. It's literal translation is simply "mixed rice." While it's not as common as some other Asian dishes, such as lo mein or sushi, it is becoming more popular as many people branch out when it comes to ethnic food.
If you don't have a takeout place near you that serves bibimbap, or you want to venture out and make your own, you'll be glad to know, it's not that difficult. As a bonus, you can customize it to your liking using whatever veggies, flavorings, or meat you like. Read on to learn how to make your own version of this classic Korean dish in your own kitchen.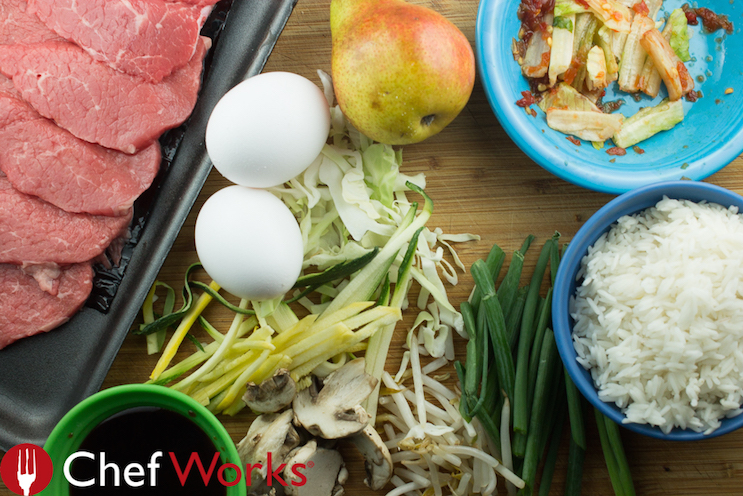 Use the Highest Quality Ingredients. If you want to make good food at home, you first priority should always be to get the best ingredients you can get your hands on. This means fresh vegetables, good quality meat (grass-fed is best) and natural, authentic flavorings. A good place to start with a dish such as bibimbap is an Asian grocery store if you have one near you. They'll have veggies and seasonings you may not be able to get at your local supermarket.
If you can get your veggies locally and seasonally, this is a great start. Not only will they be more nutritious due to lack of travel, but they'll also taste better and have better texture, which is key in a meal like this.
For meat and eggs, organic, and grass-fed are going to taste better, while also being more nutritious.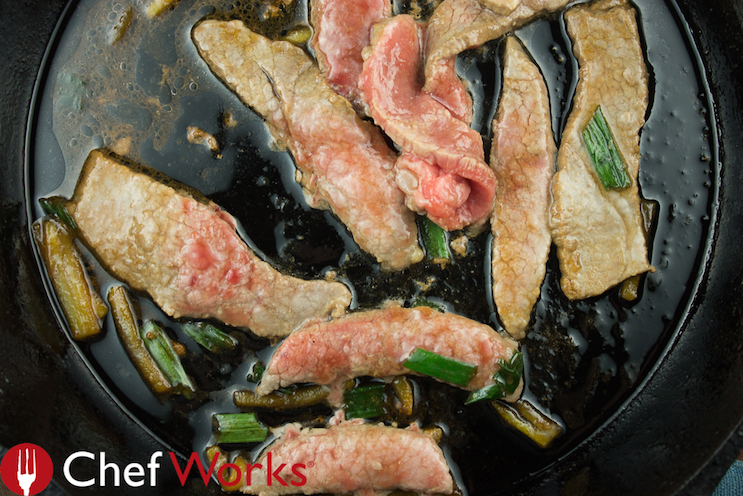 Cooking Tips. While a traditional bibimbap is a simple dish, there are some things that make it better and more flavorful. For one thing, you should give yourself plenty of time to marinate your meat so that you can get the most flavor possible out of it. In addition, rather than just serving it with plain rice, you should take the time to cook it and let it cool. Spreading it on a baking sheet will allow it to cool faster and dry out slightly so that when you fry it, it will crisp up nicely. If you can cook it a day in advance, it will be even better. Whatever you do, don't try to use just cooked, hot, wet rice or you will be disappointed.
Kimchi, a popular Korean condiment of fermented vegetables gives this dish a dose of flavor. While you can buy it at an Asian grocery, you should try making it at home for a more authentic and flavorful dish.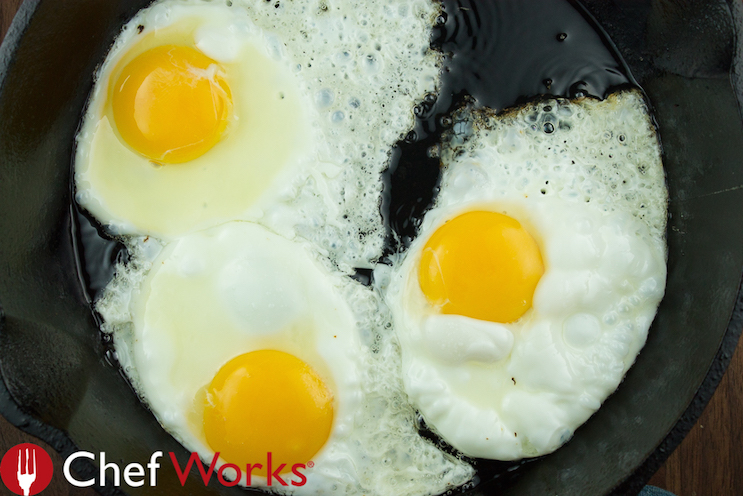 Variations. One of the  best things about this dish is that you can make it however you like. You can use practically any veggie you like, and while beef is a popular choice, pork, chicken, or seafood works as well. If you want to ramp up the nutrition profile, use more veggies than meat, and try it with brown rice instead of white (just remember that it takes longer to cook, so plan accordingly!)
While traditional Asian ingredients like radishes, cabbage, and bean sprouts are popular, don't be afraid to use asparagus or spinach if that's what you have on hand or prefer.
In its authentic form, it's served with rice, but if you'd like to change it up, you can serve it with noodles or even other grains. A sunny side fried egg is served on top, but you can fry your egg any way you like.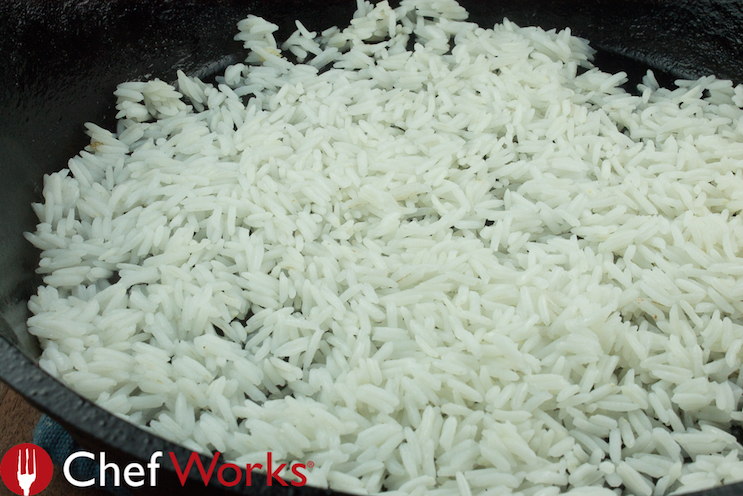 Serving. When serving bibimbap, this is where you can get creative. A variety of mix-ins are used, and you can use literally anything or everything you want. Bean sprouts, mushrooms, sautéed cabbage, pickled ginger, or sliced green onions are common. Serve it with extra soy sauce, lots of kimchi, extra rice. If you're serving it for guests, simply put everything out in bowls and let them put it together themselves for a customizable, flavorful dish.

Classic Korean Bibimbap

Serves 8
Prep time: 2-3 hours
Cook time: 30 minutes
Ingredients:
2 cups sushi rice, rinsed
1/2 cup soy sauce
1 small pear or sweet apple, peeled and grated
2 green onions, sliced
2 cloves garlic, minced
1 tablespoon brown sugar
1 tablespoon grated ginger
1 pound ribeye, thinly sliced
For serving:
8 eggs
Toasted sesame oil
Mix-ins of your choice: Bean sprouts, shredded carrots, cabbage, pickled garlic, green onions
Kimchi
Directions:
First, cook the rice either in a rice cooker or on the stove, according to your package directions, one day in advance if possible. When cooked, lay the rice on a sheet pan in a single layer, allow to cool, and cover with plastic wrap and store in the fridge if using the next day.
Combine the remaining ingredients in a freezer bag or bowl, coating the meat well. Refrigerate for 2-3 hours.
When ready to serve, heat a heavy bottomed skillet over medium high heat and add a tablespoon of toasted sesame oil. Add the rice in an even layer and allow to cook for several minutes until crisp. Stir, and continue cooking until rice is crispy all over. Remove from pan. Continue cooking until all rice is done.
Add another tablespoon of sesame oil and cook the beef in a single layer, in batches if necessary to avoid overcrowding the pan.
Remove the beef, and fry the eggs to your liking.
When ready to serve, divide the rice into bowls, top with the beef, eggs, and desired mix-ins. Top with kimchi and serve immediately.
Have you ever made bibimbap at home? If so, what are your favorite additions?