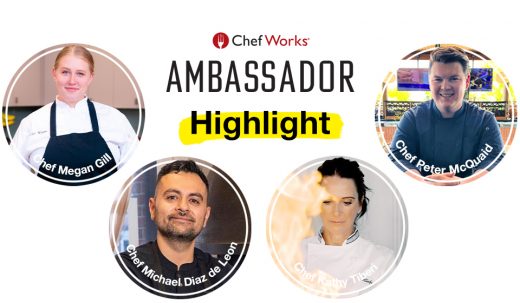 This year, we teamed up with 16 amazing chefs to be part of our first generation of brand ambassadors. Let's get to know four of them:
Chef Megan Gill
Chef Megan Gill has been working in the culinary world since the age of 16. You might recognize her as the runner-up on Season 20 of Hell's Kitchen, and even today, Chef Megan continues to build a career that pushes her to grow and learn. As brand ambassador, she hopes to bring important conversations, such as mental health and supporting local farmers, to the forefront of the culinary industry. She's currently sous chef at the Cowboys Club in Texas, and in her own words, she's not slowing down anytime soon.
Follow Chef Megan on Instagram
"Don't get discouraged. In this industry, you'll fail so many times, but through that comes so many great things!"
Chef Michael Diaz de Leon
Chef Michael Diaz de Leon is a culinary artist and storyteller based in Denver, Colorado. Trace his decade-long career to its origin, and you'd find him working as dishwasher prep at a Southern food restaurant, where he admittedly developed a soft spot for a mean fried chicken. Now, he's chef de cuisine at BRUTO, an 18-seat omakase-style restaurant that celebrates global cuisines and is the backdrop for Chef Michael to pay homage to his Mexican heritage. Supporting local agriculture and reducing food waste are among Chef Michael's core practices, commitments that point beyond sustainability and to a broader ethos of respect: respect for his ingredients, respect for the Earth, and respect for human beings. At BRUTO, he spares no effort in cultivating a kitchen culture that's markedly different from that of the kitchen brigade. He's passionate about uplifting future culinarians, encouraging them to take care of their bodies, their minds, and every person in their sphere of influence.
Follow Chef Michael on Instagram
"We call it the BRUTO School of Cooking. It's not only about the food, but it's about learning how to treat your farmers, treat your guests, treat yourself, treat your peers. It's a new way of the culinary world."
Chef Peter McQuaid
Serendipity, in the form of a high school Spanish project on Hispanic cuisine, brought young Peter McQuaid into the kitchen of one of Arizona's most celebrated chefs, Chef Silvana Salcido Esparza. Little did he know he'd leave that day with a job offer. Since then, Chef Peter has worked with some of the most distinguished chefs of our time, including Daniel Bouloud, Grant Achatz, David Chang, and David Humm. Chef Beau MacMillan called Peter a "prodigy," and together, they've launched two successful restaurants: Money, Baby! in Las Vegas and Cala in Scottsdale, Arizona. You can find Chef Peter working as Cala's Executive Chef, where he brings his characteristic warmth and energy to his new stomping grounds. As Chef Works brand ambassador, he's eager to share his passion for local and seasonal ingredients. He also hopes to shed light on how the industry can creatively tackle staffing problems in a post-pandemic world.
Follow Chef Peter on Instagram
"I've gotten really creative in the past couple of restaurants in order to staff up my kitchen, and there's a lot of good people out there that want to work. You just have to dig."
Chef Kathy Tiberi
Chef Kathy Tiberi is a private chef and business owner based in Beverly Hills. Kathy pursued her passion for cooking much later in life.  She attended culinary school in LA and completed her internship in NYC. Kathy started her career teaching team building cooking classes for businesses, but quickly had to pivot due to the pandemic — a turn of fate that she calls a blessing in disguise. Today, she runs a successful private cheffing business called SimplyGourmetbyK, where she helps clients celebrate their happiest occasions and calls on her most creative self with every menu. Chef Kathy is passionate about mentoring a new generation of women chefs, and inspiring people to turn their passions into a career, no matter what stage of life they are. 
Follow Chef Kathy on Instagram
"Culinary school was an amazing time. It was a lot of hard work, and I was really tired, but with that exhaustion was an amazing feeling. It was the difference between doing something that I was just good at, to doing something that I truly loved. I didn't care how tired I was, because I was really motivated."