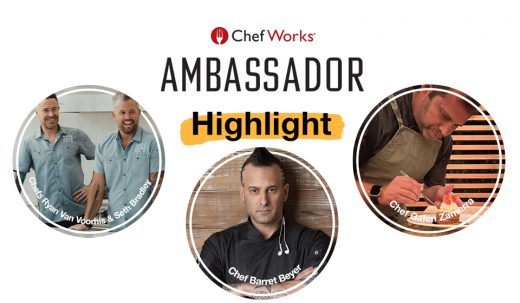 This year, we welcomed our very first generation of Chef Works brand ambassadors — 16 incredible chefs who are inspiring us inside and outside the kitchen. Next up, meet Chefs Ryan Van Voorhis, Seth Bradley, Galen Zamarra, and Barret Beyer!
Chef Ryan Van Voorhis & Chef Seth Bradley of Nude Dude Food
Ryan Van Voorhis and Seth Bradley are not your conventional private chefs. As the founders of Nude Dude Food, a private dining and catering service in Chicago and Nashville, this duo is living proof that lighthearted vibes and serious eats can pair beautifully. Whether they're sporting chef coats or their signature shirtless-with-aprons look, Chef Ryan and Chef Seth are masters at elevating simple, locally-sourced ingredients into a dining experience that wows their clients every time. Add the fact that they're best friends, and you get a dynamic you simply can't recreate. Don't let the cheeky name fool you — Nude Dude Food is raising the bar for private dining and the culinary world as a whole.
Follow Nude Dude Food on Instagram
"Care about what you're cooking and where it comes from. Then, present it in a way that's relatable and be a nice person. The longer we're in it, the more we go back to that. The food is first, and the way we connect with people over the food is very important."
Chef Galen Zamarra
Chef Galen Zamarra is a James Beard Award-winning chef, restaurateur, and culinary consultant. The epicurean spirit beckoned him at a young age, and before he was even old enough to get a job, he started taking cooking classes at a local community college. His passion eventually took him to New York, where he graduated with honors from the Culinary Institute of America. Since then, he's worked with globally-renowned chefs David Bouley, Georges Blanc, Michel Bras and Alain Passard, and he's opened three restaurants in New York City, all of which allowed him to focus on what he loves most — seasonal, local ingredients. Today, Chef Galen is the executive chef of The Lodge at Blue Sky in Park City, Utah, where he reimagines Mountain West cuisine and gathers inspiration from the ingredients and cultures of the region. Chef Galen describes his cooking style as ingredient-driven, supported by proper technique. Restaurant culture is also top-of-mind for Chef Galen, and he works hard to cultivate a supportive and positive atmosphere for his teams.
Follow Chef Galen on Instagram
"This industry allows us to be creative and unique — and I don't think you can say that about a lot of jobs… When you open a restaurant, whether it's a café or a bar or a restaurant, you can really make that an extension of your own personality."
Chef Barret Beyer
Chef Barret Beyer is a Florida-based private chef who brings his ambitious New Yorker spirit to everything he does. You might have seen him on season 11 of Hell's Kitchen, but Chef Barret is so much more than a TV personality with an awesome mohawk. As a chef, veteran, serial entrepreneur, and more, he has a lot to teach us about creative risk-taking and the art of the pivot — skills that have become so essential in today's rapidly-evolving world. As someone who once struggled with substance use disorder, Chef Barret is passionate about underscoring the importance of mental health and the value of the culinary arts as a creative outlet.
Follow Chef Barret on Instagram
"Don't be afraid to step outside the box. Don't be afraid to mess up and create something. Some of my best recipes have been something I messed up that somehow turned out amazing."