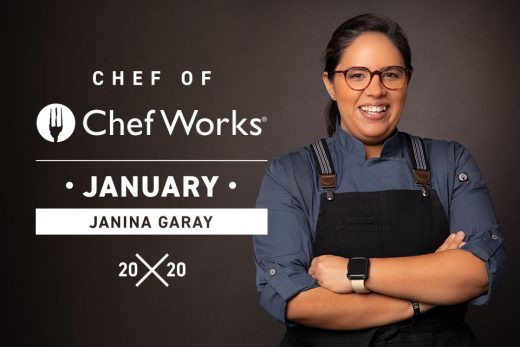 ---
Each month we feature a Chef of Chef Works®. If you're a fan of Chef Works gear and are interested in being featured, email kgemmell@chefworks.com. Pictured above is our January Chef of Chef Works®, Janina Garay, photographed by Chef Works® in her Women's Hartford Chef Coat and Berkeley Bib Apron.   
---
Chef Janina Garay, 29, has already put together a career that has taken her to some of the best kitchens in the world. She's worked for industry titans such as Rick Bayless and Javier Plascenia. And she just left her Michelin-star job to branch out on her own.
Our first Chef of Chef Works of 2020 blasts into the decade with high hopes, few fears and an unflinching attitude.
Tell us a bit about your background and early culinary influences.
Janina Garay: I was born in Tijuana (Baja Calif., Mexico) and grew up with my whole family around me – uncles, aunts, cousins and grandparents. It was a multi-generational environment and I remember that there was always food. I remember that smell of my grandmother making fresh bread or tortillas every day. Cooking wasn't just about feeding a couple of people – we're talking 25-30 people. We just wanted to have fun and eat all day.
Your credentials are outstanding. Where are some of the places you've worked?
JG: I started out thinking I'd be a savory chef. But the draw of baking was too strong. I was working with Chef Jesús Sánchez  and he needed someone in baking so I made the switch. I'm glad I did. I went to Spain and worked at Cenador de Amós – Villa Verde de Pontones. They recently received their third Michelin Star. We're talking 20-hour shifts with weddings plus dinner service. It was insane, but I learned so much.
I was coming back through America in Chicago and ended up working for Chef Rick Bayless for two years. It was the same kitchen for three restaurants – Topolobampo, Frontier Grill and Xoco. Then I came back to San Diego and worked at Addison for four years with Chef William Bradley (a Thomas Keller disciple) – the only Michelin Star restaurant in San Diego.
Tell us about your concept and why now is a good time to go out on your own?
JG: I'm going to be opening my first bakery – Cannella — in Tijuana and then expanding back into the United States (note: Garay has dual-citizenship between Mexico and the United States). As for the timing, I just felt like I was ready. Addison was such an amazing experience and Chef Bradley trained me, motivated me and structured me into running my own kitchen. It's not that I didn't love working there. But I was at a point where I felt like I was ready to start my own spot.
Why Tijuana for your first bakery?
JG: I chose 'TJ' for my first concept because I was born there. I was raised there. All of my people are there. It's me. And I want to do something amazing for 'TJ' and I think it will be a great place to learn to walk before I run.
I'm Mexican. My heritage was flowing out of me and it was going nowhere. I could have stayed at Addison experimenting, but there was just so much creativity building up in my head that I felt like if I didn't execute and act now it was going to explode.
I feel like I can empower others because I'm a successful woman and, as a Mexican, I feel like we have so much to give because of our roots. Mexico is so rich in culture, tradition and heritage and we love to share it. We have so much to give to the world. I want to do what I can to help represent 'TJ' and all of Baja Calif.
Is there anything daunting about opening your own concept before you're even 30?
JG: I've had so many amazing mentors along the way and I'm still in contact with all of them. I feel pretty confident. I have so many well-known people in the industry supporting me and pulling for me. I know they have my back. In the kitchen, I've got it. I know what I'm doing. As far as running my own business, I'd say that's where I'm a little nervous because that's a new challenge. But I've never walked away from a challenge.
What's the best advice you've received along the way?
JG: I'd say there were two great pieces of advice. First is to not let anyone shoehorn you into being something that you're not. I thought I'd be a savory chef, but I followed my heart. I've been in and out of Michelin Star restaurants because I wouldn't allow myself to be stereotyped.
Second piece of advice is not to run before you walk. I'm young, and sometimes I just want to sprint full-speed ahead. But life doesn't always work that way. There is a process to doing things. There are always going to be growing pains. You just have to be ready to accept them.
---
Meet the 2019 Chefs of Chef Works®: