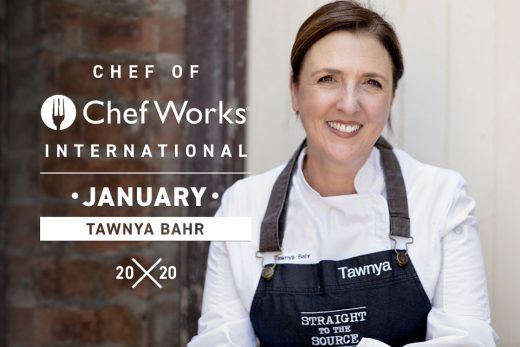 ---
Each month we feature an International Chef of Chef Works®. If you're a fan of Chef Works gear and are interested in being featured, email kgemmell@chefworks.com. Pictured above is our January 2020 International CoCW, Tawnya Bahr, photographed by Hero Shot Photography in Sydney in her Women's Hartford Chef Coat and Boulder Bib Apron. 
---
It's been a tough start emotionally to 2020 for Chef Tawnya Bahr.
She's watched Australia — her adopted country — become engulfed by historically horrific wildfires that, to date, have burned more than 15.6 million acres and claimed at least 28 lives.
"The drought has been going on for a few years and in the last year it had gotten significantly worse," Bahr said. "I work with so many farmers in regional communities and it has been a horrendous few months witnessing the despair and grief of having your property destroyed, losing livestock and watching our wildlife seek refuge … It's a terrible crisis that we are watching unfold in real time."
For almost a decade Bahr has had her eyes on sustainability. She channeled that passion for culinary education and sourcing locally into Straight to the Source, which she started in 2012 with her business partner Lucy Allon.
Straight To The Source has provided tailored, professional development opportunities by taking chefs to rural Australia to gain an in-depth knowledge of agriculture practices and ingredient sourcing. This has helped them connect with their peers, while gaining an authentic understanding of the country's food system, which equates to quality on the table.
But to understand Bahr's journey, you have to understand her past. It's been almost 25 years since she left California to start a new life down under. Born and raised in Roseburg, Ore., Bahr went on to have a career in international sales and marketing in San Francisco. She would travel the world – but in the back of her mind she always had a desire to cook professionally.
"I had always loved cooking and feeding people from a young age," she said. "When I moved to California, I started shopping at farmer's markets. I was always intrigued by agriculture, food innovation and production. I moved to Australia in 1995 and used my background in international business to set up a condiment company that imported garlic from Gilroy, Calif., and mustards from Napa, Calif., and Oregon. In short, I went into the industry as an importer, artisan producer creating my own product line and commercial manufacturer. Later I was able to set up and sell a national distribution company.
"Eventually, through my food consulting business, I started cooking with chefs throughout Australia. I felt this burning desire to get formal qualifications, so I enrolled and graduated from Le Cordon Bleu in Sydney, while still running my business. I then went on to pursue my studies through the Masters of Gastronomic Tourism program. Oh yeah, I also have a husband, two kids and a dog."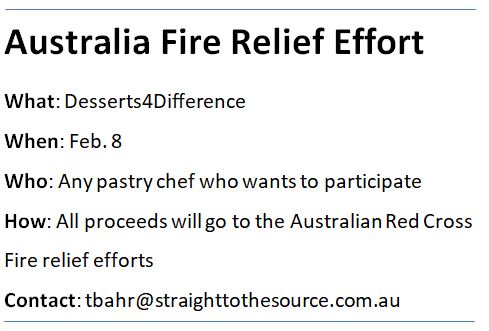 Naturally, juggling life as chef, mother, wife and business woman has its challenges. But there are also lots of rewards. Straight to the Source affords her plenty of chances to travel the country, cook on boats, paddocks, oyster leases, beaches and sheering sheds.
"Under my consulting umbrella I'm the executive chef of a group of early learning centers called The Orchard," she explained. "We have chickens, a kitchen garden, an orchard and I'm responsible for the kitchen team that feeds 140 children five meals a day. The entire philosophy is paddock-to-plate. Writing menus that children enjoy and using fresh and nutritious ingredients is one of the most rewarding parts of what I do."
There is, however, one aspect of her life in Australia where she's a literal fish-out-of-water. Despite being from the West Coast of the United States, and spending several years in the water-happy Bay Area of Northern California, Bahr never learned to swim. The irony isn't lost on her.
"We have some of the best beaches in the world in Australia," she said. "I just pack a great picnic and look the part from the beach."
On the homefront, Bahr is helping to launch Desserts 4 Difference – a fundraising effort on Feb. 8 that benefits Red Cross Fire Relief. Bahr, along with a growing number of pastry chefs across the world, will create their signature desserts  to share on social media at #desserts4difference. All proceeds will go to the Australian Red Cross.
For example, the famed Boudin Bakery will donate all proceeds from their frosted heart-shaped cookies on Feb. 8.
For more information about Desserts4Difference, email tbahr@straighttothesource.com.au.
---
Meet the International Chefs of Chef Works® from 2019: