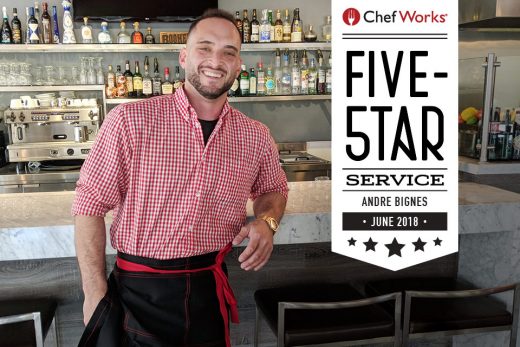 ---
Chef Works will be spotlighting someone in waitstaff each month through November as part of our "Five-Star Service" blog feature. In December, we'll ask our blog's readership to vote who has the "best story." We'll dress the winning restaurant with Chef Works gear! Pictured above is Andre Bignes in his wide half bistro apron and Gingham men's long-sleeve shirt.   
---
A customer saunters up to the bar at Il Dolce in Costa Mesa, Calif., and orders a martini. Andre Bignes mixes the drink with a welcoming smile and an inviting ear. The customer sips and opens up a conversation with Bignes, who leans in … prepared to listen or offer sage-like wisdom from behind the bar.
"That's usually the time my mom interrupts and tells me I talk to the customers too much," Bignes says with a laugh. "I'm like 'Mom, we're getting personal here.' Being behind the bar is about making connections and knowing when people are looking for a little interaction."
Bignes knew what he signed up for when he decided to work with his parents straight out of high school. Il Dolce, which opened in 2009, quickly became a favorite among the locals for its authentic Italian cuisine and hand-crafted artisan pizzas. Two years ago, Bignes wrote the bar program and had that portion of the restaurant remodeled. It's his corner.
"I want this to be a well-rounded restaurant," Bignes said. "I do some cooking. I'm a server. I'm a bartender. Like Il Dolce, I guess you could say I'm also pretty well-rounded."
When most people graduate high school, they are ready break out on their own, tackle the world and blaze their own trail. But that wasn't for Bignes. And he knew it pretty early on.
"Sure, I butt heads from time to time with my mom and dad," Bignes said. "That's to be expected. But we're a team. It's us. That's what it has always been. We all have our parts to play and we all do it well."
Born in Buenos Aires, Argentina, Bignes moved to the United States when he was 2. He spent time in Los Angeles and Miami Beach, Fla., before settling back in Orange County for high school. While in Florida, Roberto Bignes, his father, worked in a bakery. It was a combination of Argentinian and Italian foods, and that's where Roberto started to get the itch to open his own restaurants.
"He worked with breads and dough for more than 20 years," Andre said. "He took all of that knowledge and decided to apply it to pizza."
And then he applied that to Il Dolce, which has gone on to deliver award-winning pizza to Orange County for the last decade. And the younger Bignes has been along every step of the way.
"The secret is all in the ingredients," Andre Bignes said. "I watched my dad become certified in making all of the sauces and dough and cheese from scratch. That's what we do every day. It's all made from scratch. It's artisanal style in an all-wood fire, like you'd get in Italy."
Fans of the restaurant and local media have taken notice, too. Twice Il Dolce has been crowned by local media as having the best pizza in all of Orange County – even topping Mario Batali's Pizzeria Mozza.
Bignes hasn't completely abandoned the idea of going out on his own … or at least branching out the family tree. He'd like to open another restaurant or market/restaurant under the Il Dolce umbrella in the coming years. He's confident that with the loyal clientele they've established, another location would have equal success.
"We want people to come in and have an experience," he said. "Hang out. Talk to the staff. Laugh. Don't just eat and look at your phone the whole time. Ask questions and have a better understanding of the food that's out there."
Follow Il Dolce: