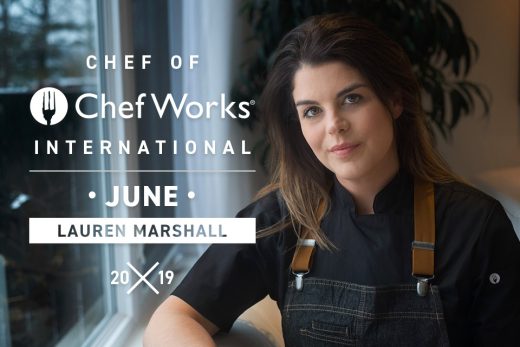 ---
Each month we feature an International Chef of Chef Works. If you're a fan of Chef Works gear and are interested in being featured, email kgemmell@chefworks.com. Pictured above is our June International CoCW, Lauren Marshall, photographed by KT Lamond Media, her Women's Springfield Chef Coat and Black Denim Berkeley Bib Apron. 
---
As Lauren Marshall tells it, her story is "a little corny." She knows it. She doesn't care.
Growing up in the small town of Mount Uniacke, just outside of Halifax, Nova Scotia, Marshall was inspired by her grandfather, a chef in the Royal Canadian Navy. He fought in the Korean War, cooked during the day and "manned the ship" at night.
His tales of adventure, traveling and cooking on the high seas inspired her to take to the kitchen. Today she's the head chef and owner of Real Fake Meats, a plant-based butcher shop in Halifax.
"I was on the phone with my grandad at probably age 12 and he was talking me through how to make a roux and how to turn it into a cream of mushroom soup," explained Marshall, 32. "It actually tasted disgusting the first time I made it on the phone with him. But it totally sparked a love for creation through food and gave me a never-give-up attitude."
She's carried that attitude throughout her life and the result has been a distinctive and playful vegan take on Canadian cuisine.
Marshall, a chef for 14 years, became vegan about six years ago. While making donairs (a Halifax comfort food consisting of spicy meat, milk sauce, tomatoes and onion in a pita) for a friend's birthday, she opted to make a vegan option instead. The birthday crew gobbled them down and the lightbulb went off: Why was no one doing this in Halifax?
Real Fake Meats was born.
"During my time as a vegan chef I have run vegan kitchens and taught probably more than 3,000 cooking classes," Marshall said. "This meant I needed to make it exciting and always try to come up with new ideas. It wasn't until probably about a year and a half ago I thought I would start including 'fake meats' in my classes. This meant a lot of recipe testing at home so I could get the recipes right. I was playing around with chicken recipes, bacon, donair and fish.  I felt a spark come alive as I was coming up with ideas for the veggie meats and cheeses."
---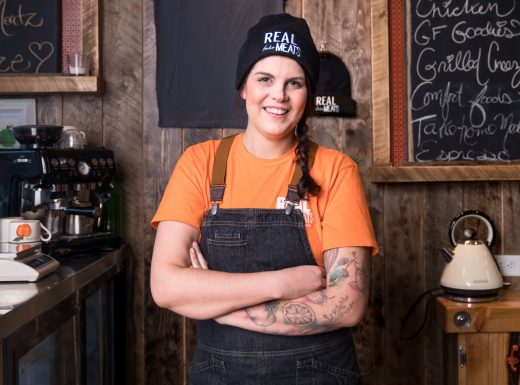 ---
An added bonus to her shop is the sustainability aspect. With the zero food waste movement gaining traction on the international stage, Real Fake Meats is contributing to not only a cleaner diet and way of living, but also a cleaner environment.
"We are creating plant based products, so we are helping the sustainability here in Halifax," Marshall said. "We also support a small zero-waste store and order in bulk through them and their zero-waste initiative. Real Fake Meats is a result of the decision I made six years ago when I became solely a vegan chef. That passion comes through with healthier options and the sustainability of plant-based products."
Her grandfather's sense of whimsy and adventure remains with Marshall to this day. Just a couple of months ago, Marshall and her girlfriend closed up the shop and surprised all of their friends by getting married.
"Then we flew to Mexico to eat tacos!" she said with a laugh.
But more than anything, she enjoys the satisfaction she gets from making people happy and running a business on her own terms.
"Connecting with people through food is so rewarding," Marshall said. "Owning a business is hard, but when I get to see customers coming back, making friends and filling their bellies – that's the best. When someone comes in and is having a bad day, I can give them some comfort food and see them smile and I know I'm doing it right. Good food equals happy people and that's what I'm all about."