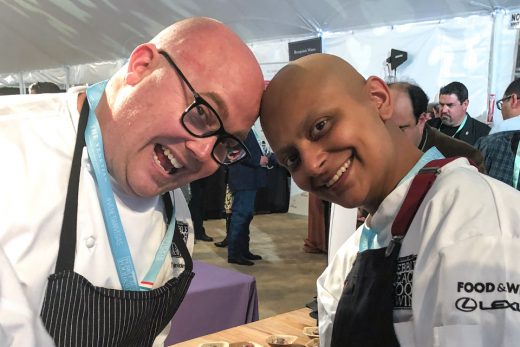 ---
Each month we feature a Chef of Chef Works. If you're a fan of Chef Works gear and are interested in being featured, email marketing@chefworks.com. Pictured above is our November CoCW, Chef Fatima Ali, photographed at Pebble Beach Food & Wine with Top Chef alum Tyler Anderson in her Elyse Women's Premium Chef Coat and Berkeley Apron. 
---
The culinary community was saddened and shocked last month when Chef Fatima Ali penned a letter to Bon Appétit announcing her rare form of cancer – once thought to be in remission – had returned and she'd been given a diagnosis of one year to live.
The public knows Ali as a contestant on "Top Chef" season 15. But among those in the community, she's known as a gentle soul and a splendid chef. She was kind enough to talk with the Chef Works blog about her ongoing battle with Ewing's Sarcoma, her plans for the coming months and the response to her announcement.
In your letter, you talked about wanting to experience life as much as possible in the next year. What's No. 1 on that list?
Fatima Ali: Lots and lots of really good food. Food has always been a big part of my life and it always will be. That aspect of who I am has not changed despite my diagnosis and my treatment. I'm really looking forward to spending as much time as I can with my family and my friends while eating some really, really good food.
What do the next couple of months look like?
FA: I have some travel lined up on the horizon towards the end of the year once I'm done with radiation. I'm planning a European tour with my family. We're going to go to San Sebastián to try some restaurants. I'd also like to go to Italy and try Massimo Bottura's spot. That's actually No. 1 on my list. So that's what's in the works for right now. We'll see what the next few months bring.
Is there one thing that you absolutely want to try?
FA: I'm pretty adventurous in my food. I like to eat it all. I really like to have exceptional caviar. That's definitely something that's going to be on my list for the next few months.
Are you done exploring medical options?
FA: I'm not. That's still an ongoing thing. We're exploring some non-conventional options as far as my treatment is concerned.
Are you still cooking regularly?
FA: Cooking is going to be a bit more of a challenge because I'm limited in my mobility with my hip and my shoulder (note: Ewing's Sarcoma is a rare form of cancer that occurs in bones or the soft tissue around bones). Doing elaborate dinners is unfortunately something I can't do in the immediate future.
What do you want people to know about Ewing's Sarcoma?
FA: I am grateful and humbled by the response of everyone and the love they have shown. I try to take the time to thank everyone I can on social media. I just want everyone to know how much I appreciate it. As far as Ewing's is concerned, cancer is such an all-enveloping disease. It affects millions of families every year. Just know that you're not alone and there are resources out there for you — even if you have the rarest of the rare.
---
If you'd like to help support Chef Fatima Ali, you can visit her Go Fund Me page.