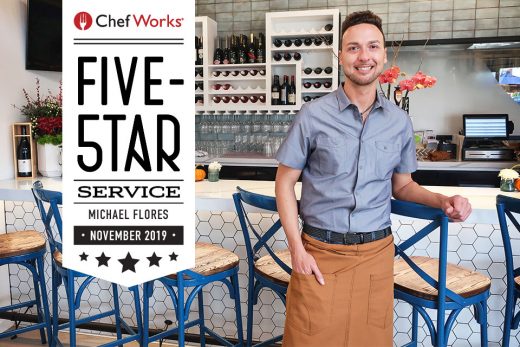 ---
Chef Works® will be spotlighting someone in the front of the house each month through November as part of our "Five-Star Service" blog feature. In December, we'll vote who has the "best story" and dress the winning restaurant with Chef Works® gear! Pictured above is Michael Flores, photographed by Chef Works® in his Jaxon Shirt and Rockford Bistro Apron.  To nominate a server, bartender or brand ambassador, email kgemmell@chefworks.com.
---
Even before the Chef Works® blog could start interviewing Michael Flores, he was ready to perform. Flores treated us to an impromptu, four-song performance on his clarinet – his fingers moving deftly and his breathing controlled.
"Before we get started, I wanted you to know what I was about," said Flores, 39.
Shakespeare had it right when he penned "all the world's a stage." Flores lives and embodies that every day – whether he's playing music, performing, teaching or bartending. That is very much what he's all about.
"When you act, you give a piece of yourself to the community and to the world," Flores said. "It's the same thing for the restaurant industry. I give my customers my energy and hopefully that brightens their day. You are creating a mood."
Flores is the bartender at Candor, a new restaurant in the upscale, beach-side San Diego neighborhood of La Jolla. And it's not his first restaurant rodeo.
Flores has actually helped chefs and restaurant groups open three previous locations. Candor, which has been open for six months, is his latest effort.
"I've been in the restaurant industry since I was 15," Flores said. "I worked at a Round Table and was a manager by 16. I've been a general manager, manager, server and bartender. I'm also a certified sommelier and Certified Specialist in Wine."
Flores hails from Arizona, having spent most of his life in Flagstaff. He comes from a family of creatives and performers. While Flores acts, teaches and plays the clarinet and saxophone, he also has a twin brother who plays multiple instruments. Their father was a trumpeter, whose band toured in the 1970s with Carlos Santana and Los Lobos. His mother was a dancer and his grandmother was a flamenco dancer.
"We grew up performing in the church choir and on stage," he said.
That familial influence clearly carved out Flores' path. And bartending has provided him the opportunity to make money, while still pursuing music, acting and running a youth theatre group.
"There's a reason why the hospitality industry is in my life and why restaurants have been so good to me and good for me over the years," he said. "It's been an invaluable support system and I want to pay it back. I want to be the best at everything I'm doing. When I'm on stage, I want to be the best actor I can be. When I'm bartending or serving, I want to be the best at that too. If I were a ditch digger, I'd want to be the best damn ditch digger I could be."
For Flores, the restaurant scene will always be second chair to his love of music and performing. And yet it's quite often that these two worlds collide.
"I never put out a product I'm not proud of," he said. "Preparation is important – and that applies to both of my industries. Performing on stage goes hand-in-hand with performing in a restaurant. You're providing guests with a service.
"I can never not give the whole shebang. Like guests at a theatre, guests at a restaurant come for the experience. They are here for the service and the ambiance. They come for an experience and you should never deny them that."
---
Want to read more Five-Star Service stories?