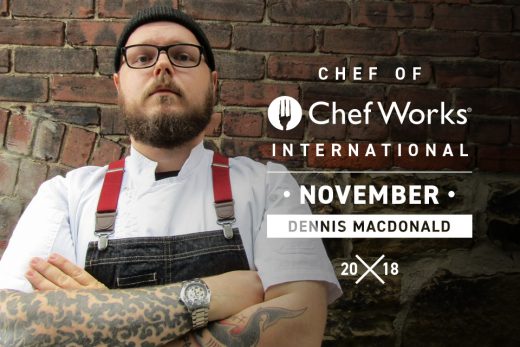 ---
Each month we feature an International Chef of Chef Works. If you're a fan of Chef Works gear and are interested in being featured, email marketing@chefworks.com. Pictured above is our November International CoCW, Chef Dennis MacDonald, photographed in his Springfield Chef Coat and Berkeley Apron.
---
Dennis MacDonald might not remember who was consigliere in "The Godfather", but he remembers the tomato sauce recipe.  Why were the cops chasing Henry Hill in "Goodfellas"? MacDonald isn't totally sure, but he remembers the garlic being sliced "razor thin" for the seared steak in the prison cooking scene.
"I know it's weird, but typically I'll have a better recollection of all of the food that was being prepared and served in movies than the actual movie itself," MacDonald said with a laugh.
It would only make sense that the Canadian chef is looking to make a splash on-screen. MacDonald – who hails from the small maritime town of Miramichi, New Brunswick – is set to launch his YouTube channel in 2019 after spending a career as an executive chef.
"I want to focus on fun and adventurous food for the home cook with a bit more emphasis on technique and composition," said MacDonald, 32. "First and foremost, food has to taste good. Once you have that, a little thoughtful organization on the plate doesn't hurt. Helping people bring this to their own cooking and step up their dinner-party game sounded like a really fun idea."
The launch coincides with his decision to leave behind the world of an executive chef and focus on in-home dining and catering. He's going to be offering "adventurous dining" with a limited menu.
"I want to offer my food to diners in a relaxed and comfortable setting where it is prepared, served and paired the way I want it," he said. "Challenging myself and limitations is a good thing. The menu will be forever changing based on season and availability. The food scene in my town is very 'meat and potatoes.' I want to offer a dining experience that steps outside of that norm."
As you'd expect in a maritime town, fish – specifically the Atlantic salmon that populate the Miramichi River — is a huge source. And MacDonald is all for experimenting with that. But he's also an accomplished baker. In fact, he started out making chocolate truffles before his expanding pallet took him to the Culinary Institute of Canada on Prince Edward Island for formal training.
"My love for food grew exponentially from there and upon graduation I traveled across Canada to Alberta and British Columbia – even to places that were only accessible by helicopter! I eventually made my way back to the Maritimes. It called me the whole time I was away."
Before he spends his nights in the kitchen, he spends his days foraging for mushrooms and lesser known berries and wild edibles. It's common to see him around town constantly scribbling out recipes and concepts in his notebook or on napkins.
"I'm always curious and I can never sit still," he said. "There are sticky notes everywhere on my notebooks and in my home and bookmarks in my browser. I've even recorded ideas on my cell phone during long drives. You're never bored in this industry and that's what truly makes it exciting. There aren't enough books or time to test everything. And that's OK with me."
Follow Chef Dennis MacDonald on Instagram @dennis.eats.