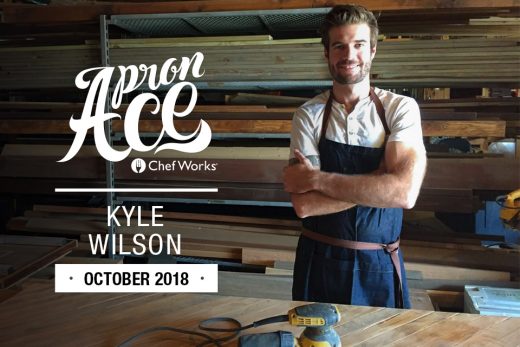 ---
Each month we feature an Apron Ace. If you love your Chef Works apron and wear it outside of the traditional kitchen setting – makeup artist, potter, florist, barista – we want to know! To be featured, email marketing@chefworks.com. Pictured above is our October Apron Ace, Kyle Wilson, photographed at Southern Oaks Studios in Chicago in his Memphis Chef's Bib Apron.
---
Art takes on many mediums. Whether you're a culinary artist, a makeup artist or – in the case of Kyle Wilson – a woodworker, there is one common thread between them all; a good apron makes all the difference.
Wilson, 31, was raised in Southern Illinois and has his workshop, Southern Oak Studios, based in Chicago. This month's Apron Ace took some time to chat with the Chef Works blog about his artist's heart, the stories behind his creations and how to find the character in wood.
When did you first catch "the artist's bug" and decide on woodworking?
Kyle Wilson: My dad does construction and my mother does interior design. Creativity is something that's always been in our family. I've always loved working with my hands and have always been fascinated with art, drawing and learning how things were made. I've worked a lot with my dad in construction and we were always building things so I've always felt comfortable with tools. I knew I wanted to do something creative and about six years ago that I knew woodworking would be my  trade. 
How do you go about sourcing your materials?
KW: I use a lot of reclaimed wood. Sometimes it's scrap wood or find people selling it or giving it away online. In Southern Illinois, there are a lot of old barns in some of the different small towns. I'd see some of them close to falling down so I'd knock on doors and ask if they're looking to demolish it. I'll salvage it and in some cases, I'll make them a keepsake. Some of these barns have been around for 100 years or more. Maybe it originally belonged to their grandparents. So I'll make something for them as a thank you for remembrance sake. There are a lot of neat stories behind the wood. There's a lot of character.
How do you find character in wood?
KW: I've recently started using lots of old flooring because you think about the hundreds of thousands of people who have walked on it and now you're able to give it new life as something completely different. I grew up playing a lot of basketball and have played in dozens of gyms when I was a kid and each one had different, beat-up flooring. I like to take the floors from old gyms and make basketball hoops out of it. For some furniture, I can get oak from two different buildings. It's the same wood, but it looks entirely different based on how it's been used and won over the years. That's where you find character.
How do you choose to define yourself? Are you an artist or a woodworker? Or both?
KW: I feel like I'm always going to have an artist's heart. I love furniture design. Deep down, I'm making functional art. But it's still art. I love the challenge of taking something old, breaking it down and creating something entirely new from it. I will forever love to paint. I do a lot of custom signage as well. 
How important is a good apron for what you do?
KW: Extremely important. You have so many different tools you're working with on a daily basis in the shop. You tend to put something down and walk away and then not be able to find it. With a good apron from Chef Works, everything is right where I need it. If I'm meeting with a client, it protects my nice clothes from getting covered in saw dust. The big pockets are great. And it looks great too!