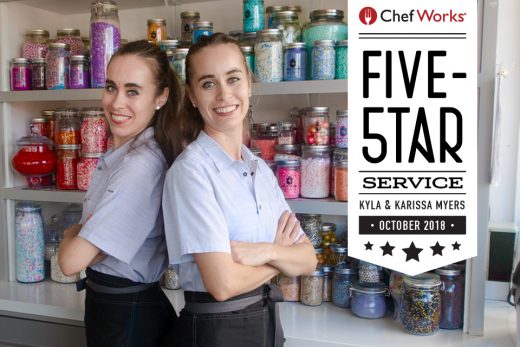 ---
Chef Works will be spotlighting someone in waitstaff each month through November as part of our "Five-Star Service" blog feature. In December, we'll ask our blog's readership to vote who has the "best story." We'll dress the winning restaurant with Chef Works gear! Pictured above are Kyla and Karissa Myers of Sugar & Scribe, photographed by Chef Works in their Wide Half Bistro Aprons with Contrast Ties and Havana Women's Shirts.  
---
It's called the human knot. It's a team-building activity where everyone bunches together, grabs hands and then has to twist and turn to find their way out and into a big circle. Hilarity and playful chaos typically ensues.
As twin sisters Kyla and Karissa Myers tell it, there were 30 people in this particular knot. The professional ballerinas did this as part of a training exercise. With 30 people, you get sixty hands all grabbing, yanking and grasping for one another.
Oh yeah … they were blindfolded.
"When the knot was done, everyone was in a big circle," said Karissa, "except for us. Somehow it was just the two of us off to the side all by ourselves. Through all of those hands, we found each other and ended up together."
You won't find a more appropriate metaphor to describe the 29-year-old Myers twins. They finish each other's sentences, they bring symmetry to the City Ballet Company in San Diego and they have been creating double-takes for patrons of Sugar & Scribe Restaurant and Bakery for years.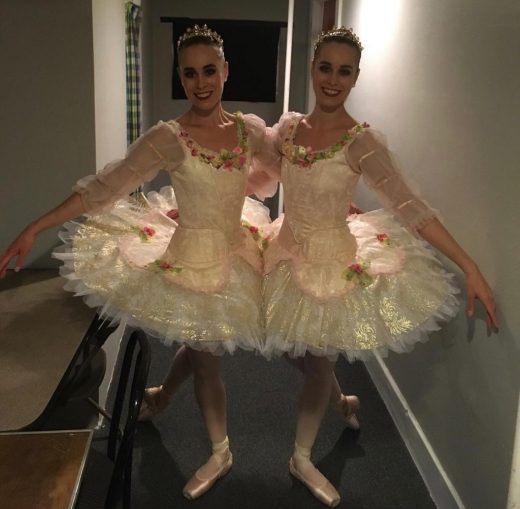 When the duo isn't dancing, they're on-point at the La Jolla restaurant serving up sweet treats in the bakery, waiting and bussing tables or handling barista duties.
Sugar & Scribe is home to Executive Chef and Owner Maeve Rochford, the 2017 Food Network Holiday Baking Champion.
"It's fun to see them working the bakery and someone will order and turn around and then the other one pops up," joked Rochford. "They have such an energy about them that is infectious and brightens up everyone's day."
Hailing from Georgetown, Calif., a small town that sits in the shadow of the Sierra-Nevada Mountains, the sisters weren't particularly talkative as children.
"We were shy," Kyla explains. "We tried softball, but we didn't want to wear the helmets or uniforms. We wanted to sit in the outfield with our mitts on the ground and wear sundresses. We didn't talk a lot except to each other. So our parents decided to put us in dance so we could express ourselves without talking."
The pair was instantly drawn to ballet. After high school, they danced with the Sacramento Ballet Company before moving to San Diego 10 years ago. They met Rochford and have been helping out as a side job ever since.
The life of a professional ballerina isn't an easy one. They start their day with a 4:30 a.m. workout before tackling a full workload of ballet classes and rehearsals that often takes them to sunset.  Weekends are for their side job.
"That's the nice thing about us always being together in the bakery is we keep each other from giving into temptation," Karissa said. "If I reach for a pastry, Kyla is right there telling me we have to fit into a leotard tomorrow. We always look out for each other, keep each other in check and push each other to be the best we can be."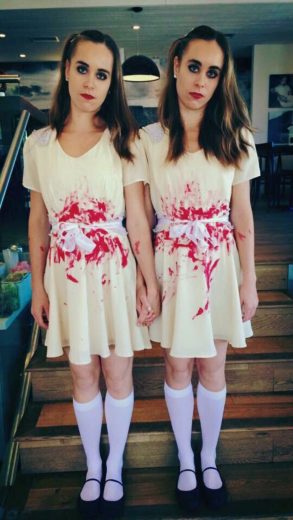 Working at Sugar and Scribe has helped the pair stay light on their feet. And it's provided the perfect supplement to their weekday grind.
"We first met Maeve at her old location [in Pacific Beach, Calif.] and she'd see us walking by her shop every day," Kyla said. "We were looking for something extra and she loved the idea of having twins work for her. She's so accommodating to our schedules – especially in the winter when we do "The Nutcracker" and we're gone all of December. Working at Sugar and Scribe has been a great opportunity for us to find balance."
While some twins opt to branch out on their own and carve out their own identities, that's never been the case with the Myers. Kyla is four minutes older – though Karissa is a quarter-inch taller. Other than that, they are identical.
"We've just always gravitated to the same styles," said Kyla. "If one wanted to get an ear pierced or get their hair cut a certain way, the other wanted to also. We like the same clothes. It's just who we are."
If you hadn't noticed, "we" is the operative word.
"I guess we always just refer to ourselves as 'we' and never as 'I'," said Karissa. "We've always been close and I'm pretty sure we always will be."